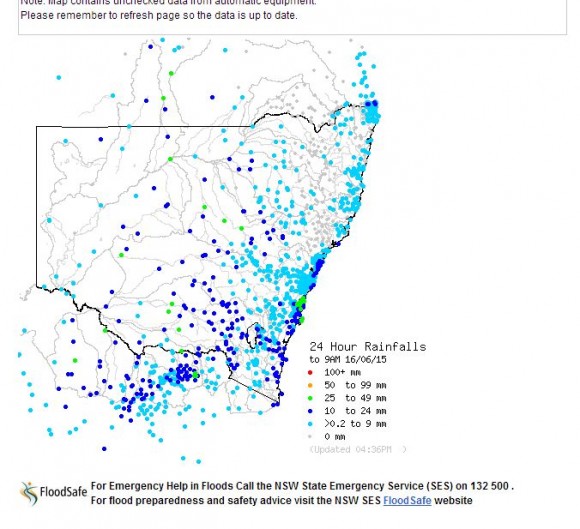 Overnight, a band of moderate rain crossed through New South Wales and northern Victoria. Generally, rainfall from the event was reasonably even and widespread. There were widespread 10 mm to 25 mm falls over large areas with the best falls to 9 am 16 June being:-
Bourke - 43 mm.
Darlington Point - 34 mm.
Corowa, Nyngan and Trangie - 33 mm.
Dubbo - 30 mm.
Kilfera - 28 mm.
Coleambally - 25 mm.
While not drought breaking in nature, they are useful totals. The rain is falling where it is needed the most.
Additionally, there were some reasonable totals around the Wollongong region (Illawarra) with many rain gauges recording between 25 and 39 mm.
For the period 9 am to 6 pm June 16, the rain band passed through Sydney producing light rain. The best falls for the 9 am to 6 pm period occurred over the north west slopes and plains of New South Wales being 18 mm at Tambar Springs, 17 mm at Mullaley and 15 mm at Gunnedah.
A large region of the north west has received between 10 and 20 mm during the period. More rain will occur and as identified in earlier posts, more significant rainfall totals are expected in many regions.
The rainfall plot for New South Wales and Victoria till 9 am June 16 from the Bureau of Meteorology - Water and the Land is attached.
Related Terms: