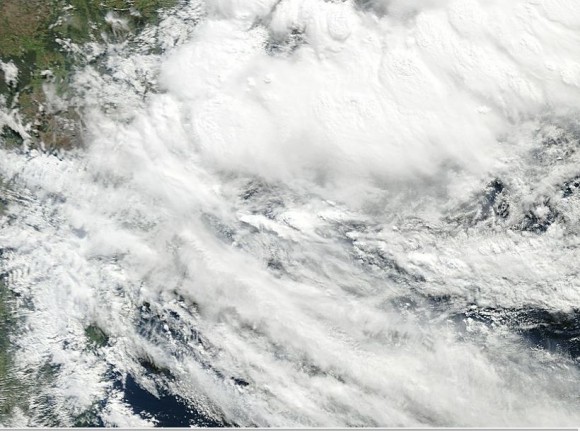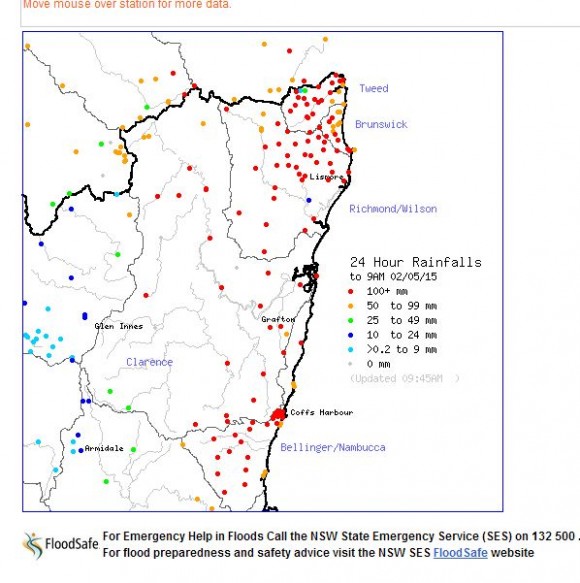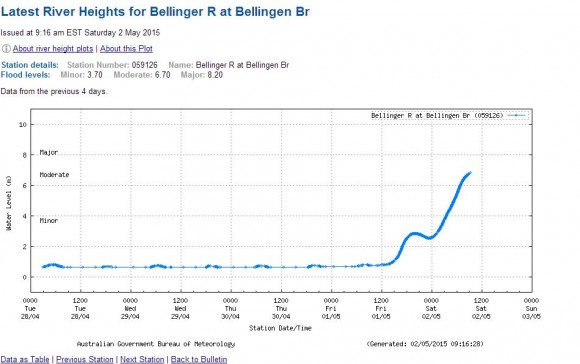 As seen in the attached satellite photos, one of which is taken from MODIS operated by NASA 2/5/2015, much of coastal New South Wales is under substantial cloud and experiencing substantial rainfall.
While emergency personnel across South East Queensland are now commencing a major clean up from flooding that has now claimed 5 lives and led to 30 rescues, parts of coastal New South Wales has now experienced heavy rainfall and flooding from the same weather system.
At least two days of rainfall has left catchments saturated with a number of rivers in flood including the Bellinger River, Orara River and the Wilson River.
While rainfall totals are not quite as high as that in south east Queensland, they are still substantial in a few areas. In particular, flooding is occurring within the Bellinger Valley following rainfall totals that have reached 250 mm for the 24 hours till 9 am 2/5/2015.
Substantial rainfall occurred on the 1/5/2015 but the rainfall of the 2/5/2015 is creating more flooding that SES personnel is required to deal with. At the time of writing this, the Bellinger River at Bellingen Bridge is at 7.9 metres and creating a serious situation at Bellingn and low lying areas.
Rainfall totals to 9 am Saturday morning include:-
Bellingen (Crystal Creek) - 250 mm.
Gleniffer - 244 mm.
Girralong - 237 mm.
Cooks Creek - 217 mm.
Dorrigo - 205 mm.
Lowanna - 200 mm.
Bowra Sugarloaf and Kooroowi - 196 mm.
Thora Post Office - 178 mm.
All these areas are within a short drive of Coffs Harbour with many within the Bellinger Valley. The valley's topography would have played a role in what has occurred. Nearby Coffs Harbour itself had between 116 and 176 mm for the same period.
This shows that the flood emergency is not just in south east Queensland but also covering parts of coastal New South Wales.
The plot for north east New South Wales covers the 24 hour period to 9 am 2/5/2015. Please post any photos of the floods here.