This incredible image taken on the OLI (Operational Land Imager 2) on the Landsat 9 satellite by NASA shows the true scale of the powerful EF4 tornado near Winona (Mississippi).
This was a destructive event which included 16 fatalities.
There is much interest in this event given the timing that it occurred being at night. Nighttime tornadoes do occur and this one was no exception.
It is known that there are at least 20 reports of tornadoes but this one stands out.
According to the National Weather Service:
The tornado commenced at 7.57 pm and concluded at 9.08 pm.
The tornado touched down near the Louisiana state border with Mississippi then tracked NE passing over the town of Rolling Fork and later skirting the southern outskirts of the town of Winona.
It reached peak intensity of EF4 on the Enhanced Fujita Scale with peak wind gusts to 274 km/h.
It was a long tracked tornado traveling 97 km during its life time.
Second powerful tornado
There was a second powerful tornado during this outbreak with the second one rated EF3 near the town of Black Hawk. This one had peak wind gusts to 241 km/h and travelled for 47 km.
Attached are the location of the tornado reports from the National Weather Service.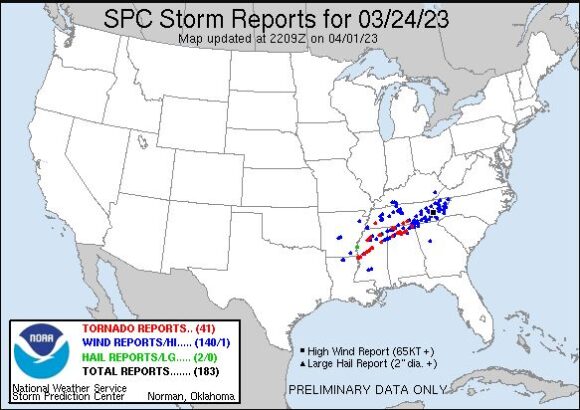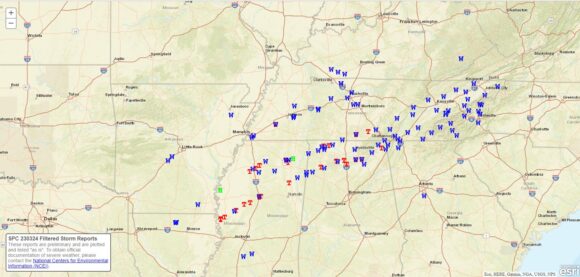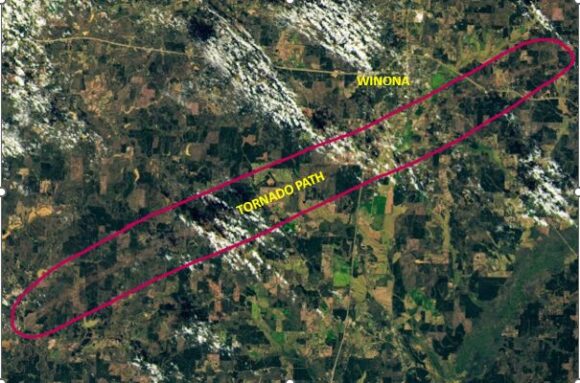 The NASA image has been modified with the tornado path highlighted.
It is noted that the 2023 tornado season has been very active of late with events within the city of Little Rock (Arkansas) and separate events in Iowa over recent days.
Related Terms: