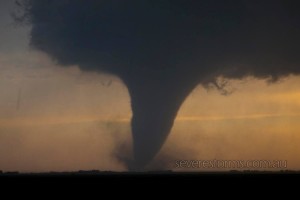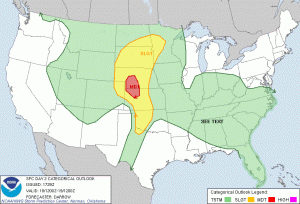 Daniel Shaw from Australia intercepted this incredible tornado! Check out his website www.severestorms.com.au or his facebook page https://www.facebook.com/FreeNewsAustralia
Read the following notes from the SPC for a Moderate Risk in NW Kansas and SW Nebraska:
LATEST SHORT RANGE MODEL GUIDANCE INSISTS STRONG HEATING WILL OCCUR ACROSS SERN CO INTO NWRN TX. THIS SHOULD ALLOW DRYLINE TO MIX TO A POSITION NEAR THE OK BORDER...ARCING NWWD TO A SFC LOW OVER WRN KS BY 19/00Z. WITH SFC DEW POINTS EXPECTED TO RISE WELL INTO THE MID-UPPER 60S EAST OF THE DRYLINE...EXTREME INSTABILITY MAY DEVELOP ALONG A CORRIDOR FROM WRN OK INTO NWRN KS WHERE SBCAPE COULD EXCEED 4000 J/KG. AS TEMPERATURES WARM INTO THE LOWER 90S ACROSS THE TX PANHANDLE INTO SWRN KS INHIBITION WILL BE NEGATED AND DISCRETE SUPERCELL STRUCTURES ARE EXPECTED TO DEVELOP. HAVE INCREASED THE SEVERE PROBS ACROSS PORTIONS OF KS/NEB AS THIS PORTION OF THE CNTRL PLAINS SHOULD EXPERIENCE STRONGER DEEP LAYER SHEAR...POTENTIALLY SUPPORTIVE OF TORNADOES. LATEST 12Z NAM FORECAST SOUNDINGS STRONGLY SUPPORT SUPERCELLS ACROSS THE MDT RISK REGION WITH SBCAPE IN EXCESS OF 4000 J/KG WITH SFC-6KM SHEAR ON THE ORDER OF 40KT. ADDITIONALLY...VERY LARGE HAIL MAY ACCOMPANY ANY SUPERCELLS THAT DEVELOP SATURDAY. LATEST FORECAST HAIL ALGORITHMS SUGGEST HAIL COULD EASILY EXCEED BASEBALL SIZE WITH ORGANIZED ACTIVITY.

Interestingly, the last line indicates the possibility of extremely large hailstones and there is talk of the possibility of long tracked tornadoes if the storms can move further east into moisture.
Rozel Kansas was the centre of action for today in Kansas!
https://www.facebook.com/lorraine.mahoney.545?fref=ts
Related Terms: