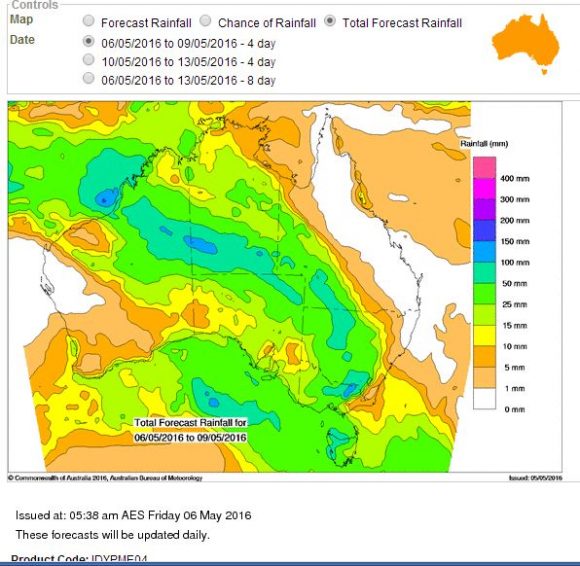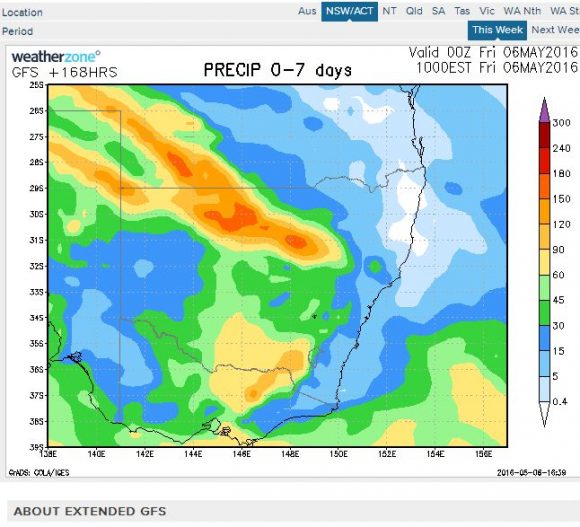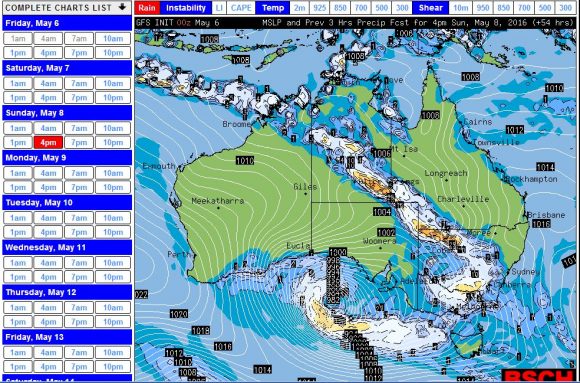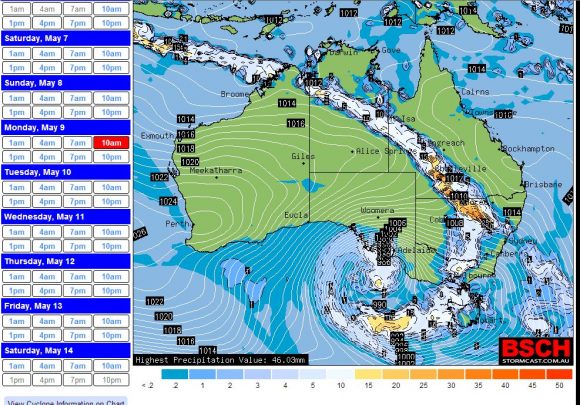 The Autumn break is a term defined as the first significant rainfall event for the winter cropping season. The break is often anticipated by farmers across the wheat sheep belt of south eastern Australia (New South Wales and Victoria). It is characterised by a long period of rain lasting at least one or two days in duration. The Autumn break is crucial for establishing the winter crops.
The event should normally occur by April but this year for 2016, it is later occurring well into May.
A cloud cloud mass is currently developing over north west Australia tracking south east and appears to interact with a cold front. Weather models are hinting strongly at a large scale and widespread rain event for Sunday and Monday 8 and 9 May that appears to fit the definition of the Autumn break.
The models are showing at least one rain band and possibly two bands as the system moves through the inland areas of south eastern Australia although if rainfall reaches the coast, it will be much lighter. This is the system to watch because if it eventuates, then this event will return crucial moisture to the soils following a lengthy dry spell lasting a number of months and allow the new cropping season to be established.
Weather models clearly hint that the Murray Darling Basin will receive the best of the falls. The Water and the Land model is hinting at a vast region of Australia to be impacted in some form by the event with widespread 25 to 50 mm falls occurring across a swath of Western Australia, Northern territory, South Australia, western and South West Queensland, a swathe of inland New South Wales and Victoria. Looking more closely, there is suggestion of falls reaching 50 to 100 mm across some areas within all four states and there is even suggestion of isolated falls 100 mm or more falling across small portions of Northern territory and north east Victoria.
The Weatherzone model for South East Australia is showing falls reaching 90 to 150 mm across a swath of New South Wales stretching north west into south west Queensland. The model also suggests falls of 60 to 90 mm across southern New South Wales and northern Victoria increasing to 90 to 120 mm across the ranges of north east Victoria.
It is noted that warnings are being issued for potential localised flooding in some areas as well as wind and even storms from the event.
Whatever occurs Sunday and Monday, this system has potential to deliver a widespread event where it is needed and if it eventuates as suggested by the models, then this event would be called 'The Autumn Break".
Related Terms: