For three days in a row, much of Brisbane and surrounds have experienced rainfalls greater than 200 mm in a single day.
Such rainfall has resulted in major flooding between Gympie in the north all the way south to the New South Wales state border.
This has been a catastrophic event with moderate to major flooding being experienced along the Brisbane River and major flooding along smaller rivers and tributaries that feed into the same river.
However, while this is a major event, it is probable that the current flood situation will not reach the levels seen in 2011 because much of this rainfall was more coastal rather than inland.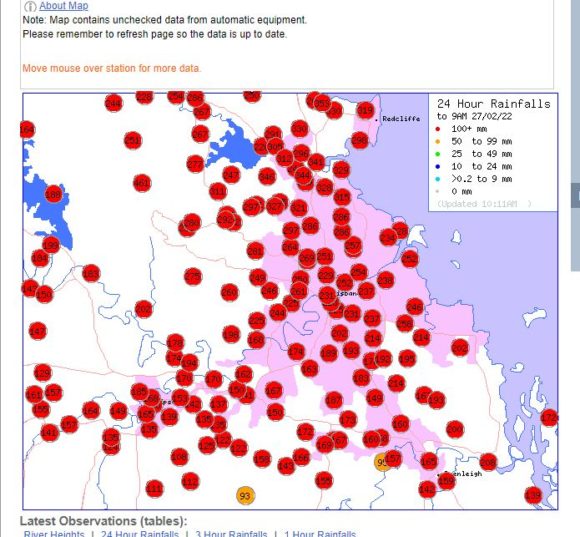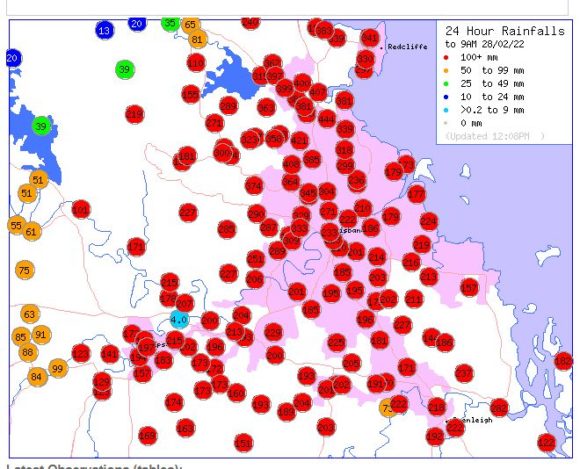 For the 24 hours to 9 am Sunday morning, rainfall totals have topped 300 mm across some localities including:-
Rose Creek - 362 mm.
Deception Bay - 353 mm.
Elimbah Alert - 350 mm.
Norman Alert - 344 mm.
Kippa Ring Alert - 319 mm.
Mt Glorious - It appears the 709 mm recorded on Saturday morning is genuine and being recognized by the Bureau of Meteorology. It is found that 1,139 mm has fallen here in the 44 hours leading up to 5 am Sunday morning.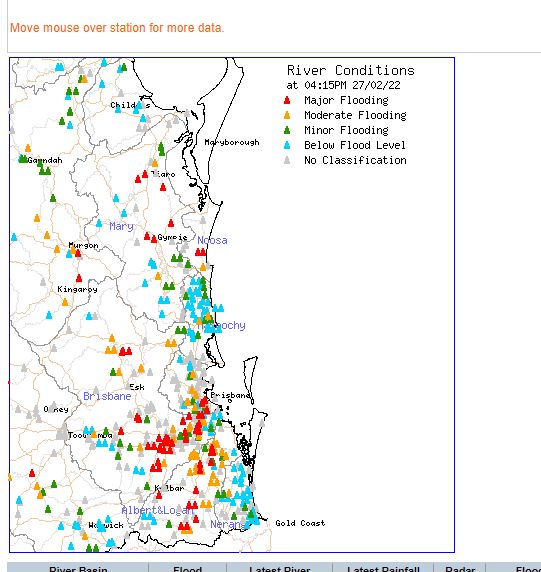 Brisbane City has experienced three consecutive days where rainfall totals have topped 200 mm being 225.6 mm on Saturday morning, 228.4 mm on Sunday morning and 222.8 mm by Monday morning (Total 676.8 mm). Of interest, Brisbane City received 64 mm to 9 am Friday morning (The 4 day total is 740 mm). Brisbane receives on average 989.9 mm per year and given that 740 mm has fallen in 4 days, this represents 74.7% of its yearly rainfall from one storm event.
Some of this rainfall is starting to approach what would occur within a typical year at many locations but instead such totals have been recorded in 3 to 4 days.
Cumberland City Council engineers have identified for me that some of the rainfall figures including the intensities being recorded would reach levels seen during a 1 in 100 year event.
In Gympie where major flooding has caused extensive damage and road closures, 219 mm fell for the 24 hours to 9 am Sunday morning.
Notwithstanding what has fallen, during Sunday and Monday further major falls occurred across Brisbane including:
Bracken Ridge - 441 mm.
Albany Creek - 421 mm.
Murrumba Alert - 407 mm.
Lawnton Alert - 400 mm.
(All rain gauges are located across the north eastern suburbs of Brisbane).
It is now known that at least 7 people have lost their lives from this event.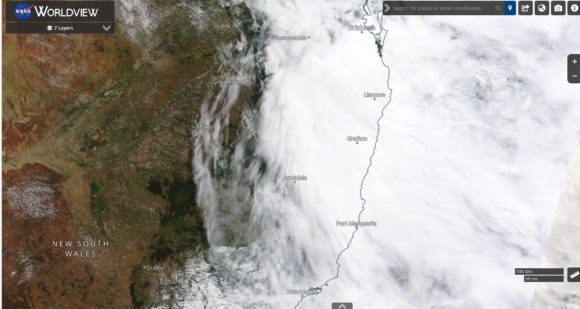 This event has spilled into north east New South Wales especially the Richmond / Tweed area where falls have reached 206 mm at Numinbah (24 hours to 9 am Sunday total). With saturated river catchments, flooding along rivers is already occurring. Moderate to major flooding has already occurred along some rivers including the Tweed, Clarence and Nambucca.
Major rainfall has occurred between Coffs Harbour all the way to the Queensland State Border and for the 24 hours to 9 am Monday morning, the heavier totals include:-
Coffs Harbour - 116 to 193 mm with the heavier falls occurring across the northern areas close to the northern hills.
The Grafton Research Station recorded 252 mm. Shannon Brook further North received 422 mm but the highest totals for the period were:
Bently (West of Lismore) - 485 mm.
Mullumbimby - 520 mm.
Kunghur - 522 mm.
Upper Burringbar - 535 mm.
Nimbin - 537 mm.
Palmers Road - 540 mm.
Uki (Tweed River) - 575 mm.
Repentance - 592 mm.
Doon Doon Mc Cabes Road - 698 mm.
Goongengerry - 706 mm.
The totals are recorded in one day and of interest, the figure for Goongengerry is almost the equivalent of the entire average yearly rainfall for Penrith (Western Sydney) - Average here is 742.2 mm. This makes this event exceptional for the amount that is falling.
The area encompasses the Tweed River Valley inland from Tweed Heads but within the hills of the Great Dividing Range. All the major rivers are in flood and at moderate to major flood levels. Even during Monday, rainfall totals have again topped 300 mm at the time of writing such as Upper Burringbar 345 mm (To 5 pm Monday afternoon).
There is certainly more rainfall to come for affected areas and even around Sydney, falls of 100 mm are being forecast over coming days with Wednesday being of substantial interest. The potential exists for flooding even across low lying areas of Sydney.
However the same forecast models show evidence of another significant weather event just to the south of Sydney encompassing Wollongong to the New South Wales South Coast where significant falls of 100 to 200 mm are being forecast but such totals and final location are subject to where the actual low pressure area forms.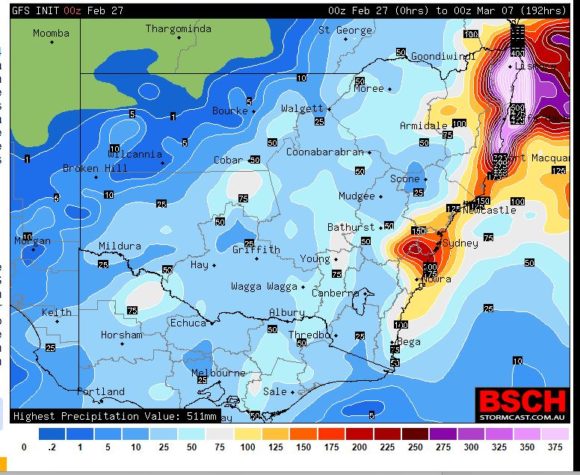 Attached to this post is a sample of the skies over Western Sydney producing the constant rain and heavy showers being persistent cloud that has been existing right along the New South Wales coastline causing the above mentioned events.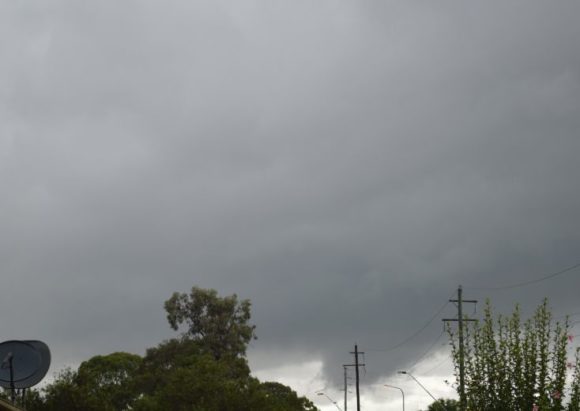 Further:-
1 - Various plots from the Water and the Land site showing rainfall figures and rivers in flood (South East Queensland).
2 - Satellite photo - (Himawari 27/2/2022 from BOM) clearly showing the weather event.
3 - Forecast rainfall predictions for New South Wales from the GFS taken on Sunday evening.
It is not possible to visit the flooded regions for photos dues to road closures and work however any significant flooding that occurs around Sydney during Wednesday and Thursday will be documented as part of the current weather event.
Related Terms: