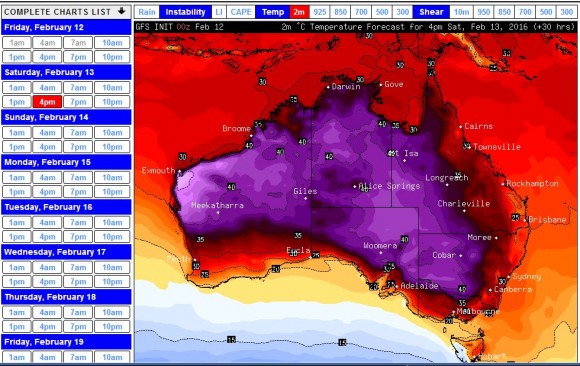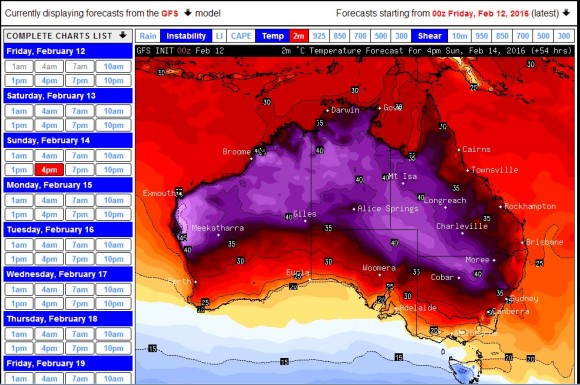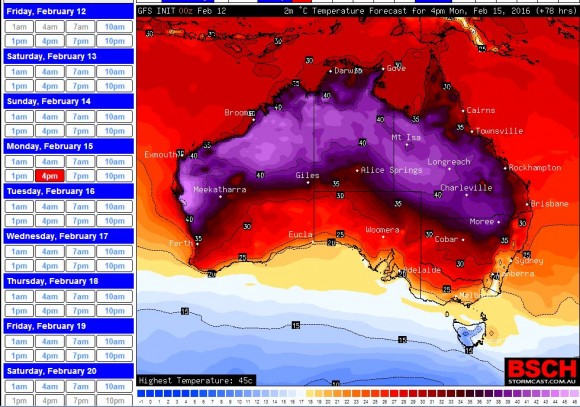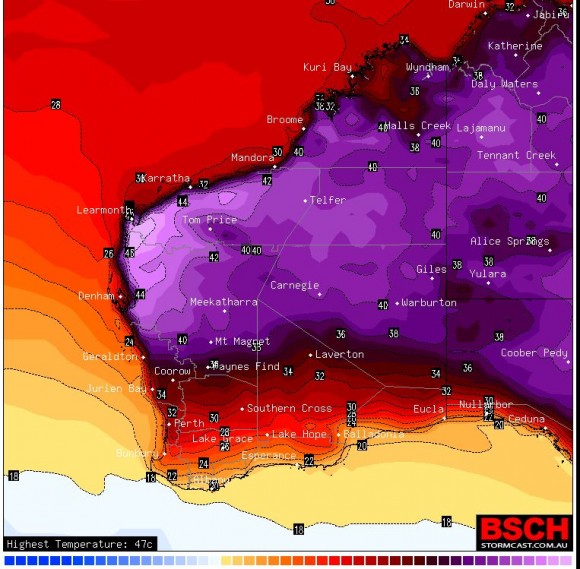 As shown on the daily forecast maximum temperature plots taken from the BSCH for 4 pm Saturday to Monday 13 to the 15 February 2016, a significant heatwave is impacting a vast region of the continent especially the northern regions, desert regions and regions away from the southern coastlines.
The heatwave is vast that Western Australia, Northern Territory, inland Queensland, inland South Australia and inland western and northern New South Wales is worst affected.
Many inland communities are sweltering in maximum temperatures reaching into the low 40Cs for days at a time.
Some of the worst affected areas is by far the Pilbara region of North West Western Australia where the dome of heat is not breaking up. As such forecasts of 44C or hotter are being made at several places including Marble Bar and Telfer. A forecast high of 47C is being made for Marble Bar for both Saturday and Sunday while a forecast high of 46C is being made for Telfer for Saturday. Generally any location within the Pilbara region have temperature forecasts of 45C or hotter for the next few days.
Earlier this week the city of Perth endured a heatwave that saw 4 consecutive days of 40C or higher which ended on Wednesday. Between Sunday and Wednesday 7 to 10 February, a maximum high of 40.4C, 42.5C, 41.2C and 40.3C was recorded. This is considered to be mild when compared to Pearce Air Force Base (NE of Perth) that saw 40.6C, 43.1C, 44.3C and 45.1C recorded during the same period.
This was not a record for Perth but it is rare for the city to endure such degree of heat over four days.
Gascoyne Junction has experience three days in a row of maximum temperatures exceeding 45C with 46.6C recorded on the 11/2/2016. Shark Bay recorded one day of 46C which occurred on the 8/2/2016. Other towns where 45C has been reached some time in the past few days include Cunderdin and Northam (11/2/2016) inland north east of Perth.
Other localities have sweltered in the low 40Cs (Between 40C and 43C).
In the case of South Australia, it is the desert region that is worst affected such as Moomba, Maree and Oodnadatta. Oodnadatta has sweltered through three days of 40C maximum temperatures.
In Western New South Wales, the heat is limited to the western desert regions such as Broken Hill and Fowlers Gap. At Fowlers Gap, it has reached 40C on two consecutive days of Wednesday and Thursday and it has reached 38C or hotter for the past 5 days. The township of Minindee has experienced three days of 40C in a row Tuesday to Thursday and White Cliffs has sweltered through 5 consecutive days of 38C or hotter.
In Queensland, perhaps the town with the highest maximum temperatures recorded for the past week is at Julia Creek where the following has occurred:-
Friday (5/2) 38.3C.
Saturday (6/2) 39C.
Sunday (7/2) 40.8C.
Monday (8/2) 41.5C.
Tuesday (9/2) 39.9C.
Wednesday (10/2) 39.2C.
Thursday (11/2) 39.3C.
This represents 7 consecutive days where 38C or higher has been recorded.
It has even been hot at Birdsville where 41.2C, 41.9C and 42.6C was recorded on 9, 10 and 11 February 2016.
In Northern Territory it appears that a township called Wullungurra has recorded the longest spell of maximum temperatures over 38C. In this regard, the town has sweltered through 5 consecutive days where 39C has been recorded including 4 consecutive days of 40C with 41.9C being recorded on the 11/2/2016.
This generally shows a strong heatwave across the interior of the continent although it is affecting a vast region. It is interesting that other than Perth and its regions, all other capital cities are not experiencing this event. Of course, the worst of the heat is afflicting mostly uninhabited regions or sparsely populated regions of the country.
CREDITS
Bureau of Meteorology (Maximum temperatures) (Various) acquired 12/2/2016.
Related Terms: