Following an extended period of cooler than normal weather for much of south eastern Australia, it is identified that there is a change in weather conditions and a burst of heat is imminent. It is identified that the next 3 to 4 days across inland regions of the south east will become hot with higher than normal maximum temperatures expected.
This heat has been dragged across to the south east in the wake of a strong high pressure cell and the development of hot north westerly winds that will drag the heat towards the south east. However, this heatwave is expected to be limited mostly to those regions that missed the recent rain events. As such, the burst of heat according to weather models will not make it to the east coast. While temperature will rise in the 30s for places such as Western Sydney, the extreme heat is not forecast to occur at the present time. Sea breezes along the coast should moderate daily maximum temperatures.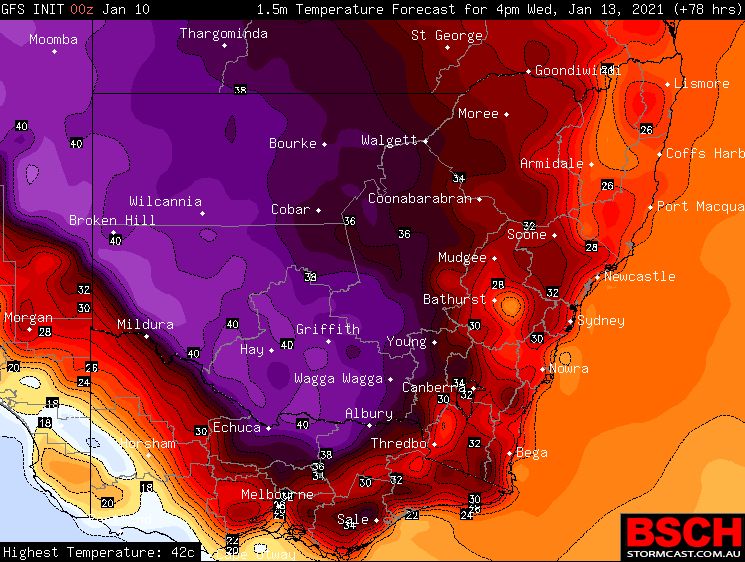 As such, the west and south west parts of New South Wales and northern Victoria, north of the Great Dividing Range will be most affected by this event.
Forecast maximum temperatures over the next 4 days for the affected regions includes:-
1 - Wilcannia (Far West NSW) - Mon - 38C, Tue 41C, Wed 43C and Thu 37C.
2 - Broken Hill (Far west NSW) - Mon - 37C, Tue 38C and Wed 41C.
3 - Swan Hill (Mallee of NW Victoria) - Mon - 38C, Tue 40C, Wed 38C and Thu 40C.
4 - Mildura (Mallee of NW Victoria) - Mon - 38C, Tue 40C, Wed 38C and Thu 41C.
5 - Albury / Wodonga and Wagga Wagga (SW slopes NSW / NE Victoria) - Mon - 37C, Tue 39C and Wed 41C.
This suggests that the low intensity heatwave will be mostly concentrated within a corridor stretching from Albury / Wodonga / Wagga Wagga region of the south west slopes of NSW / North East Victoria, across Northern Victoria and north west towards Tibooburra in New South Wales. The heat is expected to moderate on Wednesday / Thursday as a wind change occurs and traverses east across Victoria.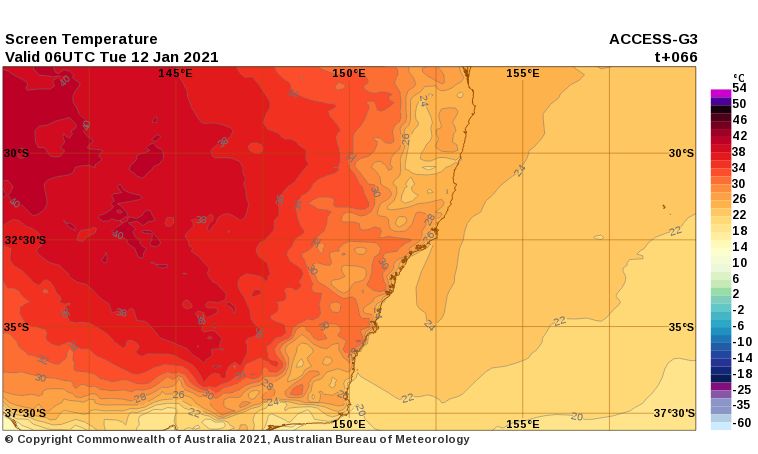 As suggested in previous posts, much of the region has already seen elevated fire danger levels this summer and this event will generate another period where the fire threat is high due to how dry it is for the affected regions.
Related Terms: