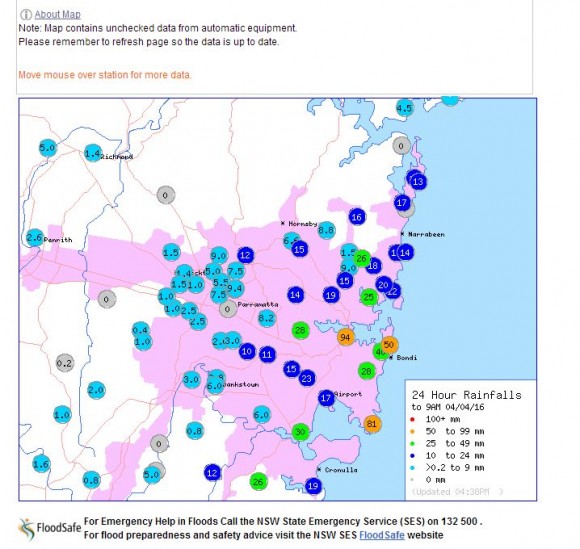 Similar to a recent rain event that affected portions of Wollongong, overnight 3 and 4 April 2016, portions of Sydney experienced a downpour that was not expected. Sydney is prone to local downpours resulting in some suburbs receiving significant falls whereas suburbs just a few kilometres away receive little rainfall.
The same occurred during the stated period. In this regard, the weather station at Observatory Hill (Sydney) recorded 94.4 mm of rain for the 24 hours to 9 am 4/4/2016 with much of this falling between 10.30 pm and 5.30 am including 50 mm between 10.30 pm and 11.30 pm.
This is unusual because nearby weather station rain gauges recorded much less although a station at Little Bay recorded 81 mm and Bondi had 50 mm. A rain gauge at Sydney Airport received just 17 mm showing the localised nature of the event.
Suburbs just 10 km away received 15 to 23 mm and much of Sydney's west had 1 mm or less. The recordings at Sydney Observatory Hill shows the following:-
9.30 pm - 0.6 mm.
10 pm - 1.8 mm.
10.30 pm - 5.6 mm.
11.30 pm - 57 mm (50 mm in the hour).
12 midnight - 70.8 mm.
1 am - 83.4 mm.
5.30 am - 91.8 mm.
9 am - 94.4 mm.
The attached rainfall plot from the "Water and the Land" for Sydney to 9 am 4/4/2016 "Bureau of Meteorology" shows the localised nature of this event. While Sydney City and a few other localities were soaked, much of Sydney completely missed out on the event.
Related Terms: