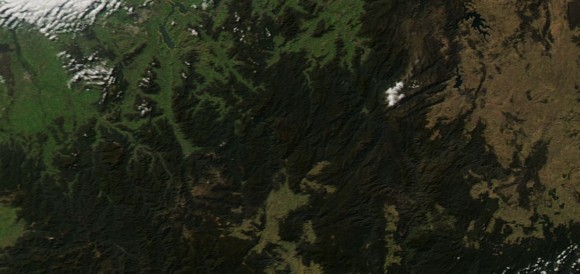 The two MODIS satellite photos acquired from NASA dated June 4 and June 26 2015 is showing an interesting but an alarming feature of Australia's high country and alpine snow region for June 2015 and indeed for winter 2015.
The first photo taken is showing the first and only significant snow fall across the high country that occurred early June which saw up to 30 cm of natural snow fall including an official reading of 30 cm at Spencers Creek (1,830 metres).
The second photo is the fly over of June 26 (MODIS). When compared, it is clear that the snow cover and snow base that had built up during the early June snow event has all but melted. There has been little or no snowfall since and warm daytime temperatures and rain have caused most of the natural cover to melt.
There is little or no natural snow cover at any of the resorts in Victoria heading into July with almost no natural snow cover for the New South Wales ski resorts. As at Saturday 27 June, the official Snowy Hydro report is showing a "0 cm" cover at Spencers Creek.
There is light snow cover around Mt Kosciusko and Mt Townsend but it is clear that any snow left from the early June event is only found at elevations of approximately 2,000 metres and above.
The only snow in existence is that from machines (Machine made snow). Overnight Friday / Saturday, there were 140 snow gun machines in operation to create a cover for limited areas only at Thredbo New South Wales.
The situation is similar at Mt Hotham (Victoria) where snow gun machines have been in operation. It has been cold enough at night to create snow but the issue is lack of natural cover going into July.
Longer range weather forecasts is suggesting light snow (Up to but no more than 2.5 cm) for Thursday 2 July with the arrival of a cold front at elevations of 1,500 metres or more but forecasts suggest it will be light. The forecasts are hinting at 60% chance of natural snowfall on Thursday. Hence the prospect for good snowfalls for the first week of the school holidays is not good.
With El Nino taking hold, perhaps this is a sign that the 2015 snow season will not be a good year for the snow resorts similar to what occurred during the 1982 and 2006 seasons which were also El Nino years. Only time will tell whether the season turns around but one thing is certain, it is unusual to see most if not all the snow cover melt during June and at the coldest time of the year.
Related Terms: