On 18 February 2012, I continued a two day storm chase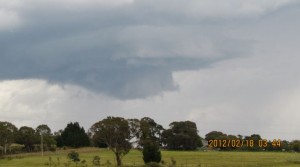 except this time I concentrated my efforts around the Portland to Capertee region. Late that afternoon, I intercepted this storm (2 photos supplied). I thought this was unusual and I was amazed at the structure. This was coming towards me but held its shape for a while.
The photos and others similar to it were taken in a rural location between Ben Bullen and Capertee NSW at a point where the Castlereagh HWY crosses the railway line. I am looking west towards Turon National Park. The Gardens of Stone National Park lies to the east to provide clarity where I am.
Is this inflow? It has an interesting structure. Thank you.