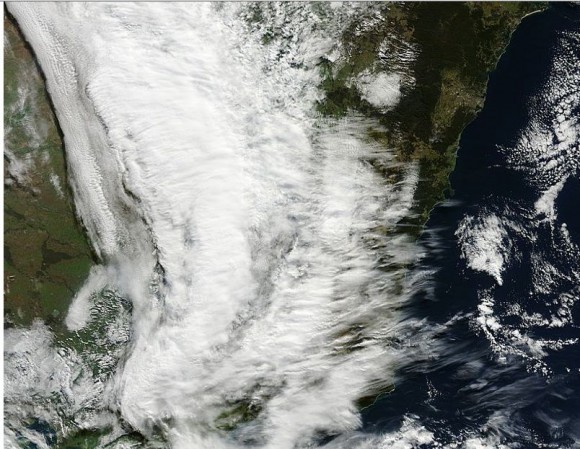 As identified in a previous post, weather models were showing a cold and wet spell to affect much of Victoria and New South Wales.
The satellite photo acquired from NASA (Rapid Lance) and dated 15 July is showing a significant cloud mass covering large areas of Victoria and New South Wales for the period.
Towns and cities underneath the heaviest of the cloud have experienced very low maximum temperatures, light to moderate rain and even some snowfall at elevation.
It is known that Stanley near Beechworth (NE Victoria) experienced a snow event and snow has fallen to around 700 metres at least in North East Victoria. Maximum temperatures are remarkable and well below average which is capping off a cold week. Some cold maximums include:-
Albury - Maximum of 6.7C and a minimum of 4.5C.
Canberra - Maximum of 7.7C at 4 pm and a minimum of 1.4C at 3 am.
Orange - Maximum of 7.4C at 3.30 pm and zero Celsius at midnight.
Rutherglen - Maximum of 7.6C at midday with a minimum of 4.8C at 7 am.
Shepparton (Goulburn Valley Victoria) - Maximum of 9.7C at 3.30 pm but a minimum of minus 0.6C at 8 am.
Temora - Maximum of 7.1C and a minimum of 5.2C.
Wagga Wagga - Maximum of 7.2C at 1 pm with a minimum of 5.3C at 5.11 and 5.30 am.
This provides an account of conditions at selected locations. Light rain and low cloud such as 10 mm at Albury before 9 am and another 4 mm between 9 am and 6 pm today shows no heating whatsoever and a day where constant low cloud and drizzle featured. This is the second day in a row where the maximum temperature failed to reach or approach 10 degrees Celsius here (8.5C maximum for the 14 July).
Another feature was that the rain band was slow moving or training over affected areas compounding the cold conditions.
Some beneficial rain occurred up until 9 am 15/7/15 including:-
Whitlands - 25 mm (Highest total)
Benalla - 20 mm.
Wangaratta - 19 mm.
Wodonga and Yackandandah - 17 mm.
Bright - 16 mm.
Falls Creek 12 mm (Fell as snow).
Note:- the locations are in NE Victoria with lighter falls across New South Wales.
This is showing that the cold conditions is the more significant feature of this system at the present time and this explains why snow has fallen to relatively low levels in North East Victoria.
Related Terms: