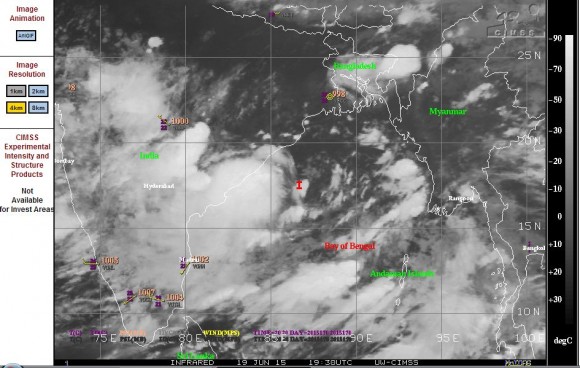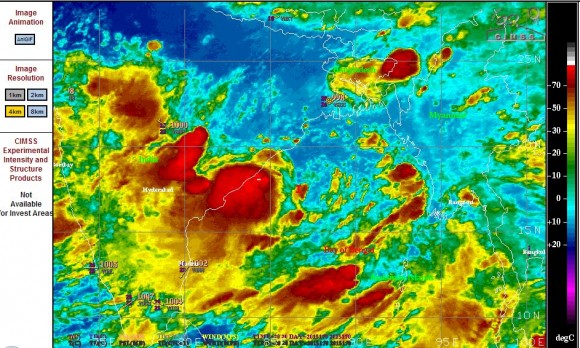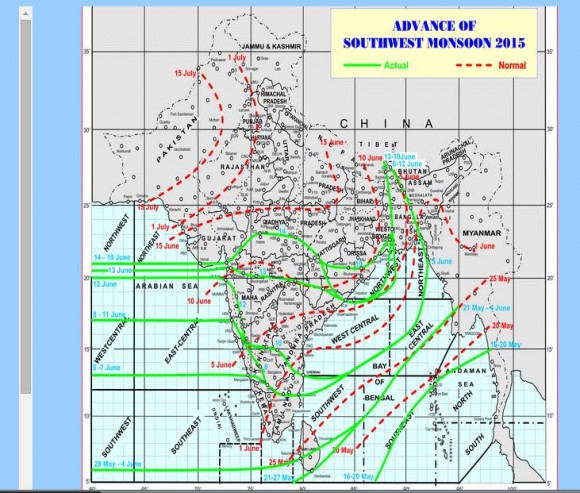 The monsoon has arrived across much of India following the recent heatwave that took a heavy toll across the country. In addition to the heavy downpours, storms and local flood events, a tropical disturbance just off the east coast of India is being closely monitored. As identified in the CIMSS plots (NOAA - June 18/19 2015), this disturbance is enhancing rainfall along the south east coastline of the country.
The investigation area currently has winds of 20 knots at its centre. Satellite imagery is showing active convection occurring which is supported by sea surface temperatures of no less than 30C to 31C. A number of thunderstorms are occurring throughout the country and this type of activity will continue for several days.
The arrival of the monsoon is resulting in forecast daily rainfall of 50 mm to 100 mm due to high moisture available to fuel thunderstorm cells. Based on Accuweather data and reporting, the monsoon has already had dramatic impact in some areas including:-
Mumbai - 575 mm of rain falling between 11 and 17 June with 325 mm occurring on the 18 and 19 June.
The Indian Meteorological Department daily weather and rainfall data has been reviewed and some incredible rainfall has been occurring especially over Assam and Meghalaya State where on June 13, Cherrapunji received 250 mm of rain in one day and another 100 mm of rain on the 14 June. Heavy rain and storm events on a daily basis has contributed to the following daily rainfall totals rounded out:-
11 June - Williamnagar - 170 mm. Bahalpur - 160 mm. Tikrikilla - 150 mm.
12 June - Karwar Observatory - 190 mm (Coastal Karnataka State) Rango - 130 mm (Sikkim State). Kantapada - 130 mm (Odiska State) and Bantwal - 130 mm (Coastal Karnataka State).
13 June - Cherrapunji - 250 mm (Assam and Meghalaya State) and Saroornagar - 130 mm (Telanganda State).
14 June - Girnadam - 160 mm (Madhya Maharashtra State). Cherrapunji - 100 mm (Assam and Meghalaya State).
16 June - Williamnagar - 210 mm and Mawsynram - 180 mm (Assam and Meghalaya State).
Note:- These have been rounded out by the Indian Weather Department and it is noted that these are reported in Centimetres rather than millimetres.
When looking at these more closely, the heaviest rainfall has been occurring in Assam - Meghalaya State in North East India near the Himalayas and it is identified that rainfall for June is already 20% or more above the long term average for that area.
Further, a large portion of India has already received rainfall that is above average for June due to an active monsoon period.
It is also identified that the monsoon has not reached northern central India but this is expected to change as shown in the updated Monsoon Plot (Indian Meteorological Department June 19 2015).
The rains are heavy and causing flooding or capable of causing flooding but it must be remembered that the country needs the heavy rain to support its cropping lands and rice growing production.
Despite such heavy rain and flooding, there are predictions that the overall monsoon season may see rainfall below average due to the El Nino phenomena taking shape.
Related Terms: