Hurricane Ida has made landfall as a major hurricane as forecast although it is noted that just prior to landfall peak wind gusts were estimated at close to 130 knots (241 km/h).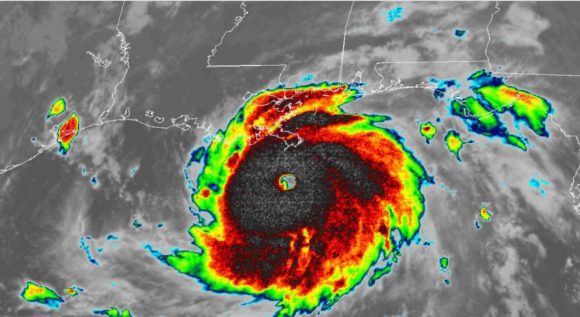 The outer storm bands first hit the Mississippi River Delta region and later metropolitan New Orleans before spreading onshore across the region.
It is clear that Ida reached Category 4 on the Saffir Simpson Scale. Measurements taken demonstrate that this storm was vertically deep and intense. Doppler radar velocity data from Slidell suggested 130 knot winds (241 km/h) between 7.5 to 9 km above sea level and it attained a clear eye of approximately 28 km in diameter.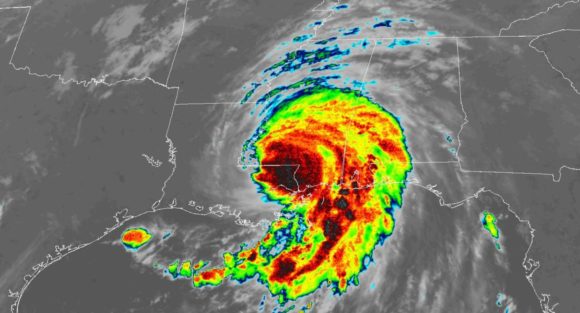 The storm has brought destructive winds and rain.
It is presently difficult in obtaining actual data from weather stations due to large areas being impacted by significant power loss however it is known that a weather station north of the city centre of New Orleans (Lakefront Airport) recorded a peak wind gust of 86 mp/h (Converted to 138 km/h). It is presently difficult to obtain verified data close to the area where the eye crossed due to significant damage to electrical grids and related infrastructure.
Even obtaining rainfall data is difficult for the same reason. However, it is known to date to 7 pm 29 August 2021:-
Slidell NE of New Orleans recorded 100 mm.
New Orleans City centre – A rain gauge recorded 91.6 mm.
Port of South Louisiana - 125.2 mm.
These are converted from inches as the NWS uses inches. However since that time more significant rainfall has occurred because there is significant low lying flooding in many areas.
The plot prepared on the NWS to 7 pm 29/8/2021 shows isolated areas receiving upwards of 100 to 125 mm within New Orleans including two other areas outside the city.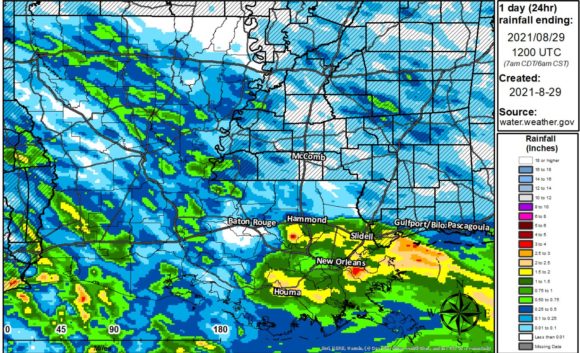 Much heavier rain would have occurred since that time.
CNN is reporting approximately 1.1 million residents without power, 1 fatality to date and numerous roads impassible. It is too early to know what is going on due to continuing impacts the storm is having.
It is known that the eye wall passed 40 km west of New Orleans.
An Image from GOES 16 (Available via the National Weather Service) shows an intense storm and a clear eye. This storm is at its peak being a Category 4 system on the Saffir Simpson Scale and just before landfall. A second image is attached following landfall showing a weakening storm.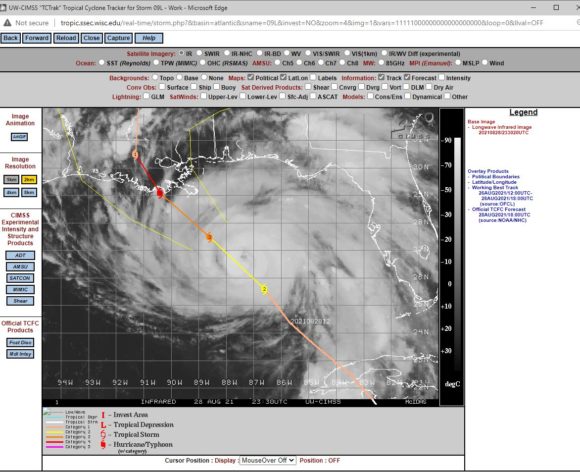 There is no doubt that over coming days, damage assessments will be under way and search and rescue operations commencing. There is anecdotal evidence that this is going to be a very costly event once the true impacts of the storm is known.
At the time of writing, Hurricane Ida is no more having weakened to a tropical storm as it slowly moves north east across the Mississippi Valley.
Related Terms: