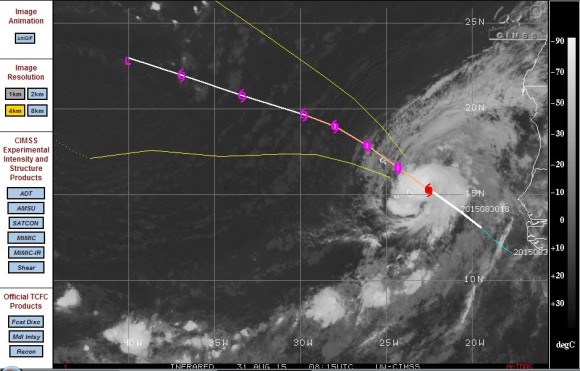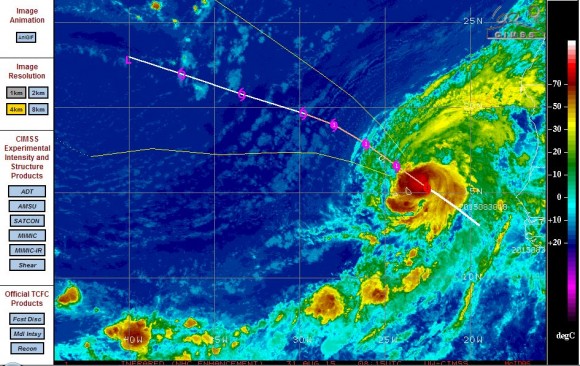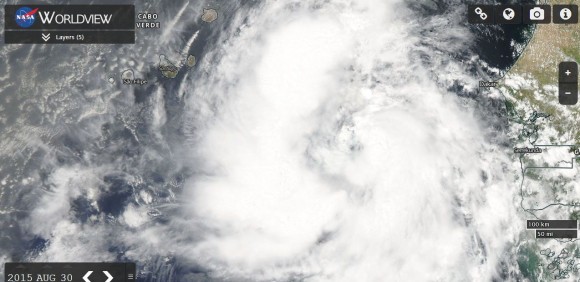 A small but short lived hurricane has developed off the west coast of Africa over recent days but due to its movement over cooler waters north west of the Cape Verde Islands and the intrusion of dry air originating from the Sahara Desert, the storm is already starting to weaken.
The storm developed into a hurricane named as Hurricane Fred at 15.3 degrees north and 22.5 degrees west. The storm formed over waters of 29c to 30C just to the east of the Cape Verde Islands. Here waters are warm enough to sustain a hurricane however cooler waters lie further west and north.
While it is the first Atlantic Ocean hurricane of the season excluding the named tropical storms that have already occurred, this storm only attained a peak intensity of Category 1 with maximum wind gusts of 70 to 75 knots (Approximately 130 to 139 km/h) winds.
Shear, drier air and the movement over colder waters will ensure that the storm will not survive and hence, the storm is not a threat to the United States or other islands across the West Indies.
The attached CIMSS model for the storm is provided (Acquired 31/8/15). This generally shows that the small hurricane will have a short life span.
The satellite photo from MODIS Worldview (Acquired 31/8/15) from NASA with overlays is showing the storm in greater detail. Significant convection is evident on its western and eastern quadrants however the storm is not fully developed. Indeed, the storm is now weakening due to its environment.
Related Terms: