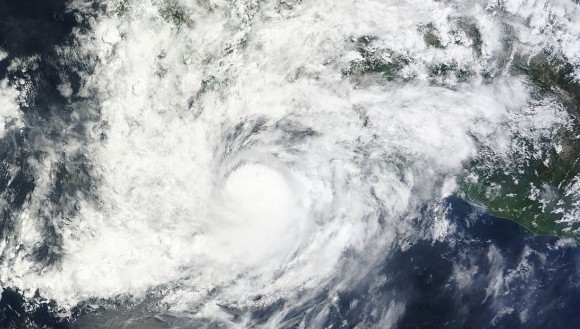 Over the past few days Hurricane Carlos has been traversing a north west direction just off the coast of Mexico. The storm maintained itself as a Category 1 hurricane although over recent hours, the storm has been weakening and is breaking apart. Much of the storm has come ashore over the coastal areas of Michoacan State (Mexico) and is now downgraded to a tropical storm. Wind speeds close to the centre are still reaching 60 knots but are lessening.
The storm will encounter cooler waters and terrain as well as dry air which will end its life. The storm in a weakened form is affecting towns and cities such as Aquila and Tecoman.
A satellite photo of Hurricane Carlos from MODIS (Acquired from NASA 15 June 2015) shows Carlos prior to landfall. An interesting feature of the storm is the lack of an eye but its centre is clearly defined by convective cumulonimbus cloud. Fortunately most of the rain has stayed out to sea. At landfall, there is a threat of heavy rain and there is the potential for mudslides but significant damage is not expected.
The storm should now weaken into a depression as it tracks further north.
Related Terms: