The January 27 2010 and January 28 2010 storm events are events worthy of mention, further discussion and investigation given the rare radar echo structures observed - namely hook echos. Furthermore, the location, close to a major populated area Sydney makes it more significant. Although no evidence of tornadoes have been observed until this point (and probably won't be), the events still are of concern given any number of cells could have become tornadic.
The January 27 2010 Dryline Supercell Outbreak with hook echo radar signatures
Although I don't have time at this point to research archives of the datasets, the 27th January 2010 produced several storms in the morning in the vicinity of the Central Tablelands and Central West Plains. A few of the cells in particular near Oberon and Orange moved east into a moist and very unstable environment. With a deep moist layer advecting westwards, shear profiles in the region near the southern parts of the Central Tablelands bordering Lithgow Jenolan, and the western part of the Wollemi were favourable for supercells. These storms became surface based and exhibited hook echos.
The first storm denoted as Storm A develops and quickly became severe, changes direction and produces the first hook about 40km south of Jenolan. The time period that best matches this behaviour is as follows
Begins 03:18 27/01/2010 UTC
Ends 04:24 27/01/2010 UTC
The second storm named as Storm B develops produces its hook towards the end of the life cycle of Storm A
Begins 04:18 27/01/2010 UTC
Ends 04:36 27/01/2010 UTC
A third storm we will name Storm C develops a hook after 04:30 27/01/2010 UTC and last perhaps until about the 05:00 27/01/2010 UTC time frame. This is the classic supercell complete with wall cloud and precipitation RFD cascade I intercepted. The base was visually rotating and this one was comparitvely less impressive or long lasting in terms of radar signature!
Storm C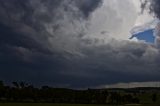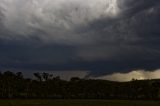 A fourth storm denoted Storm D develops to its immediate NNW and cramps Storm C perhaps limiting its supply of inflow and eventually they become embedded and join into a complex with another Storm E now south of Kandos. This complex eventually moved and perhaps develop an HP supercell structure heading north along the range towards Merriwa - perhaps tracking a boundary until 09:42 27/01/2010 UTC.
Base and possible wall cloud of Storm D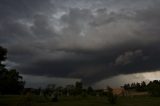 Storm E situated south of Kandos north east of my location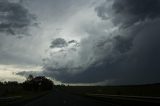 Both storms C and Storm D crossed the Lithgow - Mudgee road and dropped hail perhaps to at least golf balls (not measured) or larger based on stripped leaves observations!
The January 28 2010 Supercells with significant hook echo signatures
With ample moisture once again in place over the coastal regions near Sydney the Hunter and Southern and Central Tablelands, an upper trough of sorts or cooling depicted on the models provided the basis for the development of significant supercells in these regions (Michael please provide the afternoon soundings for Sydney on both days then delete this message).
After multiple non-severe storms developed and tracked across the area, the first supercell We will call Storm F became anchored in the moisture south of Katoomba and tracked left of the easterly steering flow consistent with supercell behaviour - intense echos, slower storm motion in this case. Unconfirmed reports of hailstones to the size of oranges were possibly reported near Springwood and hailstones to 2 inches reported in Winmallee and W of Medway.
A second storm named Storm G develops and moves left developing a hook echo by 06:06 28/01/2010 UTC passing directly over Colo Heights. Significant wind shear couplets are observed on doppler radar just prior to Colo Heights. According to Harald Richter, the storm exhibits a mesocyclonic eye at some point in the vicinity of Colo Heights indicating a singificant circulation.
Storm F continues through the Wollemi National Park and exits into the Hunter Valley region. 5cm hail was intercepted from another storm that moved from Putty the one we got to Branxton.
At 06:42 28/01/2010 UTC, a double hook echo is observed on radar and this coincides with the time of the video taken as Nick and I and the ABC crew pass through most likely the second hook echo looking into the periphery of the first hook. Time of the video is adjusted to 5:52pm AEDT.
ConclusionThere are at least 3 hook echos on the January 27 2010 outbreak of supercells. There are also at least 3 hook echos identified from the January 28 2010 event and in one case a double hook echo on the storm ner Colo Heights. Hook echos are relatively rare signatures depicted on Autralian radar even in a 5 year return time frame. Who knows what the return period is for hook echos with such an event in Australian history. Moreso, what is the return period of a consecutive day event with multiple hook echo signatures experienced on both days.I encourage your input and discussion. This is an advanced scientific and factual based discussion. Please do not input thoughts that are uneducated guess work. Please do point out observations out time and/or location specific observations that are backed up by reliable sources. If not enjoy the read. (Any poorly researched or unreliable posts will be removed from this particular discussion. Any questions, please start a separate thread in General Weather - no general questions regarding terminology please. If you are unsure, contact the moderators.)Regards,Jimmy Deguara
Related Terms: