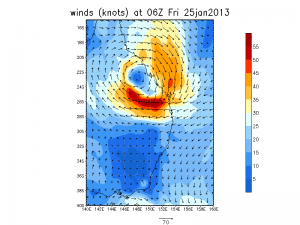 The ex-tropical cyclone moving down the Qld Coast has caused some heavy flooding along the far north Queensland region. This system is now moving down the coast and expected to impact NSW over the weekend. Here is a flood watch from the Bureau of Meteorology effective 25th January and will be updated as the event gets closer (26th January to 27th January 2013).
--------------
NSW Flood Watch: QLD Border to Hunter Valley & Upper Macintyre Valley
Source: Bureau of Meteorology
FLOOD WATCH FOR THE NSW COASTAL VALLEYS FROM THE QUEENSLAND BORDER TO LOWER HUNTER INCLUDING THE UPPER MACINTYRE VALLEY FROM LATE SATURDAY ONWARDS
Issued at 1:05 pm EDT on Friday 25 January 2013
Note: This Flood Watch is a "heads up" for possible future flooding and is NOT a Flood Warning [see note below].
Ex-tropical cyclone Oswald is expected to move south over the weekend into NSW and bring widespread heavy rain to the NSW north and mid north coasts and parts of the northern tablelands.
At this stage there is a greater than 75% chance that major flooding as well as local flash flooding will develop along the coastal river valleys from the Queensland Border to Taree, as well as the upper Macintyre Valley in the Northern Tablelands. Flooding is expected to develop from late Saturday and into Sunday and Monday as the weather system moves southwards over the weekend.
1. Upper Macintyre - major flooding
2. Tweed Valley (including Chillin gham) - major flooding
3. Brunswick Valley - major flooding
4. Richmond and Wilsons Valleys - major flooding
5. Clarence Valley (including Orara) - major flooding
6. Coffs Harbour - moderate to major flooding
7. Bellinger, Nambucca and Kalang Valleys - major flooding
8. Macleay Valley - including Armidale - major flooding
9. Hastings and Camden Haven (Logans Crossing) - major flooding
10. Manning Valley - moderate to major flooding
11. Patterson and Williams Valleys - moderate flooding
This Flood Watch means that people living or working along rivers and streams must monitor the latest weather forecasts and warnings and be ready to move to higher ground should flooding develop. Flood Warnings will be issued if Minor Flood Level is expected to be exceeded at key sites along the main rivers for which the Bureau of Meteorology provides a flood warning service.
Related Terms: