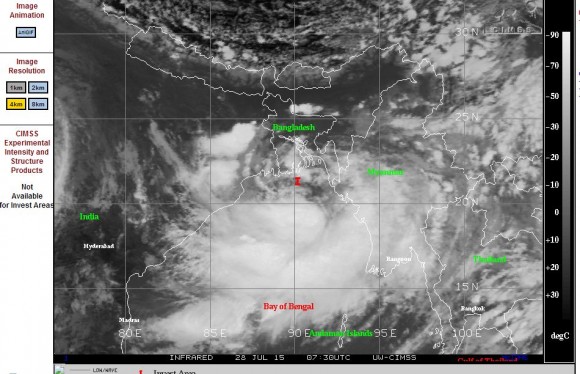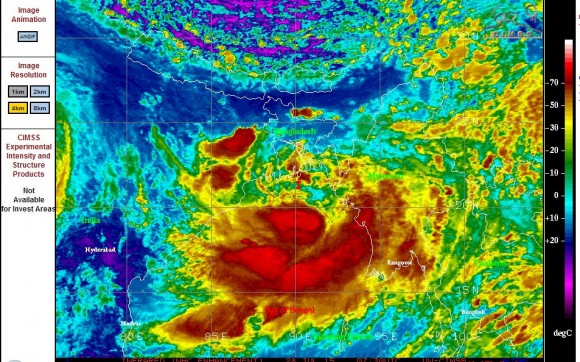 As shown on the satellite images acquired from CIMSS 28/7/2015, a very active monsoon low has developed within the northern part of the Bay of Bengal over the past few days. The low pressure cell is barely moving at the present time. Significant convective activity is occurring just off the coast of Bangladesh, India and Myanmar. Satellite images are showing major thunderstorm and rain activity within this system much of it over open waters.
It is suggested that this low will eventually move onto the Indian land mass resulting in a renewed burst of the monsoon.
Weather forecasters in India are anticipating a major rain event for Bangladesh and parts of India that borders the delta region of the country including Kolkata (Former Calcutta).
Weather forecasts for Kolkata for the next three days anticipates heavy rain including a forecast for drenching rain on Thursday with flooding anticipated and maximum daytime temperatures anywhere between 88F and 83F (28C to 31C). The forecasts even warn residents to be on alert for flooding during heavy rain events.
While not a tropical cyclone, the monsoon outbreak is threatening a flood event for parts of India especially around Kolkata and much of Bangladesh. This event is certainly one to watch for storms and flooding across the Indian Subcontinent.
Related Terms: