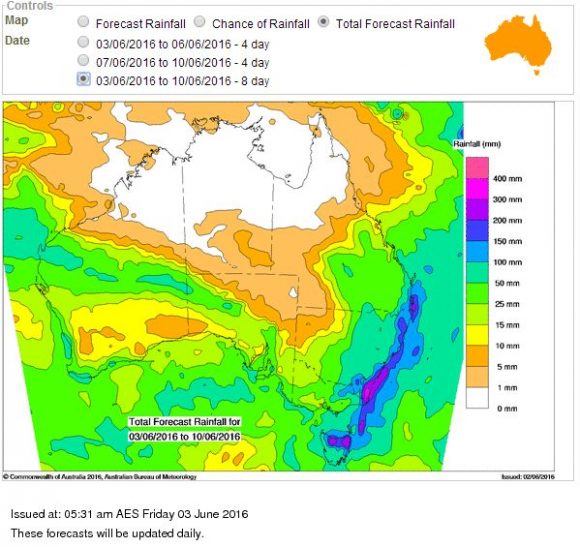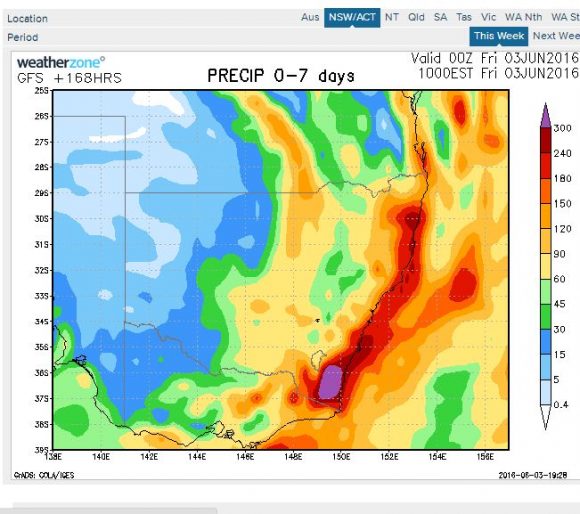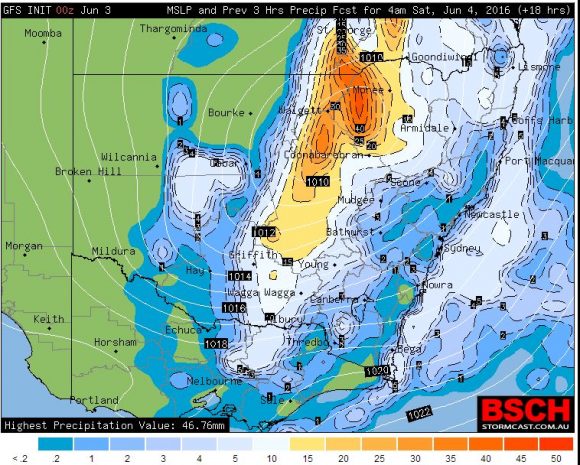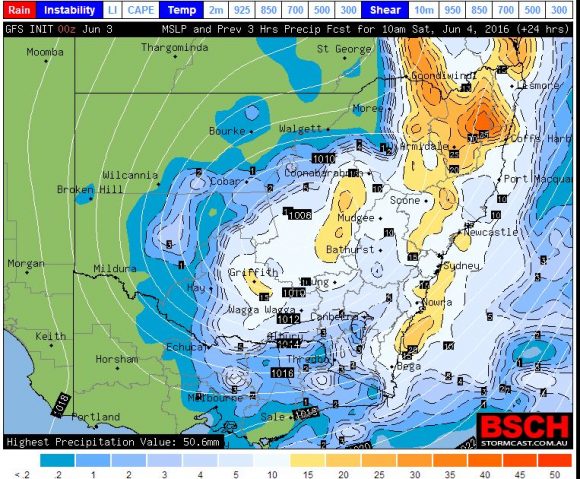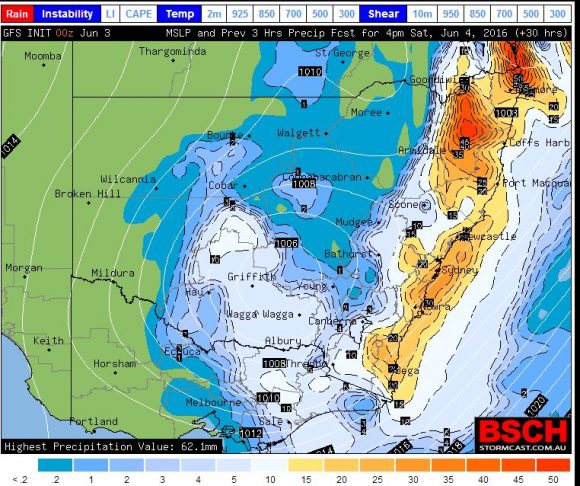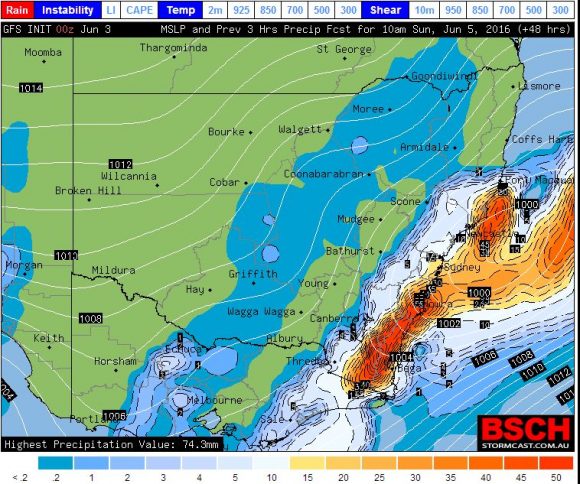 Weather synoptic charts and weather forecasts indicate a significant weather event to unfold across south east Queensland, Eastern New South Wales and Eastern Victoria over the next three days.
During Friday night and Saturday, an inland low pressure cell is expected to intensify as it tracks east across New South Wales then cross the coast with a substantial cloud mass.
It appears that a number of small low pressure cells will form as the system forms and reforms along the New South Wales east coast over coming days and it appears that the weather system will move southwards as the weekend progresses.
Weather models suggest that South East Queensland, eastern New South Wales and Eastern Victoria will be most affected by periods of heavy rain and strong winds. Heavy rain is expected to spread into South East Queensland and much of coastal New South Wales with some moderate falls for the eastern inland parts of the state.
The Water and the Land rainfall plot "Bureau of Meteorology" is suggesting the heaviest falls to occur in South East Queensland where as much as 150 to 200 mm of rain may fall. The same model is suggesting as much as 200 to 300 mm to occur along the New South Wales South Coast within an area south of Nowra to the Victorian State Border. The same model suggests 100 to 150 mm to occur in many other coastal areas and at least 50 mm across a swath of eastern inland New South Wales.
The rainfall model from Weatherzone is suggesting at least 150 to 180 mm for coastal South East Queensland and parts of the New South Wales North Coast including the Coffs Harbour region. The same model is suggesting rainfall of up to 300 mm for a region just south of Batemans Bay while falls of at least 60 mm is suggested for a swathe of inland New South Wales covering the sheep / wheat belt.
This is certainly an interesting weather event as flood watches and warnings have been issued along many coastal rivers and creeks such as the Tweed River, Wilsons River, Clarence River, Hastings River and the Nepean / Hawkesbury River systems.
Wind warnings for wind gusts to 90 km/h are forecast for Saturday and Sunday for much of the east coast. Other issues to contend with are high tides, beach erosion and significant surf that may lead to localised damage.
Late Friday, the system is already forming across inland New South Wales with 26 mm falling at Coonamble up until 9 pm 3/6/16. Up until 9 pm 3/6/16, the Tweed region of New South Wales has received 25 to 38 mm of rain and falls have already reached 55 mm across portions of the Gold Coast region.
Additionally falls of 77 to 79 mm have occurred near Blackall in Queensland from the event.
The system will continue to develop over coming hours where much heavier falls are expected to occur.
Related Terms: