As expected, a significant rain and storm event has impacted much of the state over the past 4 days culminating in several inland rivers being impacted by minor to moderate flooding. This event is described below.
Moderate and Heavy Rain - New South Wales Thursday 22 September
A significant rain event crossed through inland parts of New South Wales during Wednesday which reached the coast late in the day. The event brought significant rainfall to many areas especially across the north eastern part of the state. The heaviest falls fell across:
North west slopes and plains.
Central west slopes and plains.
Central tablelands.
Northern Tablelands.
Mid north coast.
The heaviest falls fell at:
Meldrum - 130 mm
Lowanna - 111 mm.
Moparrabah - 103 mm
All located within the Bellinger Valley.
Other significant totals include:
Nymboida - 77 mm.
Blackville - 65 mm.
Caroona - 62 mm.
All three places are located across the North West slopes of New South Wales.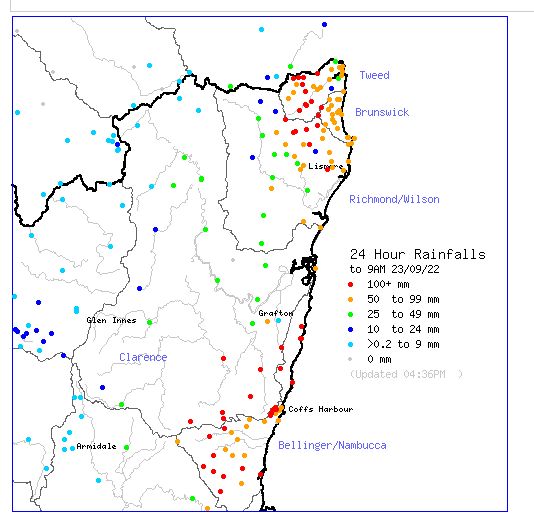 Cumulative rainfall for the week 17 to the 23 September for NE NSW
Heavy rain and floods North Coast - Friday 23 September
For the 24 hour period to 9 am Friday, significant and heavy rainfalls occurred across two regions of the North Coast of New South Wales being:
Bellinger Valley and surrounds - Heaviest falls
Meldrum - 240 mm (SW of Dorrigo).
Lowanna - 186 mm.
Wooli (Browns Knob) - 181 mm.
South Arm - 145 mm.
Upper Darkwood - 134 mm.
Moparrabah - 119 mm.
Tweed region and surrounds - Heaviest falls
Couchy Creek - 291 mm.
Chillingham - 240 mm.
Alstonville - 130 mm.
The heaviest falls fell inland from the coast and adjacent to the Great Dividing Range. The event has resulted in flooding but not at the same scale as the events of February and March of 2022.
The rain events exceeded the initial forecasts made.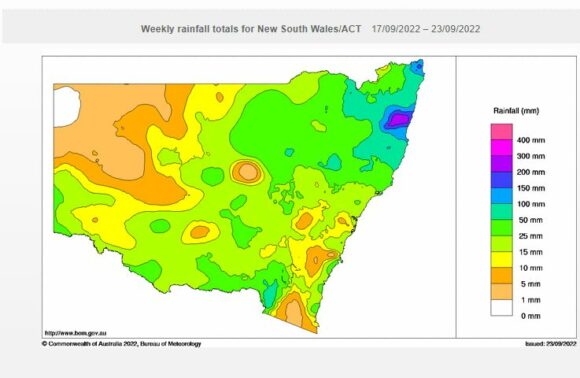 Storms Southern New South Wales Friday evening
Late Friday, isolated but intense thunderstorms passed over parts of inland southern New South Wales and North East Victoria. Isolated pockets of intense rain occurred from the strongest cells. The heaviest falls fell around Albury / Thurgoona / Wodonga urban area where falls topped 42 mm at Yambla just north of the city and 35.6 mm falling at Albury Airport.
As a result of the storm and coupled with recent rain events, there are now minor flood warnings issued along the Kiewa River.
Furthermore, Dartmouth Dam is beginning to spill for the first time in 26 years and water releases from Hume Reservoir is of concern as the risk for flooding has greatly increased downstream.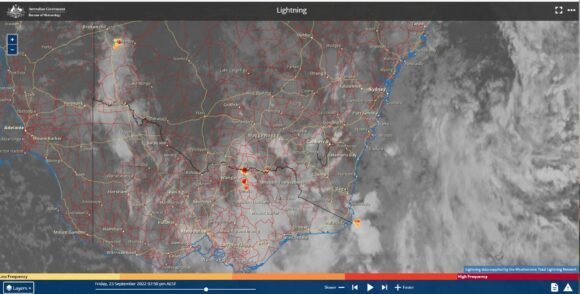 Flooding of inland rivers
This event coupled with two other recent events is now contributing to sustained flooding across several inland rivers across the Central West and North West of New South Wales. There are concerns with:
The Namoi (Major flooding at Wee Waa).
The Namoi (Major Flooding at Gunnedah).
Macquarie River (Major flooding at Warren Township).
Lachlan River (Major flooding at Euabalong) and moderate flooding upstream at Condobolin and areas west of Forbes.
Minor to Moderate flooding along parts of the Murray River at Barham, Corowa and Albury - Recent concerns.
Numerous flood alerts and watches are now in place for many rivers.
Observatory Hill Sydney - Now the third wettest year since records commenced
Following more rainfall during the week, the current rainfall figure for Sydney for 2022 now stands at 2,079.8 mm:
1 - 1950 - 2,194 mm.
2 - 1860 - 2,110 mm.
3 - 2022 - 2,079.8 mm (As at 9 am September 25 2022).
4 - 1890 - 2,071 mm.
5 - 1963 - 2,035 mm.
Over the past week, the weather station eclipsed the 1890 figure of 2,071 mm following further recent falls and is now only 30.2 mm from eclipsing the fall of 2,110 mm of 1860.
Western Sydney thunderstorms - Saturday afternoon
The photos attached throughout this post were taken on Saturday 24 September 2022. Late morning, weak thunderstorms cells developed to the west and north of Sydney although they were disorganized.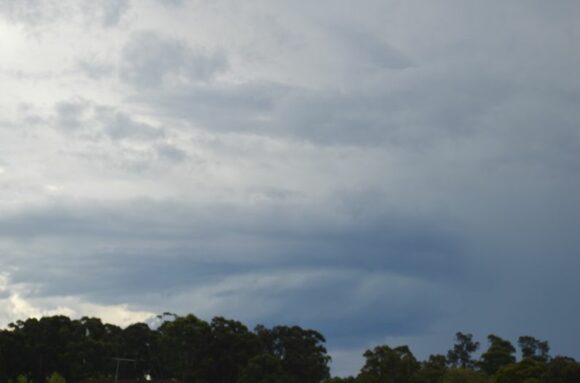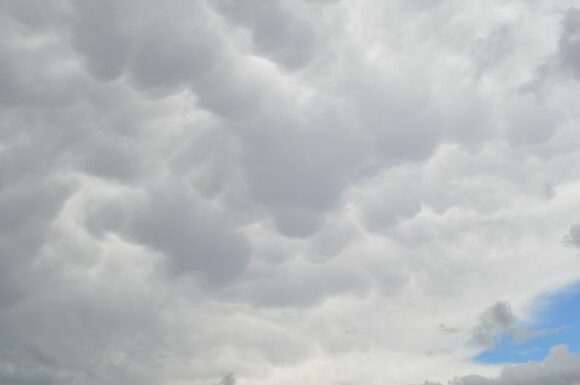 Late morning, too many shower cells formed and coalesced into a complex of shower cells with occasional thunder being heard from one particular cell to the north.
Large anvil cloud formations soon developed which featured mammatus formations.
However, a more significant shower / storm complex moved over Western Sydney at around 1 pm from the west. After passing over Penrith, this cell while not photogenic intensified sharply. The storm reached peaked intensity between St Marys and Blacktown and produced an intense burst of rain that was sustained over a period of at least 15 to 20 minutes. Cloud to ground lightning was observed including one very close strike.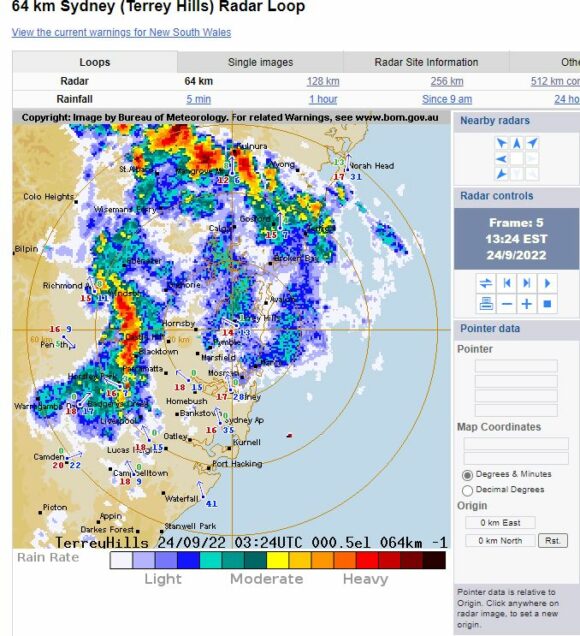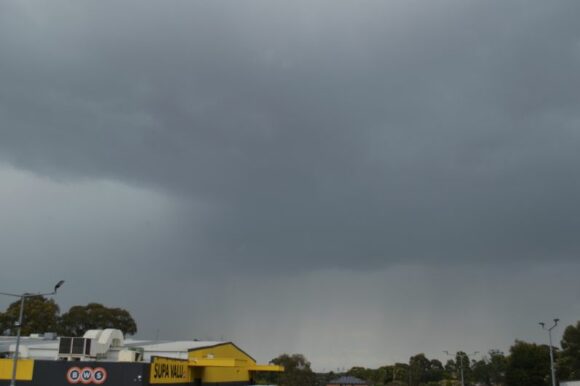 There was no hail and little wind but its main impact was the amount of rain that fell.
This storm weakened east of Parramatta passing over Sydney city as a decaying storm and only producing light rain.
A second storm prior to sunset passed over parts of Western Sydney which was more photogenic and lit by the setting sun. This storm also produced a significant downpour.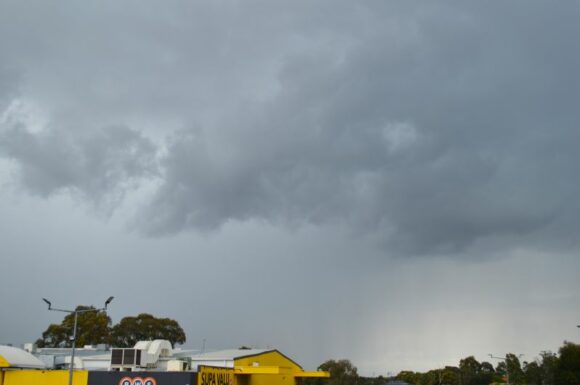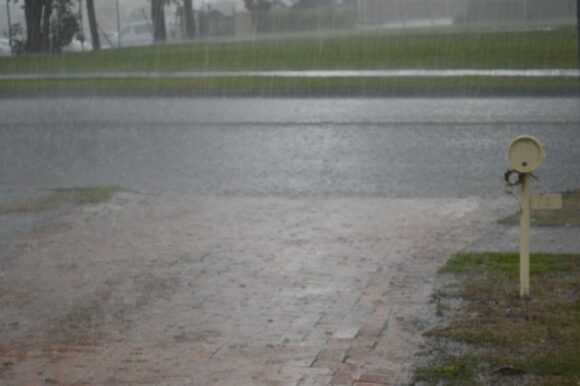 More rainfall forecast
Another significant rain event is being identified by weather models for southern New South Wales where falls of 25 to 50 mm are being forecast including higher totals of 50 to 100 mm being suggested for coastal regions south of Sydney in coming days (Tuesday and Wednesday). This will only add to the concerns that currently exist.
Such event will only push Sydney closer to eclipsing the rainfall figure of 2,110 mm that fell during 1860 and add to the wet year.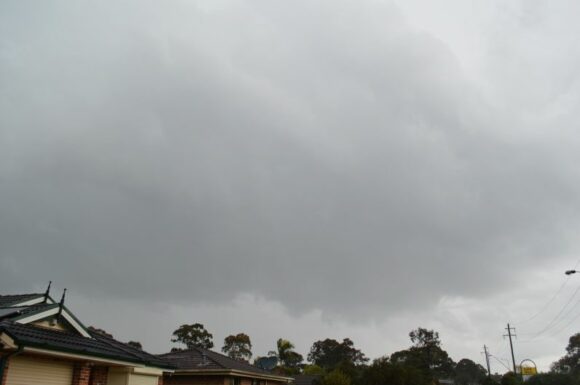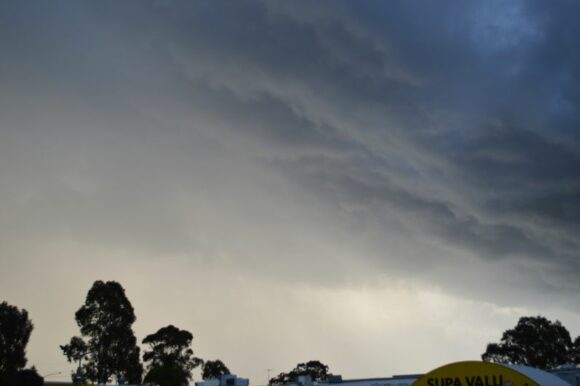 September rainfall figures - 1 to 24 September 2022
To complete the article and of interest, some rainfall figures across New South Wales taken as a snapshot for the state to September 24 are impressive as follows:
Albury Airport - 123.4 mm.
Armidale - 109. 8 mm.
Ballina - 222.6 mm.
Barraba - 144.2 mm.
Dorrigo - 265.8 mm.
Evans Head - 215.6 mm.
Grafton - 194.4 mm.
Gunnedah - 151.8 mm.
Inverell - 103 mm.
Moree - 101.6 mm.
Murrurundi - 131.6 mm.
Narrabri - 132.2 mm.
Orange - 125.8 mm.
Port Macquarie - 220.2 mm.
Tamworth - 142.4 mm.
Ulludulla - 129.2 mm.
Walgett - 110.8 mm.
Wellington - 103.5 mm.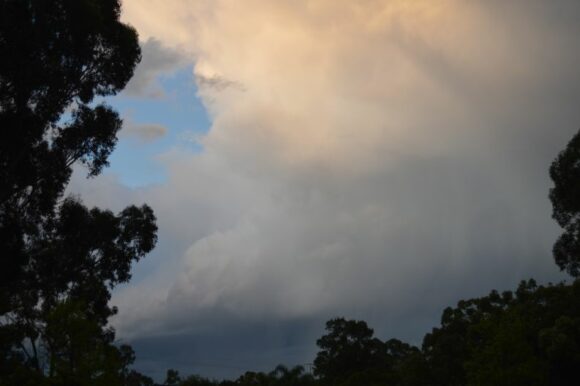 Almost all regions of the state have been impacted by heavy rainfall so far for the month and following on from a wet August, it soon becomes clear as to why so many rivers across the state are now in flood.
Related Terms: