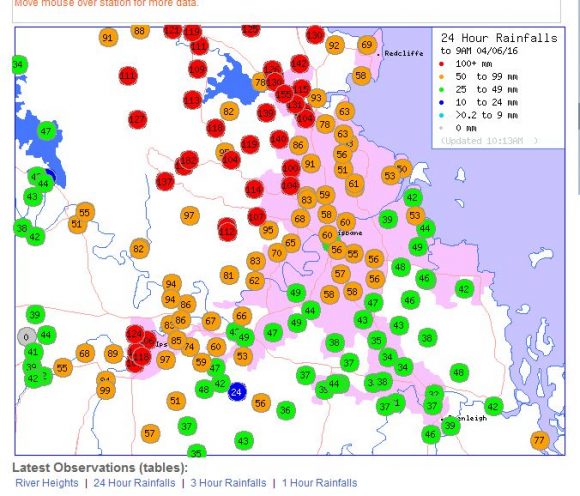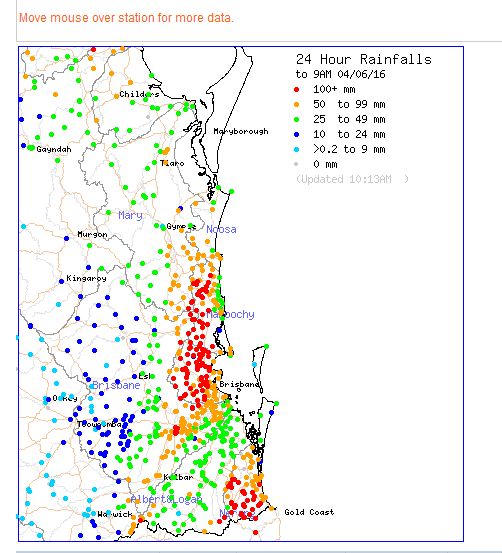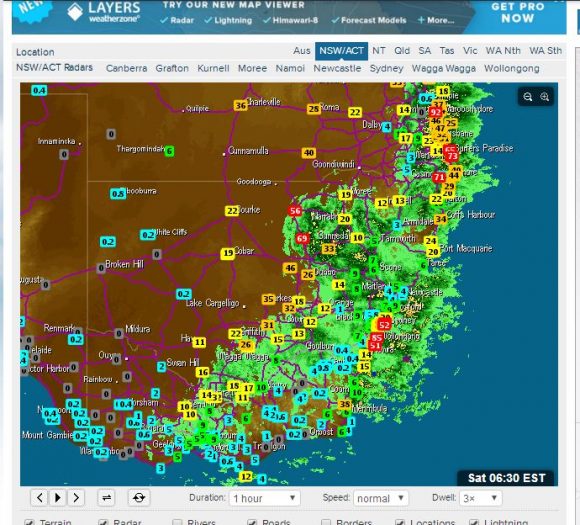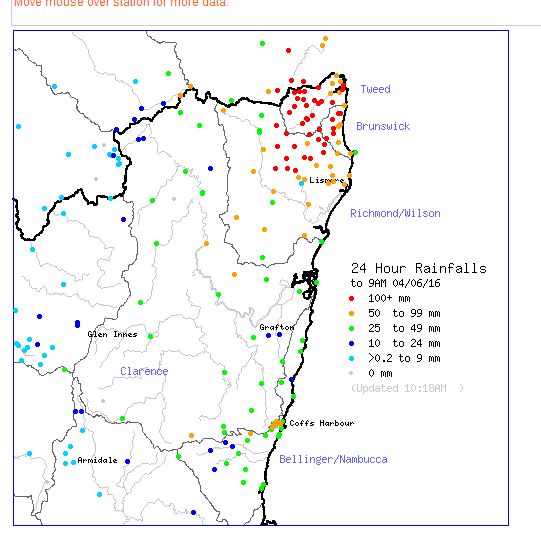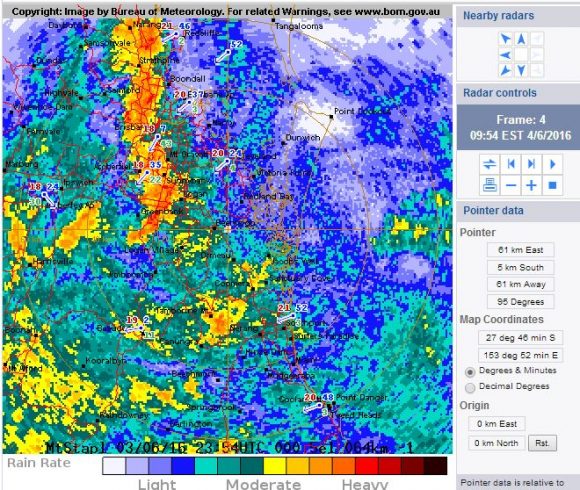 For the 24 hours to 9 am 4/6/2016, heavy rain has been a feature within certain areas of the coastline south from South East Queensland to the Victorian border.
As a result, there is now the threat of river flooding within some rivers and moderate flooding is occurring along the lower reaches of the Tweed River within the Tweed Valley.
Rainfall within the Tweed Valley has approached 200 mm with the highest figures being:-
Couchy Creek 186 mm.
Brays Creek 185 mm.
Upper Rouse River 178 mm.
Brisbane City
For the 24 hours to 9 am, much of the northern outer areas of the city had in excess of 100 mm of rain.
In Brisbane, following an overnight fall of 48.6 mm to 9 am, a burst of heavy rain during the morning saw 38 mm fall within 30 minutes between 9.30 am and 10 am. Up to 96 mm of rain has since fallen in the city centre between 9 am and 9 pm Saturday with 109 mm falling at Apsley Reservoir.
For the 24 hours to 9 am, heavy rainfall has affected the Gold Coast region with as much as 267 mm falling at Mt Tamborine and 236 mm falling at nearby Upper Springbrook Alert.
Areas of the Sunshine Coast have also received major rainfall including 166 mm at West Woombye Alert and 180 mm at Old Gympie Road.
Sydney
In Sydney, coastal areas of the city received falls as high as 85 mm (Audley Weir) and 80 mm (Manly). High rainfall was limited to eastern areas and light falls fell across the western suburbs.
Rainfall 9 am to 9 pm Saturday.
The Tweed River region has been affected by further heavy rain including 219 mm at Barneys Point and 264 mm at Banora Sewerage Treatment Plant.
Further south, there appear to be issues around Coffs Harbour following 200 mm falls around the western areas of town including 275 mm at Bennetts Road, 264 mm at Newports Creek and 259 mm at Bakers Road. There is presently minor flooding occurring along Coffs Creek and at Urunga.
Moderate and heavy rain is now impacting the New South Wales South Coast where numerous centres have received between 50 and 95 mm for the 12 hour period between 9 am and 9 pm Saturday.
A number of rainfall plots and are provided from the Bureau of Meteorology and Weatherzone showing the excessive rainfall across coastal regions of New South Wales and Queensland for the period.
Related Terms: