A significant rain event is impacting coastal New South Wales within an area from the Mid North Coast southwards to Sydney. The worst affected regions include:-
Mid North coast including towns and cities such as Coffs Harbour, Port Macquarie, Kempsey, Forster / Tuncurry.
Hunter Valley including Nelson Bay, Newcastle and all towns and cities within the lower Hunter area.
Central Coast (Gosford and Wyong).
Sydney and Wollongong.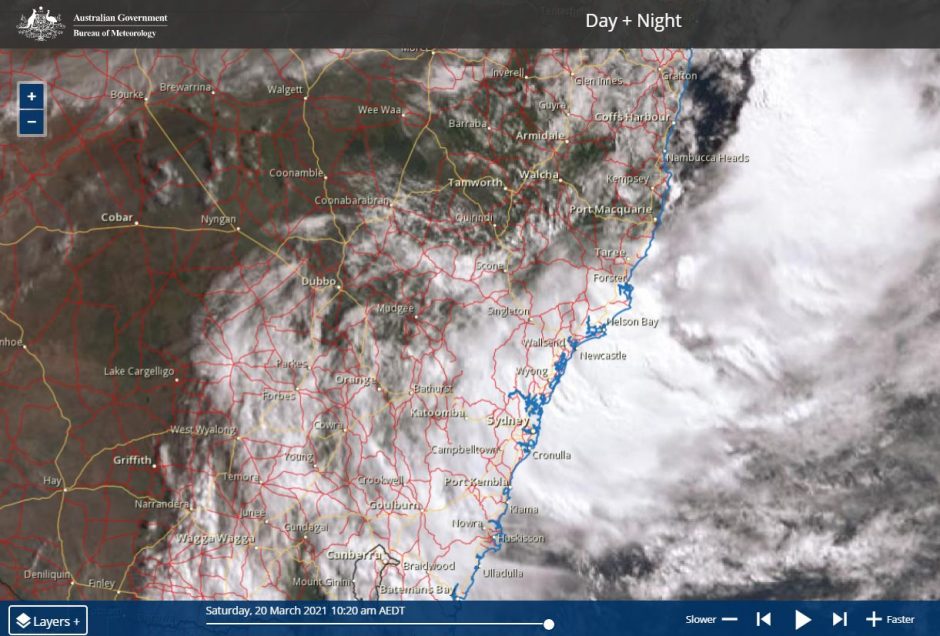 In some instances, rainfall has been exceptional and significant flooding has / is occurring with damage including landslides being reported, rivers bursting their banks, roads being damaged and rescues occurring.
Major flooding has impacted the following localities:-
Port Macquarie including Settlement Point and at nearby Wauchope where the Hastings River has peaked at almost 9 metres.
Laurieton - (Mill Street).
Taree - (At the time of writing, the Manning River was rising towards 6 metres in depth with flood levels exceeding the major flood level of 3.7 metres).
Wingham - A major flood level peak of approximately 14 metres had been recorded.
Gloucester - (Gloucester River) although the river levels are starting to fall.
Patterson River (Gostwyck Bridge). At the time of writing, the river had just entered a major flood peak phase exceeding 12.2 metres in depth.
Moderate flooding has impacted the Nambucca River, North Haven, Dungog (Williams River) and Mill Dam Falls (William River) which is starting to approach major flood level as a flood peak moves downstream.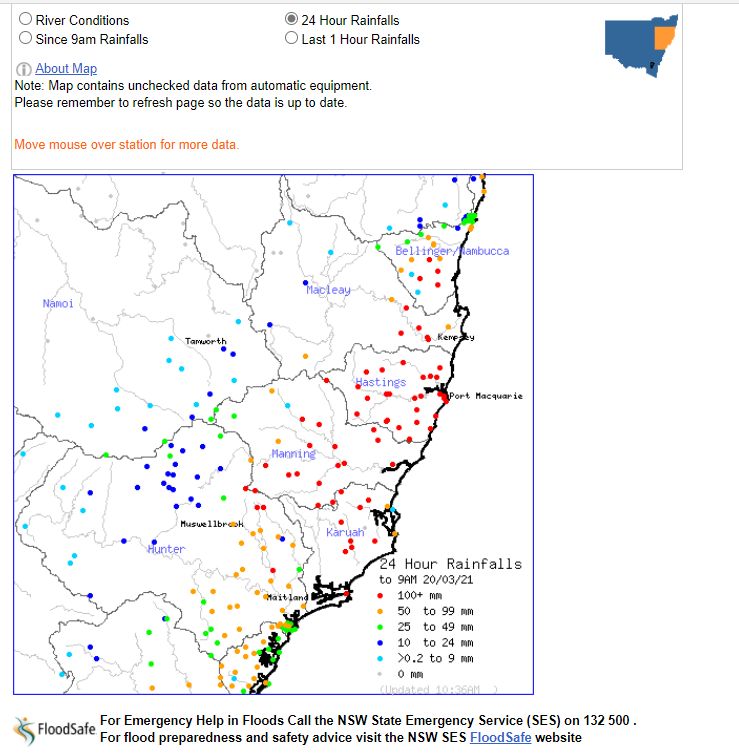 Closer to Sydney, rising waters are occurring at Upper Colo.
The focus of the main event has shifted southwards and for Saturday, the event is focused on the lower Hunter, Central Coast and Sydney.
Some of the rainfall over the past 5 days have been exceptional. In addition to the main rain event, there was a significant rain event across the Central West New South Wales on the 17/18 March 2021 with a number of towns within the affected region receiving between 50 mm and 86 mm including:-
Coonamble - 86 mm.
Quambone - 84 mm.
Keneline - 72 mm.
Trangie - 72 mm.
Dubbo - 65 mm.
Such falls are not common within the areas and towns named above but this event preceded the much stronger coastal event that is now occurring.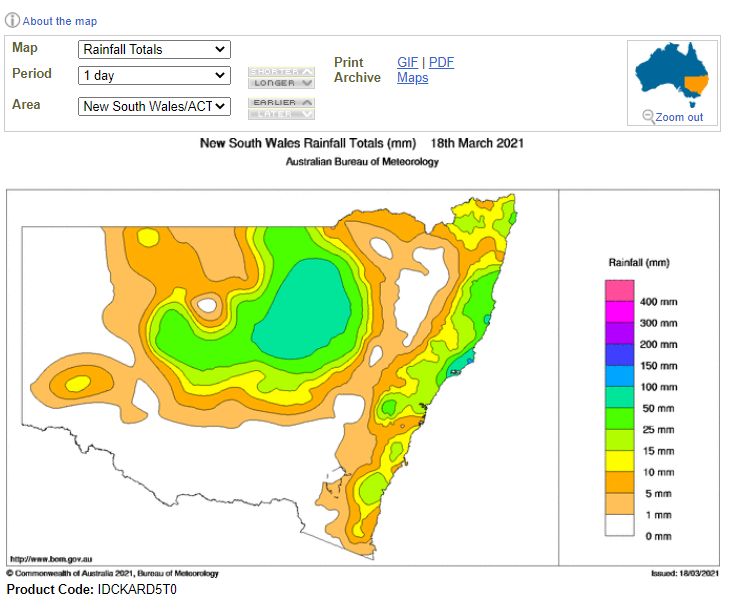 Some coastal Lower Mid North Coast and Mid North Coast rainfall figures for the 24 hours to 18 March 2021 include:-
Nelson Bay - 150 mm.
Bungwahl and Wallis Lake - 142 mm.
Coffs Harbour - 50 to 97 mm although the heavier falls occurred closer to the hills to the west and north of the city.
On the 19 March 2021, rainfall intensities increased significantly which included:-
Coffs Harbour - 94 to 120 mm with 120 mm falling at Boambee.
Aldavilla (Macleay River) - 262 mm.
Upper Rollands Plan - 258.
Mt Seaview - 242 mm.
Utungun - 239 mm.
Kempsey - 226 mm.
Bowraville - 210 mm.
Nelson Bay - 202 mm.
Boonanghi - 196 mm.
Almost any town or locality has been drenched with such high rainfall totals. Very little of this is penetrating inland as such high rainfall totals decline sharply further west. The ranges of the Great Dividing Range is acting as an effective barrier and keeping this rain coastal.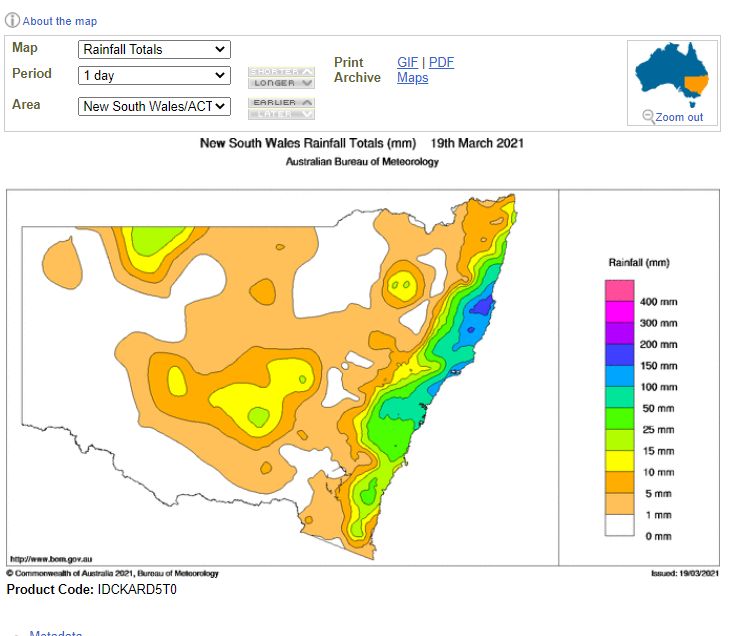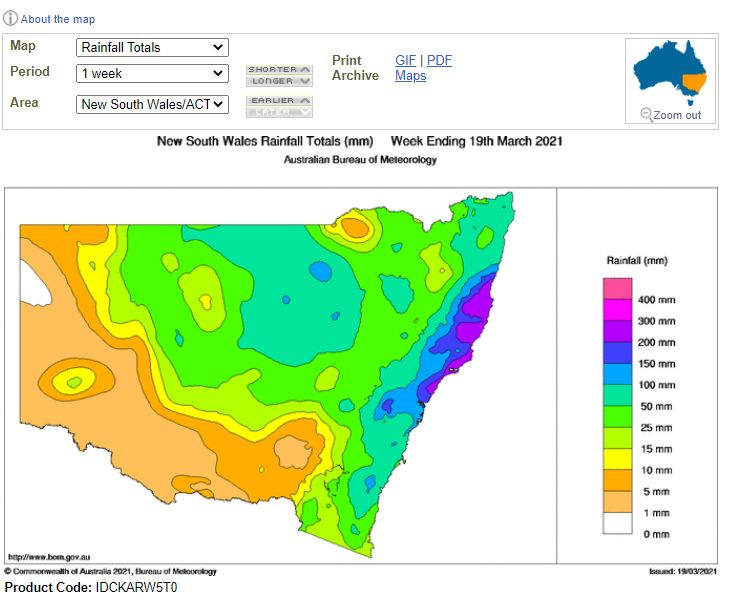 For the 24 hours to 9 am 20 March 2021, some exceptional rainfall totals include:-
Logans Crossing - 362 mm.
Lake Cathie - 317 mm.
Laurieton - 309 mm.
Karee Island - 298 mm.
Wauchope (Bain Street) - 281 mm.
Utungun - 242 mm.
The Lower Mid North Coast is worst affected.
The Central Coast for the 24 hours to 9 am 19 March 2021
The heaviest falls include:-
Wangi Bowling Club - 149 mm.
Wyee - 142 mm.
Koolewong - 118 mm.
Sydney Metropolitan Area
This rainfall has reached Sydney with some significant falls occurring including:-
For 24 hours to 9 am 19 March 2021.
Lidcombe - 73 mm.
Richmond - 66 mm
Hornsby - 65 mm.
The highest fall was 86 mm just west of Barranjoey Head.
For 24 hours to 9 am 20 March 2021.
Bowgowlah Heights - 67 mm.
Chatswood - 64 mm.
Hornsby - 60 mm.
Where I live, at least 96 mm has fallen in the 2 days.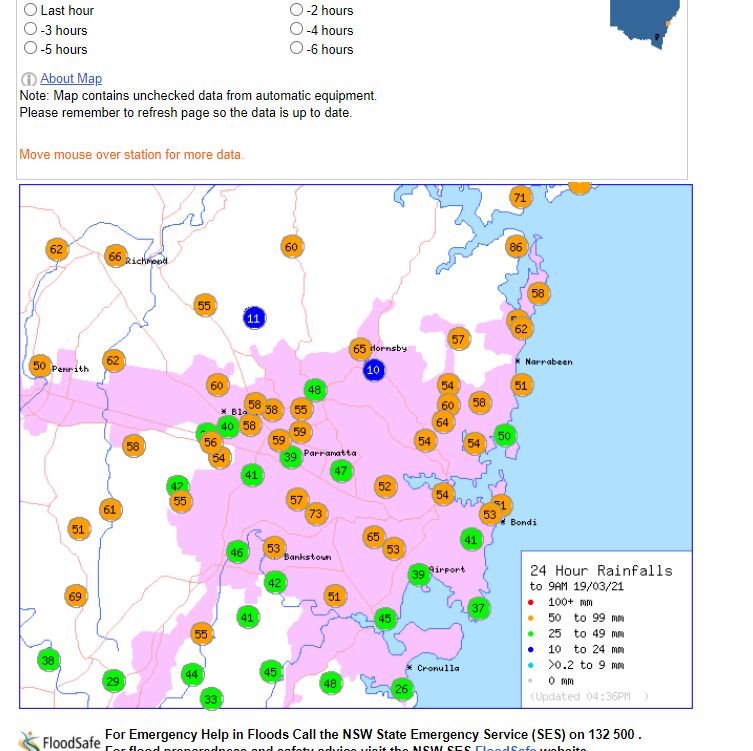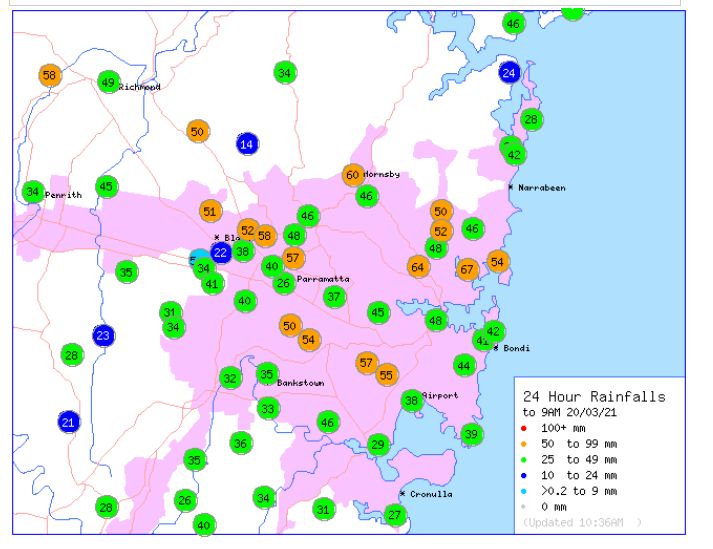 South of Sydney
An isolated fall of 151 mm fell at Macquarie Pass and 146 mm fell at Clover Hill south of Sydney but west of Wollongong for the 24 hours till 9 am 19/3/2021.
Across Sydney, already saturated areas and catchments will continue to receive more rainfall over coming hours leading to possible flooding.
A number of plots are provided showing the rainfall over the past 5 days taken from the Bureau of Meteorology site "Water and the Land". The Himawari image attached is showing the cloud mass across Eastern New South Wales. Its interesting to note that convection is occurring off the coast which would indicate the presence of thunderstorms off the coast.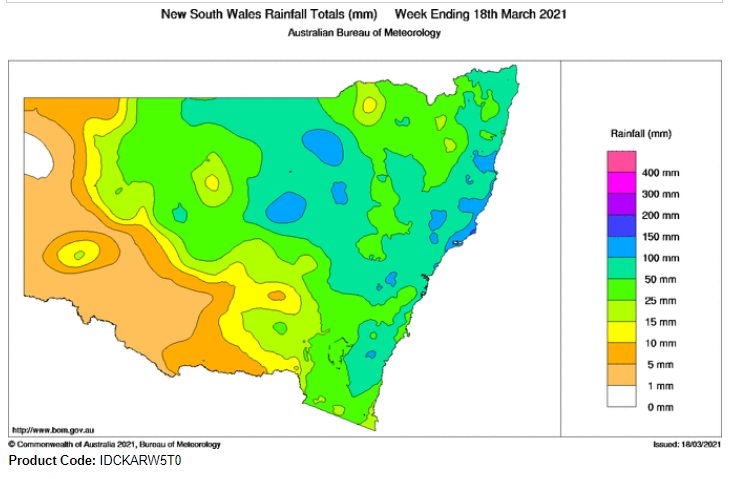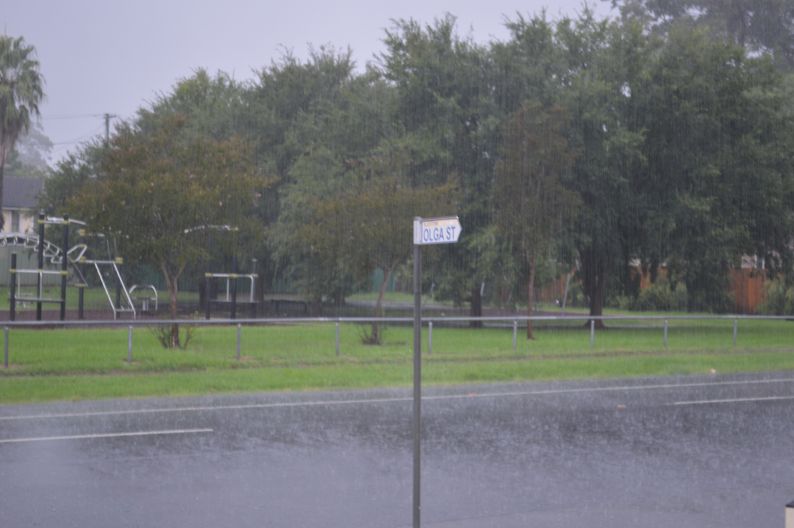 Related Terms: