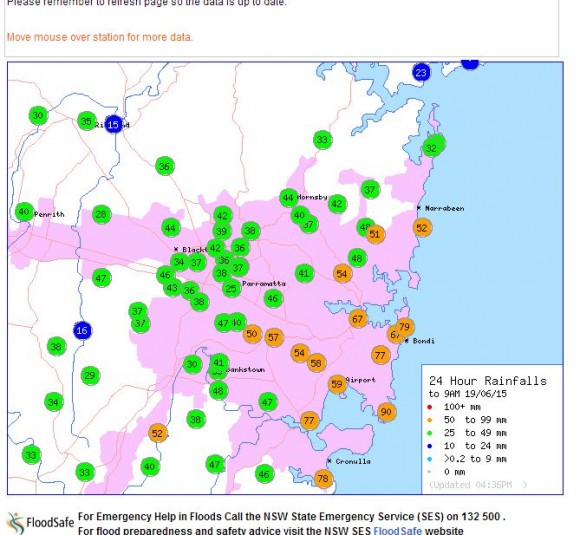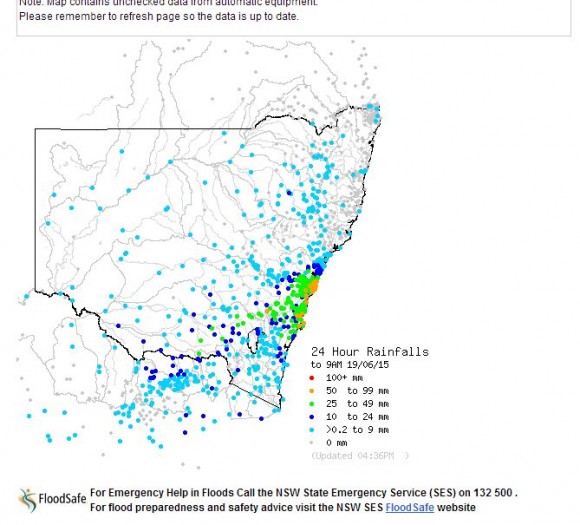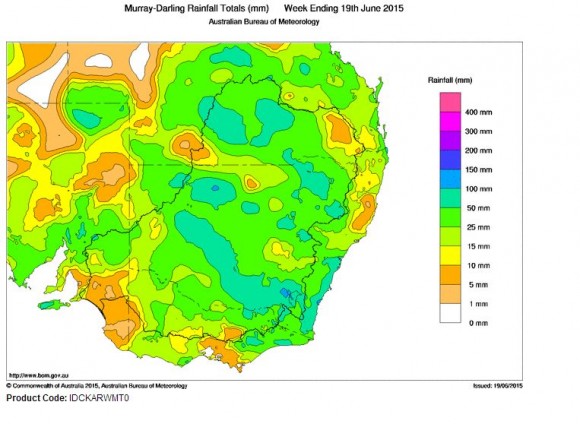 Overnight 18 and 19 June 2015, the whole of Sydney experienced some significant rainfall. As shown on Plot Number one, the heaviest totals occurred over the eastern suburbs of Sydney with a number of rain gauges recording more than 50 mm and one gauge recording 90 mm. The heaviest totals were:-
La Peruse - 90 mm.
Bondi - 79 mm.
Cronulla South - 78 mm.
Randwick and Sans Souci - 77 mm.
Even across Western Sydney with few exceptions, most centres collected between 28 mm and 49 mm. This made travelling to work early morning difficult due to wet weather.
The second plot shows the rainfall for the 24 hours to 9 am 19 June 2015 for New South Wales. Excluding Sydney, a narrow path of at least 60 to 100 km wide from Sydney south west to Albury on the New South Wales / Victoria border received rainfall of at least 10 mm to 24 mm with some centres within that same path receiving more than 25 mm for the period. The biggest totals include:-
Henty - 36 mm.
Belmore Bridge and Wagga Wagga - 31 mm.
Yambla - 27 mm.
Yarrawonga (Victoria) - 20 mm.
The four day rain event has now mostly cleared the state. Summing up, this event has been significant and very widespread. The weekly rainfall plot generated at "Water and the Land - BOM dated 19 June 2015" for the Murray Darling Basin is showing how widespread the event was across the 4 days. Effectively when totals are accumulated, it shows that almost the entire state of New South Wales, a large area of Queensland and much of Victoria receiving beneficial and widespread rains. The event has been broad and well received especially within the inland river basin. While not drought breaking, the rains have fallen where it is needed most being the cropping lands and wheat sheep belt.
Related Terms: