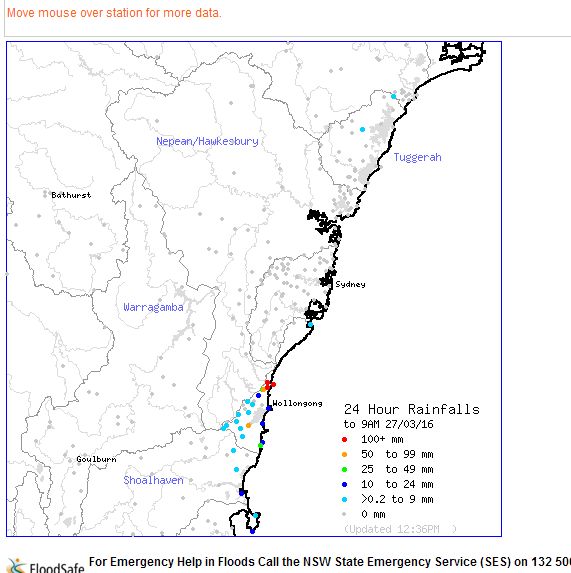 Overnight Saturday and into early Sunday 26 and 27 March, a portion of Wollongong city on the Illawarra Coast south of Sydney experienced a downpour lasting at least 3 hours that produced as much as 177 mm of rain. At least 3 weather station rain gauges captured the event as follows:-
Rixons Pass - 177 mm.
Russell Vale Colliery - 174 mm.
Bellambi - 118 mm.
A rain gauge at nearby Balgownie recorded 62 mm of rain during the event.
This event would have impacted the suburbs of Corrimal, Russell Vale, Woonoona and possibly Bulli before the storm moved out to sea. Much of southern Wollongong had little or no rainfall which shows how localised the event was. A rain gauge at Bellambi shows the following:-
10 pm - 7.6 mm.
10.30 pm - 32.8 mm.
11 pm - 67 mm (This shows almost 60 mm of rain in 1 hour or 1 mm per minute).
12 midnight - 101 mm.
1 am - 117 mm.
This would have caused localised flash flooding within a confined area.
The rainfall plot for Wollongong taken from the "Water and the Land" Bureau of Meteorology and dated 9 am 27/3/2016 shows where the event occurred. It is difficult to identify due to its localised nature but it is an event that has been captured by three rain gauges within the local area.
Related Terms: