Relatively dry conditions have prevailed across Western Sydney since early May which has resulted in developing rainfall deficits. Following a dry winter and a dry September and October, a period of 6 months has lapsed since the last major rainfall event.
The six month dry was broken during the early hours of Sunday morning. Between 12 midnight and 8.30 am Sunday morning, a rain event that is taking the form of a train echo event (Rainfall training over the same area for hours) has affected most of Sydney resulting in significant rainfall totals.
My backyard rain gauge was full this morning and as shown in the photo, 25.4 mm is showing. However, the true figure was 39.5 mm to 8.45 am accounting for the overflow.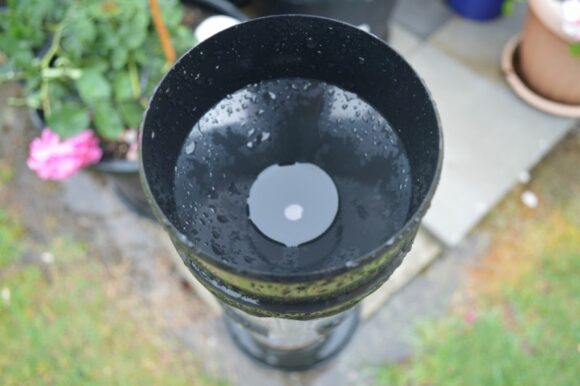 The last major fall of any significance was April 30 when my gauge recorded 31 mm.
While this is not an official gauge, it does provide an account of what has occurred.
Across the wider area, similar falls have fallen including 39.5 mm at Kings Langley and 31 mm at Horsley Park. There are similar falls further afield including 34.5 mm to 41 mm around North Parramatta.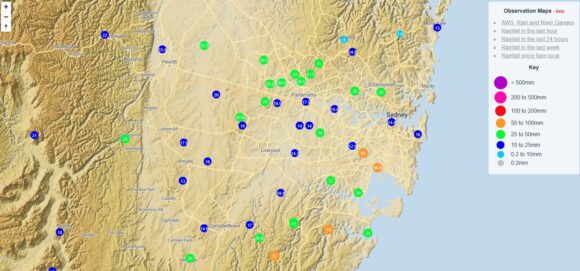 Further afield, falls of 57 and 65 mm have fallen across areas surrounding Sydney Airport (All totals to 8.30 am Sunday morning).
At Wollongong, a fall of 154.8 mm had fallen at Bellambi. There are other totals around Wollongong topping 100 to 120 mm including:
Mt Kembla - 100 mm (To 9 am).
Rixons Pass - 106 mm (To 9 am).
Mt Pleasant - 109 mm (To 9 am).
Darkes Forest - 116 mm (To 9 am).
Russell Vale Colliery - 122 mm (To 9 am).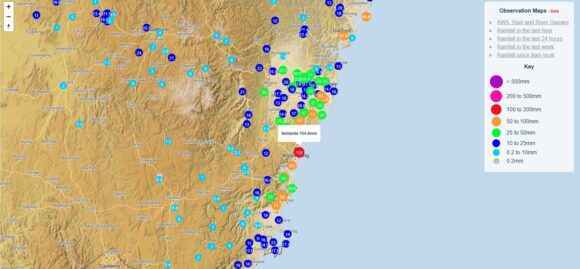 There is even an isolated 100 mm total occurring at Woy Woy (Central Coast) being 109 mm to 9 am.
These totals have far exceeded actual forecasts made in the media. Much of this is a result of rain training over the same area for hours.
Significant totals have also occurred along the North Coast of New South Wales including:
Evans Head 120 mm.
Eungai Creek 115 mm.
Seven Oaks 104 mm.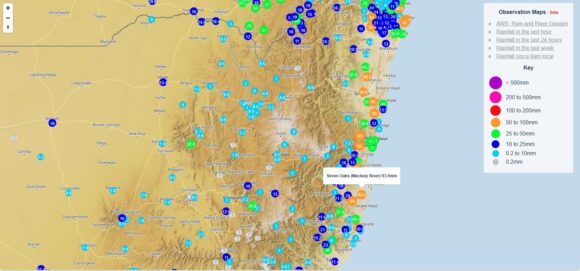 This weather event is shaping up as a significant break from the dry where rainfall is occurring over some fire grounds and is replenishing lost moisture from the soil.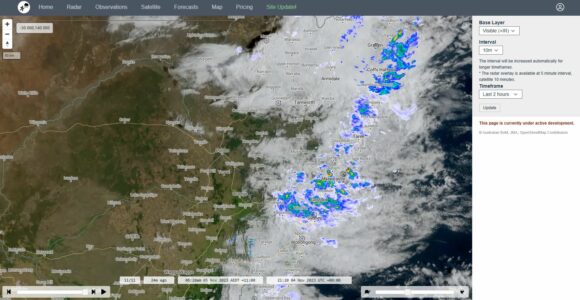 Further inland, there have been some thunderstorm activity although no storm event has reached Sydney or surrounds.
The strongest storms have been in inland southern Queensland where a storm at Roma has produced a wind gust of 104 km/h at 2.30 pm Saturday afternoon with the storm likely producing hail. Other significant storm activity has occurred within the same region.
Given the weather setups, it is likely that more shower, storm activity will continue over much of New South Wales over coming days which is a major break from what has been occurring over the past 6 months.
Rainfall totals are derived from the Weather Chaser but all are derived from Bureau of Meteorology weather stations across the field.
Related Terms: