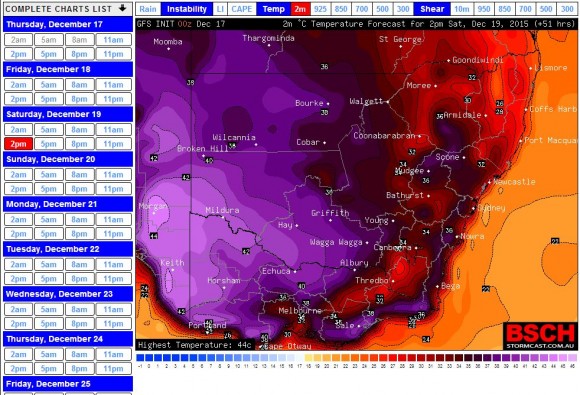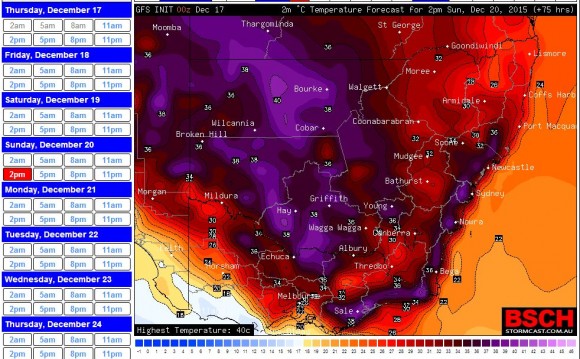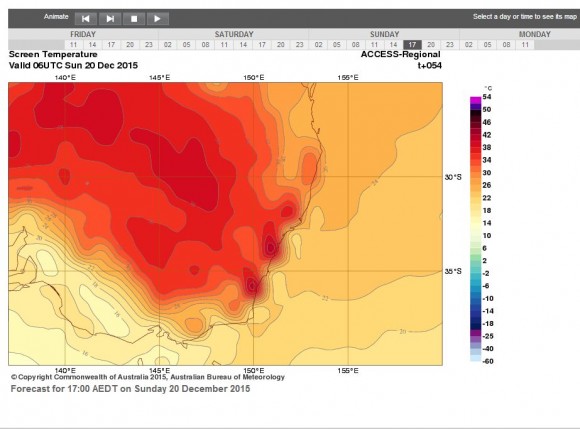 A strong high pressure cell in the Tasman Sea is now resulting in another heatwave for southern Australia which is affecting three states namely New South Wales, South Australia and Victoria.
This appears to be the strongest heatwave so far of summer and maximum temperatures have exceeded 45C at a number of locations in South Australia during Friday 18 December 2015.
The city of Adelaide is expected to endure 4 consecutive days of 40C plus temperatures. The official definition of a heatwave in South Australia is three consecutive days of 40C and as such, this weather event exceeds or expected to exceed that criteria.
This is potentially a dangerous weather event for the infirm and elderly and for fire fighters and concern is raised in Adelaide where 44C is forecast for tomorrow (Saturday 19 December).
The highest maximum temperatures recorded in South Australia for the 18/12/2015 are:-
Renmark 45.2C.
Kyancutta and Tarcoola 45.1C.
Even nights have been warm where a minimum of 28.5C and 28.4C were recorded at Coober Pedy and Moomba.
Adelaide has endured the following maximums over the past three days:-
16/12/15 - 41.1C.
17/12/15 - 42.9C.
18/12/15 - 40.6C
Yunta (South Australia) - A temperature of 29.8C was recorded at 3.30 am and a temperature of 33.5C was recorded at 8 am 18/12/15. The temperature was below 30C for only 4.5 hours on the 18/12/15 and 40C maximums were recorded on both days being 17 and 18 December. It would have been a difficult night to sleep in this town.
Given such high minimums, it is clear that the days heat is not escaping overnight.
Mildura North west Victoria
This regional city in north west Victoria has also sweltered where the maximum temperature has exceeded 38C for the past 3 days as follows:-
16/12/15 - 38.8C.
17/12/15 - 40.6C.
18/12/15 - 42.7C
On the 17/12/15, a temperature of 30.5C was recorded at 9 am and it was still 31C at 12.30 am 18/12/15 making for a difficult night to sleep. The temperature had reached 30.9C by 8 am 18/12/15.
Other locations experiencing the heat include Walpeup 17/12/15 - 40.8C and 18/12/15 - 42.5C.
The heatwave has travelled further south and hence cities like Melbourne and Ballarat will experience the event to some degree.
The heat will also travel further east than the previous heatwave event. In this regard, maximum temperature could reach 40C at Penrith (Sydney basin) for Sunday.
The attached plots from the BSCH for 2 pm for Saturday and Sunday shows the extent of the heat affecting south east Australia. For Saturday, the worst affected locations are expected to be western New South Wales and the whole of Western Victoria. On Sunday, evidence of a cool change is shown crossing south west Victoria but the dome of heat moves east. The 5 pm ACCESS Model (Bureau of Meteorology) is showing western Sydney around Penrith as reaching at least 40C.
Some forecast maximum temperatures being made for the weekend of the 19 and 20 December 2015 include:-
New South Wales
Albury - Sat (40C) and Sun (40C).
Broken Hill - Sat (41C) and Sun (37C).
Corowa - Sat (41C) and Sun (40C).
Finley - Sat (41C) and Sun (41C).
Menindee - Sat (43C) and Sun (40C).
Mildura - Sat (43C) and Sun (37C).
Penrith - Sat (37C) and Sun (39C).
Wagga Wagga - Sat (39C) and Sun (40C).
Victoria
Ballarat - Sat (39C) and Sun (34C).
Melbourne - Sat (41C) and Sun (37C).
Nhil - Sat (43C) and Sun (31C).
Swan Hill - Sat (43C) and Sun (40C).
Wangaratta - Sat (42C) and Sun (42C).
South Australia
The cool change moves through after Saturday thus Sunday will be cooler. Only Saturday is provided at selected locations.
Adelaide 44C.
Port Augusta 45C. (A 30C maximum temperature for Sunday would be welcome).
Renmark 44C.
Roxby Downs 44C.
Tarcoola 44C.
Related Terms: