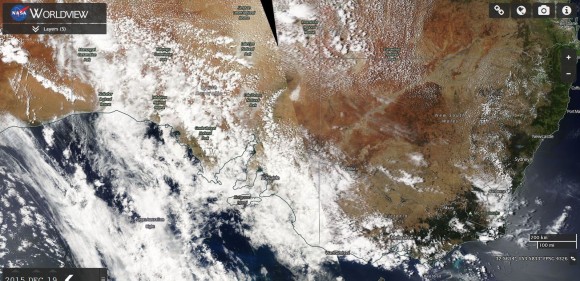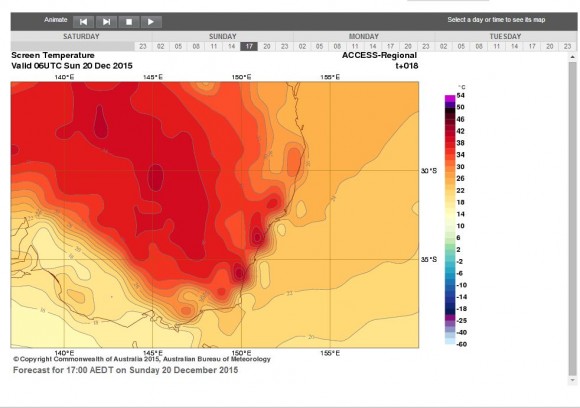 The attached NASA Worldview satellite image of southern Australia (Acquired from NASA 20/12/15) taken on the 19 December 2015 is showing much of the southern part of the country parched and any major bush fires would present a serious challenge to fire fighters.
During this current heatwave phase, blazes have occurred near Melbourne and there is a blaze north of Sydney but so far, major bush fires have been avoided.
The image is also showing the cool change now passing through South Australia and reaching Adelaide.
This city has sweltered through 4 consecutive days where the maximum temperature has exceeded 40C. During Saturday a maximum temperature of 42.8C was reached. A temperature of 31.2C was recorded at 7 am Saturday morning.
A feature of this heatwave is threefold:-
1 - Long periods where temperatures are exceeding 30C.
2 - Very warm overnight minimums.
3 - The longevity of the event and scale.
This is seen in Melbourne (Victoria). After reaching 40.7C at 4.27 pm Saturday afternoon, a temperature of 30C was recorded at 11.30 pm. After dropping to 26.7C at 3 am Sunday morning, a temperature of 30C was recorded at 4 am. A temperature of over 30C at 4 am and 6 am is highly unusual for this city.
At Aireys Inlet, south west of Melbourne, a maximum temperature of 42.4C was reached at 2.30 pm. At 4.30 am Sunday morning, it was 30C.
At Mildura, the temperature has not been below 30C since 7.30 am Saturday morning. After reaching 42.4C at 5.30 pm Saturday, is was still 32.1C at 6 am Sunday morning and 32C at 6.30 am which at the time of writing is the minimum temperature.
The ACCESS Model (Bureau of Meteorology) for Sunday is showing the dome of heat spreading east and the cool change seen in the satellite image also pushing east into Victoria.
The heat from this event will reach the east coast and western Sydney and hence temperatures of 38C to 40C are predicted for western Sydney. A temperature of 39C is forecast for Melbourne. Large areas of northern Victoria and inland New South Wales are forecast to reach the 40C mark.
For western Sydney, there is no cool change tonight and it appears a warm uncomfortable night will follow this event.
Predicted maximum temperatures for Sunday include:-
Liverpool, Penrith and Richmond 39C to 40C consistent with what is shown in the maximum temperature plot for 5 pm attached.
Melbourne 39C prior to the cool change early afternoon.
Albury, Finley, Hay - 40C.
Mildura - 39C.