A significant heatwave has gripped south east Australia over the past 4 to 5 days and is presently ending due to a cool change that is slowly crossing the southern part of the continent.
This event has been most noteworthy across the inland regions of Victoria and New South Wales although it has been strong enough to spill over into parts of Western Sydney although generally west of Parramatta.
As shown in the plots produced on the "Water and the Land", for temperature, the worst affected regions haves been the south west part of New South Wales, Northern Victoria and South Australia.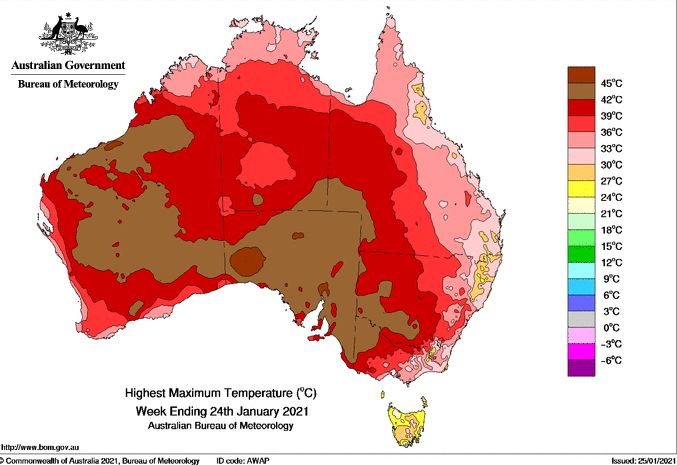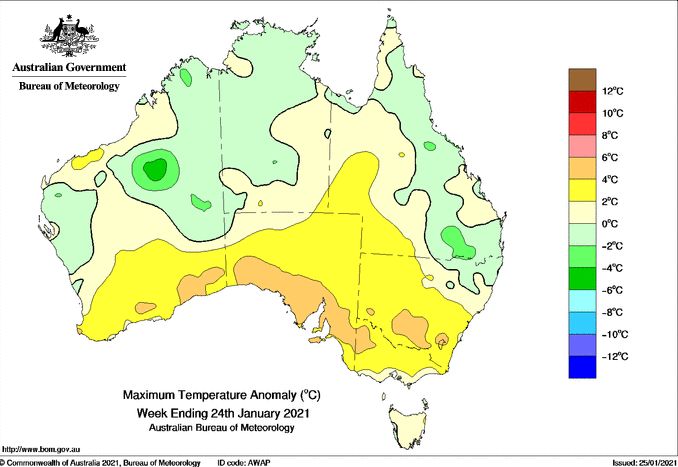 There has also been a major bushfire emergency in the Adelaide Hills although a cooler change and at least 20 mm of rain has helped fire fighters to contain the blaze.
Maximum temperatures within the worst affected regions have included:-
Albury
Friday - 37.6C, Saturday - 37.6C, Sunday - 39.8C, Monday - 39.8C.
Griffith
Thursday - 37C, Friday - 39.2C, Saturday - 40.8C, Sunday - 41.7C, Monday - 40.4C.
Hay
Thursday - 38.2C, Friday - 39.9C, Saturday - 40.8C, Sunday - 43.6C, Monday - 41.7C.
Menindee
Thursday - 37.5C, Friday - 39.6C, Saturday - 41.5C, Sunday - 42.3C,
Other significant temperatures during the event include
Yarrawonga - 40.8C on Saturday.
Ivanhoe - 40.7C on Saturday,
Wilcannia and Yanco - 42C on Monday.
Walpeup (NW Victoria) - 43.9C on Sunday.
Mildura (NW Victoria) - 40.4C on Saturday and 43.3C on Sunday.
Swan Hill (NW Victoria) - 41.8C on Sunday.
The most affected regions are those that have not received the benefit of the recent rainfall.
Sydney has generally missed the worst of the heat although some has spilled into the Sydney basin affecting mainly areas away from the coast being the inland suburbs of Blacktown, Penrith, Camden, Richmond and Campbelltown. Anywhere further east has been cooler due to the sea breezes.
Even with maximum temperatures forecast to reach between 36C and 41C across Sydney, it is coming ahead of a cooler change Tuesday night / Wednesday morning.
Maximum temperatures during this event have included (Penrith east to Sydney as an east to west cross section):
Penrith - Friday - 37.1C, Saturday - 38.1C, Sunday - 39.9C, Monday 39.3C.
Blacktown - Friday - 36C, Saturday - 34.24, Sunday - 39C, Monday 37C.
Parramatta - Friday - 35.8C, Saturday - 33.3C, Sunday - 33.8C.
Sydney (Observatory Hill) - Friday - 32.9C, Saturday - 31.9C, Sunday - 33.9C, Monday 32.1C.
This gives some indication that the level of heat being experienced across the inland suburbs is not progressing east beyond Parramatta. However, it is noted that it has reached 30C at Sydney Observatory Hill on 4 days in a row and if the 36C is reached for the 26/1/2021, this would result in 5 consecutive days where it has reached 30C which is not common in summer.
A feature of this event for the Sydney basin were the development of an isolated thunderstorm on Friday afternoon (Over NE Sydney), Saturday afternoon that produced flooding at Marsden Park (Covered in a separate article) and another isolated storm cell on Sunday afternoon across the Blue Mountains as shown in the attached photo looking west. This storm did not make it into the Sydney basin but the anvil cloud cover and later additional cloud provided some relief Sunday afternoon from the heat although it made for a warm uncomfortable night.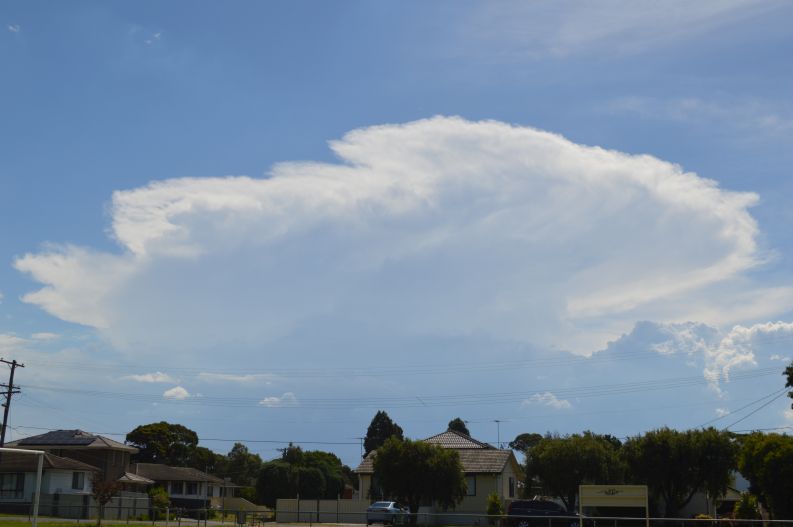 The cool change across the south has brought welcome rain including 16.8 mm at Deniliquin and 12 mm at Mildura and useful totals of up to 29 mm over the Dandenong Ranges (East of Melbourne). The cool change will progress towards Sydney Tuesday and conclude this current weather event late Tuesday / early Wednesday for Sydney and much of New South Wales.
Addendum 26/1/2021 - On Tuesday maximum temperatures reached 37.1C in Sydney City (Observatory Hill) making it 5 days in a row where maximum temperatures have reached 30C. Other maximum temperatures include 41.6C at Sydney Airport, 41C at Sydney Olympic Park, 40.7C at Penrith, 39.8C at Richmond and 39.1C at Horsley Park.
Most areas of Sydney has topped 38C to 41C with minor variations and it is noted that maximum temperatures were reached between 2 pm and 3pm. Increasing cloud cover from the approaching cool change after 3 pm is resulting in a slow drop in maximum temperatures and as such the worst of the heat has now passed.
It also reached 39C at Coonamble and over 36C at Dubbo but the cool change is having a significant effect across New South Wales, lowering temperatures, producing some light rain / showers especially to the south and concluding this weather event.
Related Terms: