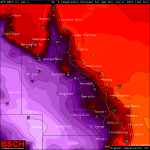 Extremely hot conditions were predicted and reported in western Queensland, Western NSW, Northern Territory and in particular South Australia with records tumbling in some locations. Temperatures nearing 50C and widespread temperatures in the 47 to 49C range were reported across the region! Birdsville for instance reached 48.6C whilst Moomba in South Australia sweltered at a temperature 49.3C with a few temperatures in the region nearing and possibly exceeding the 50C mark!
With such extreme heat over a widespread region of Australia for such a length of time must give way to widespread rains in the not so distant future - probably beginning the onset of the wet season across Central Australia.
There is a monsoonal trough expected to penetrate inland early to mid next week reaching inland South Australia relieving localities like Moomba of its heat wave conditions.