The final week of December and 2021 has brought a wide variation of weather across Australia ranging from a significant heatwave impacting much of Western Australia to flooding rains across the northern part of the country.
We travelled to southern New South Wales for the Christmas period and the weather could best be described as being comfortable and typical of summer conditions with maximum temperatures ranging between 26C and 33.5C with every day being sunny. Warm to hot sunny conditions are usually typical of the summers around Albury in southern New South Wales with little rainfall occurring. During our five day stay at Albury, it did not rain and there was no significant cloud. Also, there were no weather extremes on either side of the spectrum.
Distant thunderstorm cloud was observed to the far north east horizon late on December 25 (Christmas Day) which would indicate storm activity towards Canberra.
This is in contrast to the intense heatwave that impacted much of Western Australia. During this period, a strong heatwave impacted large portions of Western Australia with maximum temperatures topping 43.5C in Perth on December 26.
The city of Perth sweltered through 4 consecutive days of 40C maximum temperatures peaking at 42.8C on Christmas Day which is understood to be the hottest Christmas Day ever or if not, very close to being the hottest which was then followed by 43.5C on December 26. Maximum temperatures for Perth for the period were:-
24/12 - 38.6C.
25/12 - 42.8C.
26/12 - 43.5C.
27/12 - 41C.
28/12 - 40.7C.
29/12 - 38.6c.
This is 6 consecutive days where maximum temperatures exceeded 38C. Similar conditions prevailed across large areas of the state. There were also fires in the Perth Hills and through the Leeuwin Naturaliste National Park.
In Geraldton to the north of Perth, the regional city sweltered through 6 consecutive days of 40C maximum temperatures which peaked at 47.3C on December 25. This included 44C on the 24/12 and 44.7C on the 26/12.
Such heat is not limited to the west coast. At Marble Bar in the northern Kimberly, it has reached 40C or higher on 33 consecutive days starting on November 28 and continuing through to December 30 with the average maximum temperature for December being 44.9C (The reading for December 31 is currently not available at the time of writing).
The heat has since pushed further east toward Eastern Australia but it has lost some of its strength. The exceptional hot weather will not reach Australia's east coast. While maximum temperatures are expected to reach 40C to 42C across western New South Wales during the period 1 and 2 January 2022 and affecting such towns as Hay, Ivanhoe and Balranald, the impact of this is lessened. Maximum temperatures are only expected to reach 38C around Albury and Wagga Wagga before a cooling trend sets it on January 3.
Further east toward the coast, maximum temperatures are moderated and not at extreme levels.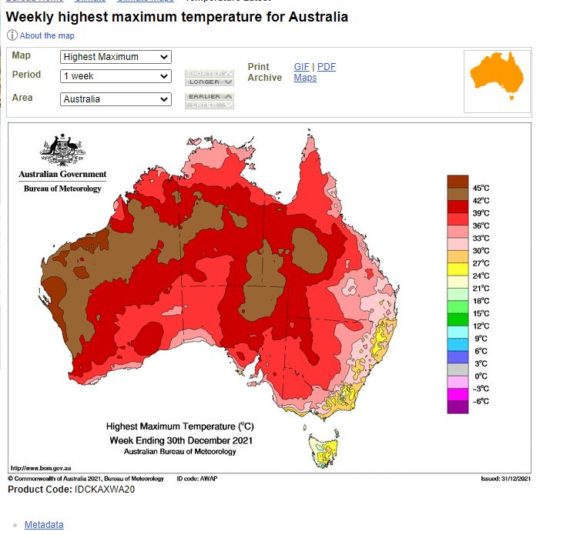 The weekly maximum temperature plot for the seven day period ending December 30 has been generated which shows Western Australia being impacted most by the recent heat and south eastern Australia being much more comfortable. Further, the maximum temperature anomaly plot is also generated which clearly shows maximum temperature anomalies being 10C above the normal along much of the west coast of Western Australia.
During the same period, much of Northern Australia was impacted by an active monsoon that brought flooding rains to remote locations. As shown in the weekly rainfall plot for Northern Territory, rainfall of over 400 mm fell across remote regions of coastal Northern Territory including 150 to 250 mm around Darwin. Darwin Airport received 209 mm of rain during the last 7 days of December for a total of 386.6 mm for the month of December 2021.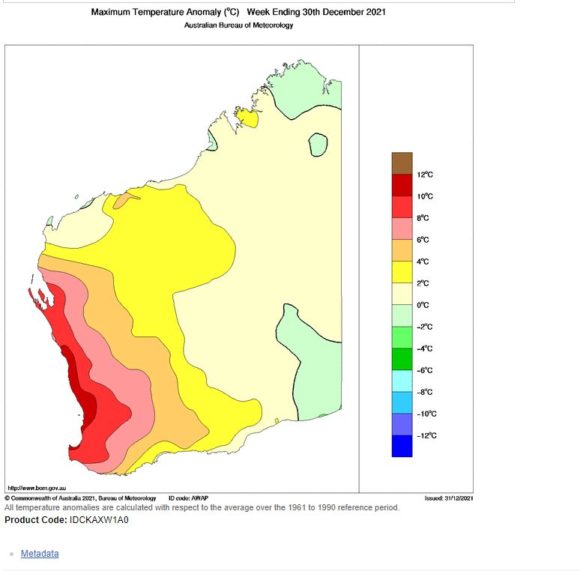 Forecasts were made for a tropical cyclone to form close to Darwin but this did not eventuate.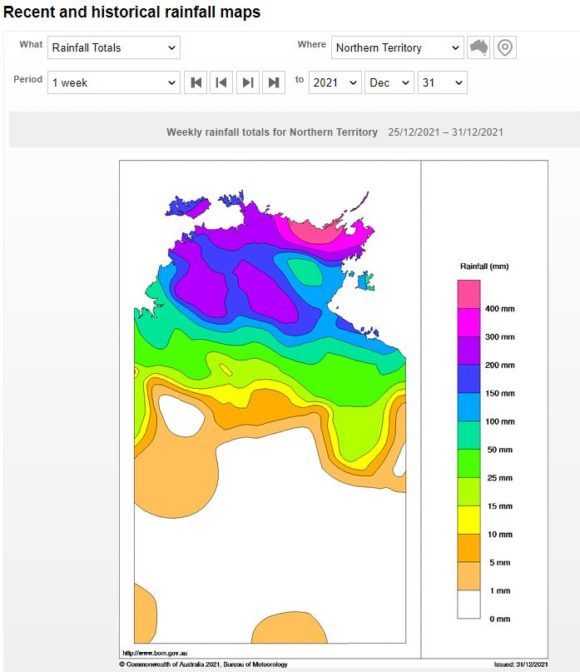 During the same period, the western coastline of the Gulf of Carpentaria (Queensland) was also inundated with monsoonal rain with weekly totals reaching 400 mm.
Forecasts were also made of a tropical cyclone to form off the Queensland coast then track south east away from the coast. The storm was named Seth.
This has been reviewed on CIMSS which does not identify the development of any tropical cyclone forming off the coast of Queensland under the Saffir Simpson Scale.
The Bureau of Meteorology uses the Australian Tropical Cyclone Intensity Scale to ascertain the strength of such storms which has lower thresholds for categorizing such storms than that under the Saffir Simpson Scale. As shown on the attached model from the Bureau of Meteorology, it is suggested that the storm may reach a Category 2 storm with winds at the core of 89 to 117 km/h and with peak wind gusts of 125 to 164 km/h.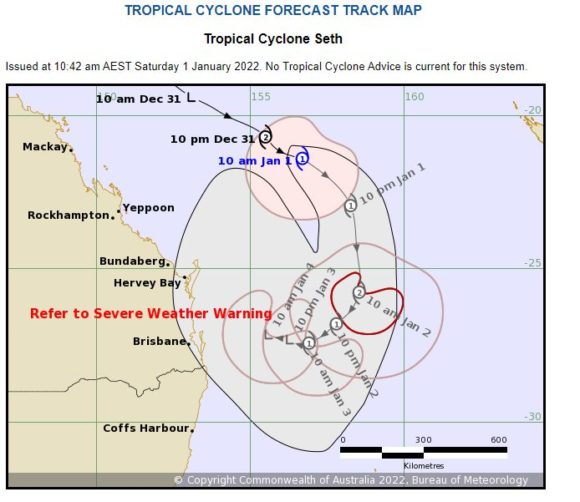 It is unclear if the storm has reached this strength and recent satellite images do not show a typical storm off the coast spiraling around a low pressure system.
As at 10 am Saturday morning, the storm was 640 km east north east of Yeppoon and moving south east at 14 km per hour. Given its location south of the Tropic of Capricorn and its strength, it is now unlikely that the storm could reach this strength as forecast.
Weather conditions have varied widely across Australia over the past seven days and this is likely to continue through January and February 2022.
Related Terms: