A very significant weather change has impacted New South Wales over the past few days that has seen some dramatic maximum daytime temperature differences occur. Some of these variations are impressive but not unheard of.
In this case, maximum daytime temperatures dropped from the mid 30s to the mid to late teens in the space of 2 days which makes this event rather remarkable for late October.
The following table highlights some of the dramatic maximum temperature swings that occurred before and after the change. This is showing a maximum daytime temperature drop of more than 50% across a two day period across parts of Western Sydney.
| | | | |
| --- | --- | --- | --- |
| Sydney Region | 24 October 2023 | 25 October 2023 | 26 October 2023 |
| Badgerys Creek | 34.8C | 28.4C | 18C |
| Bankstown | 32C | 24.4C | 17.5C |
| Horsley Park | 34C | 26.1C | 16.3C |
| Richmond | 36.8C | 31.2C | 17.3C |
| Sydney Olympic Park | 31.2C | 24.4C | 16.6C |
This provides some idea how strong the cold change was.
Such temperature drops across cold front systems of this nature are not too common but such events have occurred in the past.
Over recent years, such cold changes occurring during October, November and even into December in Sydney have delivered some remarkable maximum temperature drops including:
Taken from Sydney Observatory Hill and based upon maximum daytime temperatures.
1988 December 3 - 39.2C - Then December 5 - 19.6C (A drop of almost 20C following the passage of the cold change).
1993 October 9 - 34.3C - Then October 11 - 17.1C (A drop of 17C following the passage of the cold change).
1994 December 21 - 40.9C December 25 - 19.7C (A drop of over 21C following the passage of the cold change).
As such, there is a history of such events occurring across Sydney at this time of the year.
This event was not just limited to Sydney as some other remarkable variations occurred including but not limited to the following locations.
| | | | |
| --- | --- | --- | --- |
| Town or city | 24 October | 25 October 2023 | 26 October 2023 |
| Armidale | 30.5C | 30.7C | 18.5C |
| Grafton | 33.1C | 39.7C | 18.7C |
| Moss Vale | 28.1C | 21.7C | 13.8C |
| Taree | 29.3C | 30.3C | 17.5C |
In addition to delivering such a temperature difference, the further north the change traveled, the more rainfall that occurred.
Prior to the change, there had been a number of bush fire emergencies developing on the New South Wales North Coast and even into South East Queensland. The change also delivered some significant rainfalls that exceeded expected forecast models.
Due to this, the events of 2019 will definitely not be repeated in terms of bush fire emergencies. Rainfall has topped 120 mm at isolated locations with most of this falling overnight Thursday and into Friday morning.
The heaviest totals were to 9 am Friday morning:
Mooral 136 mm.
Sawtell 127 mm.
Comboyne Public School 122 mm.
Coffs Harbour - 71 mm to 127 mm
Taree 91 mm.
Bellingen (Crystal Creek) 87 mm.
Mount Barrington 78 mm.
Widespread 25 to 50 mm and 50 to 99 mm falls fell across large areas of the New South Wales North Coast north of Newcastle which has dampened fire grounds, has returned moisture to the soil and eased the fire danger.
Strong falls were also recorded across the eastern side of the North West slopes and plains and across the Northern Tablelands.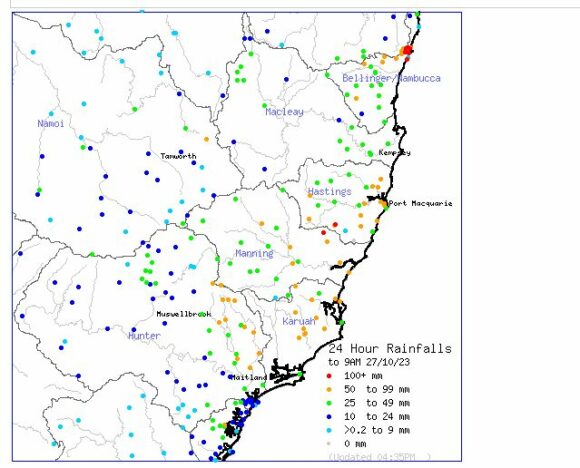 Across Sydney, rainfall was patchy and light with Sydney Observatory Hill collecting 14 mm to 9 am Friday morning with most totals across Western Sydney ranging from 1 mm to 5 mm from passing showers.
The satellite photo as shown in the featured image taken from Zoom Earth / EOSDIS (NASA) is showing the cloud mass developing across eastern New South Wales Thursday afternoon just before sunset and it was this cloud that brought the overnight heavy rainfall.