An unusual set of circumstances have resulted in two separate weather extremes impacting different parts of Australia for the 9 day period between Wednesday 11 January and Thursday 19 January 2023. In particular:
1 - Queensland
Flooding rains impacted a region between Townsville and Mackay between Saturday and Thursday 14 to the 19 January where cumulative rainfall totals topped 1,000 mm at a limited number of locations such as Finch Hatton and Mt Jukes.
2 - Inland North West Victoria / Inland New South Wales and Inland South Australia
A strong burst of heat and even a heatwave impacted inland regions of three states especially during the period 11 to 15 January 2023. The heat barely reached the coast and generally of the major southern cities, only Adelaide reached 40.6C on 1 day being the 14th and to a lesser extent, Melbourne reached 37C on the same day. The sustained heat failed to reach any part of coastal New South Wales.
Australia - A land of great contrasts
Australia is often regarded as the continent with the most varied weather and during the past 10 days, this has certainly occurred especially across eastern and southern parts of the country.
The Queensland floods
A sustained multi day rain event across a 6 day period has resulted in incredible rainfall totals topping 1,000 mm at two locations being:
Finch Hatton - 1,017 mm.
Mt Jukes - 1,001 mm.
Other incredible totals from the event include:
Mt Charlton - 943 mm.
Prosperine - 860 mm.
Hamilton Island - 805 mm.
Mackay Racecourse - 695 mm.
Mackay City - 649 mm.
Bowen - 578 mm.
Generally all localities between Mackay and Townsville received falls in the hundreds of mm with low lying areas and rivers being subjected to significant floods.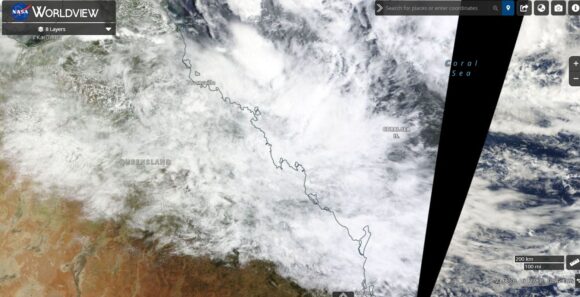 This has become the second major flood event this summer for Australia with the first event centred on the Kimberly region of North West Western Australia.
The 7 day rainfall figures to 9 am Wednesday morning demonstrates that the La Nina weather pattern has still not receded completely.
While this event was underway, large areas of the inland southern Australia was subjected to the strongest burst of heat this summer which even lead to heatwave conditions at some locations.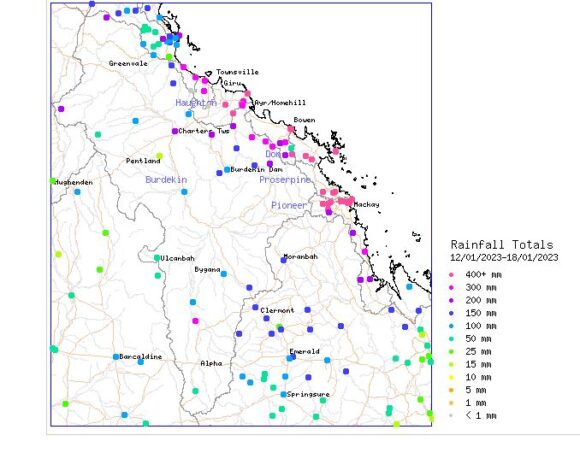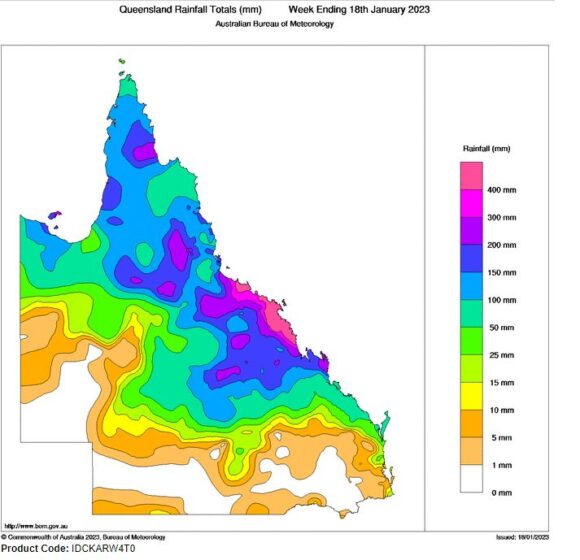 The inland Heatwave
This event impacted inland areas away from the coast and for New South Wales, the heat did not or barely make it to eastern coastal regions.
The heat was strongest in northern and eastern South Australia where multiple days of 40C temperatures were observed at places such as Andamooka (4 days between the 11 to the 14), Wudinna (3 days between the 12 and the 14) and Woomera (2 days being the 13 and the 14).
The hottest days occurred on the 14th which included:
Whyalla - 43.9C.
Andamooka - 43.3C.
Wudinna - 43.1C.
Woomera - 42.4C.
The heat spilled over into North west Victoria where the Mildura region recorded 4 days where maximum temperatures reached or exceeded 38C including 41.5C on the 14th.
In New South Wales, all places including Hay, Balranald, Menindee, Ivanhoe, Tibooburra, Wanaaring, (Mainly western and south western areas) recorded 4 to 5 days of maximum temperatures above 37 or 38C.
Maximum temperatures of 40C did occur at Menindee, Wanaaring and Bourke on at least 1 day during this period.
The effects of the heat were less for towns and cities further east and as such, maximum temperatures only reached 37C on 1 or 2 days at regional cities of Albury and Wagga.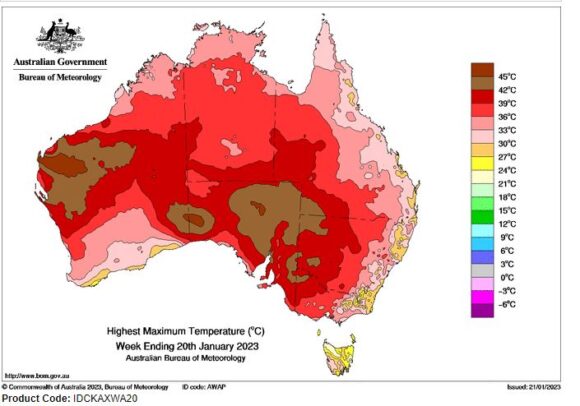 Significant thunderstorms
Convective thunderstorms impacted parts of south east New South Wales on Sunday 15 January 2023 with one particular storm at Goulburn Airport producing a peak wind gust to 113 km/h between 5.59 pm and 6.08 pm.
Another storm at Canberra Airport on the same day produced a wind gust to 93 km/h at Canberra Airport around 4.50 pm.
While evening showers and some thunder occurred from this system over parts of Western Sydney, no significant weather occurred.
The above shows how variable the weather has been for January 2023 and as previously mentioned, Australia does has some of the most varied weather found anywhere.
Attached to the post are:
Relevant plots from Water and the land showing where the Queensland floods occurred.
The highest maximum temperature plot for Australia for the week ending Friday 20 January 2023. This shows the strongest heat being inland with eastern coastal areas generally be spared of significant hot weather.
Related Terms: