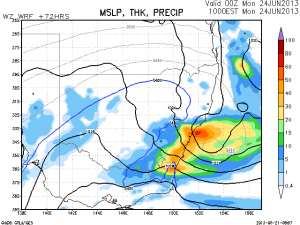 A large part of the NSW coast is on flood watch with an east Coast Low expected to develop during Monday. Models are not consistent with the timing or placement of a possible low, or ever whether heavy rainfall will push inland much. However the BoM have issued a flood watch
FLOOD WATCH FOR MINOR TO MODERATE FLOODING ON THE PATERSON, WILLIAMS, WYONG, NEPEAN, GEORGES AND THE TIDAL ZONES OF THE COOKS AND WORONORA VALLEYS.
Issued at 12:45 pm EST on Friday 21 June 2013
Note: This Flood Watch is a "heads up" for possible future flooding along all rivers and creeks within a nominated valley and is NOT a Flood Warning [see note below].
From late Saturday night (22/6/13) through to Monday night, heavy rain is expected over coastal districts between Narooma and Seal Rocks. This rain is likely to cause local and main river flooding.
At this stage there is a greater than 70% chance of flooding along the following river valleys:-
Paterson and Williams Valleys - minor to moderate flooding
Wyong Valley - minor flooding
Georges River Valley - minor flooding
Nepean River Valley - minor to moderate flooding
Heavy rain combined with King Tides over the same periods may also expose the tidal zones of the Cooks and the Woronora Rivers to minor flooding.
This Flood Watch means that people living or working along rivers and creeks must monitor the latest weather forecasts and warnings and be ready to move to higher ground should flooding develop. Flood Warnings will be issued if Minor Flood Level is expected to be exceeded at key sites along the main rivers for which the Bureau of Meteorology provides a flood warning service. Across NSW about 75% of Flood Watches are followed by flooding within the catchment.
FloodSafe advice is available at www.ses.nsw.gov.au
For emergency assistance call the SES on telephone number 132 500.
For life threatening emergencies, call 000 immediately.
Related Terms: