Finally after 258 days since the last 30C day occurred on March 22, the maximum daily temperature across Western Sydney reached and exceeded 30C for the day which is the first time for the spring / summer season 2022/2023.
This was significant as much of Southern Australia has endured a colder and a wetter than normal spring. Constant cloud cover and rain events have contributed to an unusual spring in which for many southern areas, no 30C days were recorded during September, October or November.
On Sunday and Monday 4 and 5 December a brief burst of summer heat tracked across southern Australia ahead of a cool change / cold front which provided at least 1 day where maximum temperatures reached levels that would be expected for summer.
Some samples of what occurred on Sunday include:
Victoria
Melbourne 34.5C.
Shepparton 34.3C.
Bendigo 34.2C.
Western Sydney
The brief burst of heat tracked across New South Wales on Sunday and Monday reaching Western Sydney on Monday where maximum temperatures reached:
Sydney Airport 30.1C.
Sydney Olympic Park 32.3C.
Badgerys Creek 33.4C.
Horsley Park 33.7C.
Penrith 35.4C.
While the maximum temperatures are not exceptionally high, this in itself was significant and was the warmest day in 258 days.
The heat has failed to reach the coast and as such, Sydney Observatory Hill only reached 27.9C for the day. As such, the 30C drought endures for coastal Sydney areas.
Late afternoon showers and storms
During Monday, a southerly change moved north along the New South Wales coast which generated some thunderstorm activity. The system reached Sydney's west mid to late afternoon producing a minor thunderstorm which weakened as it reached the coast.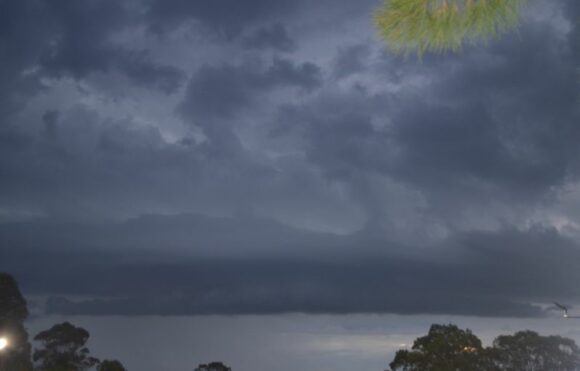 At sunset, two stronger storm cells moved across Sydney. While it is acknowledged that approximately 34,000 lightning strikes and flashed occurred within 100 km of Sydney from the whole event, the storms that passed over Blacktown / Doonside where I live were weak.
I witnessed two strong cloud to ground lightning strikes from a cell and cloud tower to the south but spaced several minutes apart but generally other than some sheet lightning and a light shower, there was nothing significant with this storm.
However, heavier rain and more activity occurred further south and further towards the coast and thus what occurred within these areas is not reflective of what occurred over much of the area west of Blacktown.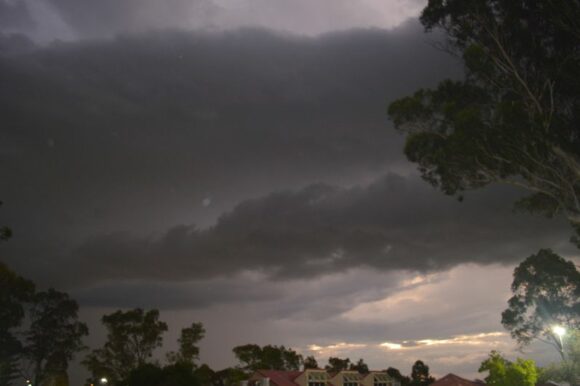 The second storm produced barely 1 mm of rain where I live and less further west. Other areas of Sydney had 2 to 18 mm depending on the strength of the storm cells at that time.
The photos attached to this post were taken at sunset looking south and south west towards the stronger storm which missed Doonside.
Related Terms: