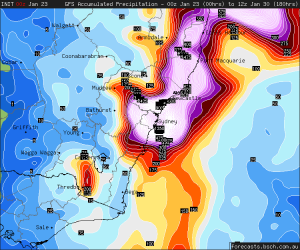 Hi Guys,
Just check out the latest Jan 23 00z GFS 180 hour accumulated precip.
http://forecasts.bsch.au.com/apf.html?region=sydney&start=5&stop=6&gribdate=2013012300&chart_mode=
Most appears to fall in the few days post Australia day. I might have to get around to sorting out the drainage / downpipe issues I've been having at home hehe.
Regardless of what happens this far down in central NSW, it will be interesting to watch this event unfold along the QLD coast with the demise of Oswald. Interesting times ahead!