The attached satellite images of eastern Australia from:
Himawarri.
TERRA MODIS (NASA).
Shows a thick and extensive cloud cover passing across Eastern Australia including New South Wales.
The cloud cover comprises a substantial amount of nimbostratus cloud including a slow moving rain band.
However, isolated embedded but weak cumulonimbus storm cells also feature within the cloud mass.
The cloud which developed during Friday and overnight Friday and into Saturday morning produced light to moderate rainfalls across affected areas.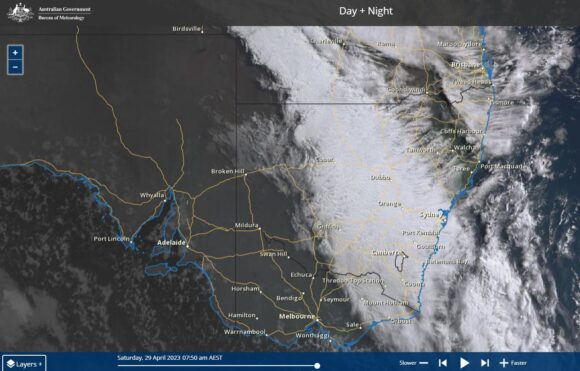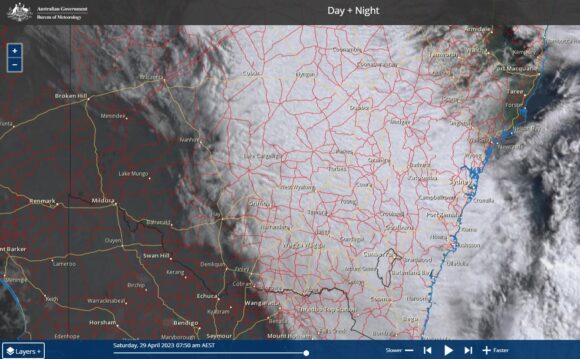 For the 24 hours to 9 am Saturday morning, a narrow path stretching from Trangie to Bigga (Central West New South Wales) received the heaviest falls including:
49 mm at Mandurama.
43 mm at Cudal.
33 mm at Dandaloo.
Other falls of 25 to 50 mm were common within this area but elsewhere, falls were much lighter.
During Saturday, the cloud mass and rain band reached the coast and much heavier totals occurred within a small area of the New South Wales coastline between Wollongong to the north and Ulludulla to the south. Rainfall totals topped 50 to 99 mm including 90 mm at Ulludulla and 70 mm at Foxground within affected areas (All figures to 8 am Sunday).
However, a very small coastal area centred around Jervis Bay received totals of greater than 100 mm with one weather station recording over 200 mm being:
206 mm at Point Perpendicular.
167 mm at Currawong.
156 mm at Jervis Bay.
106 mm at Greenwell Point.
(All figures are to 8 am Sunday morning)
Generally, any area south east of Bathurst, the Illawarra region and large areas of the Southern Tablelands received greater than 25 mm with several localities receiving more than 50 mm.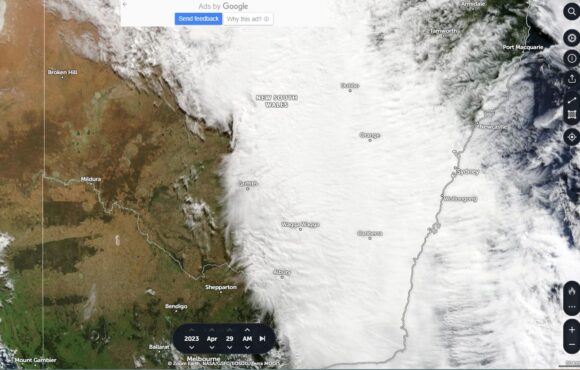 Across Sydney, the Greater West received a higher concentration of rainfall than the coast with Penrith receiving 47 mm and North Richmond receiving 51 mm. Most suburbs within the region received at least 20 to 49 mm.
Across coastal Sydney areas and excluding the Cronulla South Bowling Club which received 78 mm, totals were slightly lighter with 9 to 30 mm common.
(All figures are to 8 am Sunday morning).
Late Saturday evening, a weak embedded storm cell passed over parts of Western Sydney which accompanied a heavy rain shower. This produced only a handful of lightning flashes as it progressed to the south.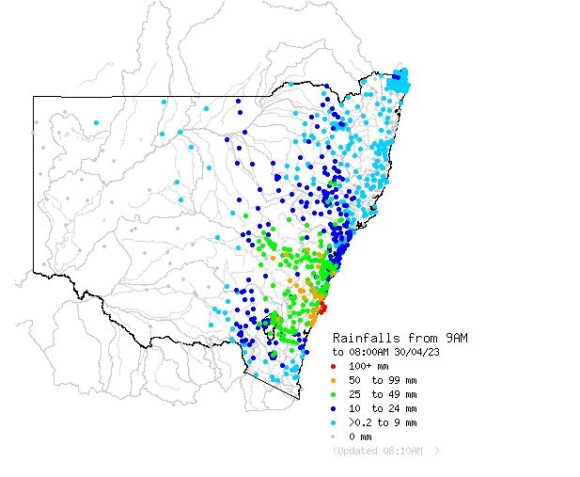 Sunday morning, a clearing trend commenced with the rain band passing out to sea.
Related Terms: