Following a recent warm spell that saw maximum temperatures reach up to 28.6C at Penrith on Sunday, weather conditions deteriorated rapidly after sunset Monday evening across coastal areas including Sydney.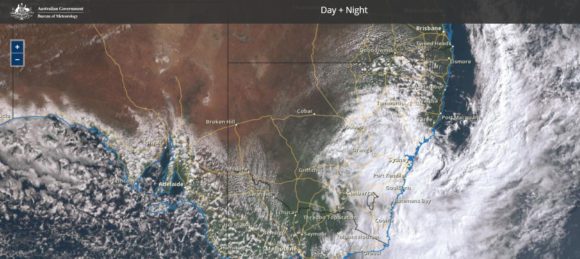 It is known that some thunderstorm activity occurred in some parts of Sydney and to the south of Sydney however following the passage of the cold front, an east coast low developed during Tuesday that has brought some moderate to heavy rainfall and significant wind gusts.
Rainfall
For the 24 hours to 9 am Tuesday 24 August 2021, much of Sydney received between 24 and 37 mm. Such rainfall was relatively uniform across the city with the heaviest total of 37 mm falling within areas close to the airport.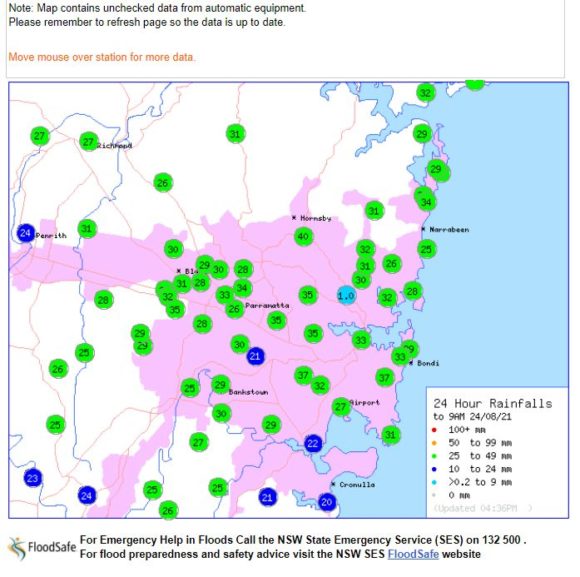 Higher rainfall figures were recorded at the following locations for the same period:-
Illawarra
65 mm at Beaumont (The Cedars).
64 mm at Burrawaong.
Southern Tablelands
53 mm at Braidwood.
Central Tablelands
51 mm at Canobolas, Oberon and Orange.
There were also good rainfalls at Alectown (Central West) - 53 mm and at Nundle also 53 mm.
For the 24 hours to 9 am Wednesday 25 August 2021, some higher rainfall totals occurred around Sydney including:-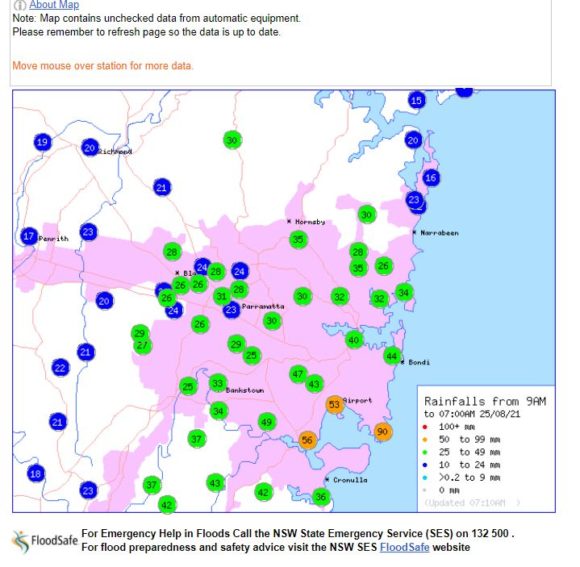 90 mm at Little Bay.
56 mm at San Souci.
54 mm at Randwick.
There were heavier rainfall totals within parts of the Illawarra / eastern parts of the southern tablelands including:-
83 mm at Robertson.
80 mm at Clover Hill.
79 mm at Macquarie Pass.
77 mm at East Kangaloon.
62 mm at Moss Vale.
Temperatures
Also noteworthy were the maximum daytime temperatures being significantly below average including 10.4C and 10.5C at Horsley Park and Badgerys Creek respectively, 11.5C at Observatory Hill Sydney and 12.8C at Penrith. This is a significant change and has resulted in the second coldest day this winter for much of Sydney (The coldest day occurred on June 10).
Peak wind gusts and gales
This was a significant feature of this system especially for exposed coastal locations within the Illawarra / Shoalhaven region of New South Wales but such high winds were limited to exposed coastal locations and fortunately such high winds did not penetrate too far inland.
Stronger damaging winds occurred at Albion Park (Southern Wollongong) where a gust of 102 km/h occurred at 5.02 pm. Further, a gust of 113 km/h occurred at 6 pm and between 6.58 pm and 7.05 pm, three peak wind gusts of 120 km/h occurred.
At nearby Kiama to the south, a single wind gust of 130 km/h occurred at 7.14 pm being the strongest wind gust recorded from this event.
Point Perpendicular
At Point Perpendicular, the weather station recorded a peak gust of 124 km/h at 4.45 pm, at 7.05 and again at 7.10 pm. A closer review of this weather station shows numerous peak wind gusts of between 107 km/h and 124 km/h between 4 pm and 12 midnight peaking at 124 km/h.
The table highlighted in blue shows conditions between 4 pm and 12 midnight and column 9 showing peak wind gusts is a standout. (Source BOM Point Perpendicular Weather station 24/8/2021).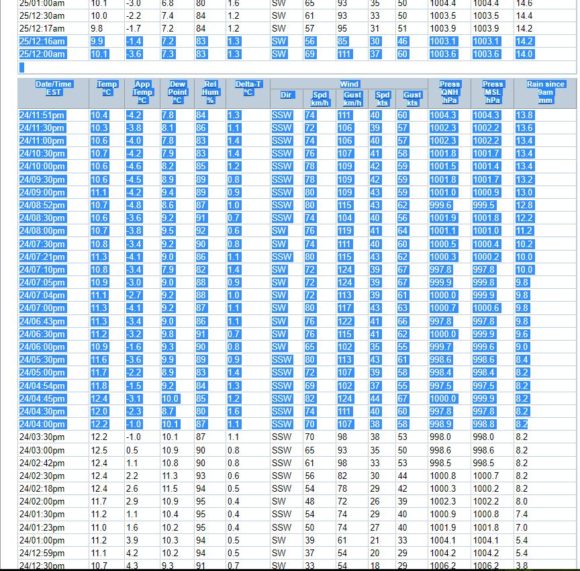 The weather station has recorded the most sustained intense winds from this system partly due to its exposure and location to such winds.
Such winds did not penetrate too far inland and other weather stations within vicinity to the coast within the region recorded the following:-
Ulludulla - A peak wind gust of 98 km/h occurred at 5.25 pm.
Nowra - A peak wind gust of 89 km/h occurred at 7 pm.
Such winds have caused damage in affected areas with trees being blown down and damage to property evident including downed power lines and power loss. A cleanup is now required in affected regions.
This system is now moving away from the coast allowing for a rapid improvement in weather conditions over coming days.
Related Terms: