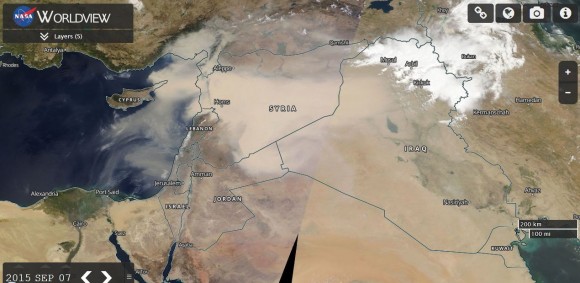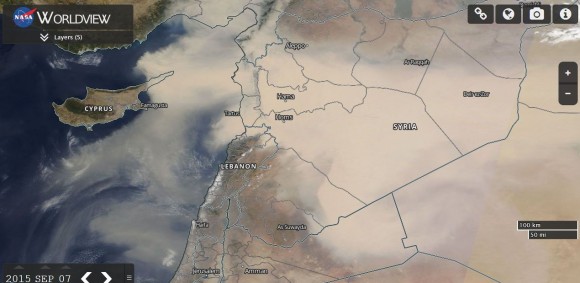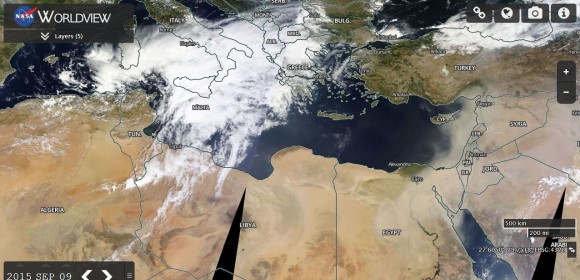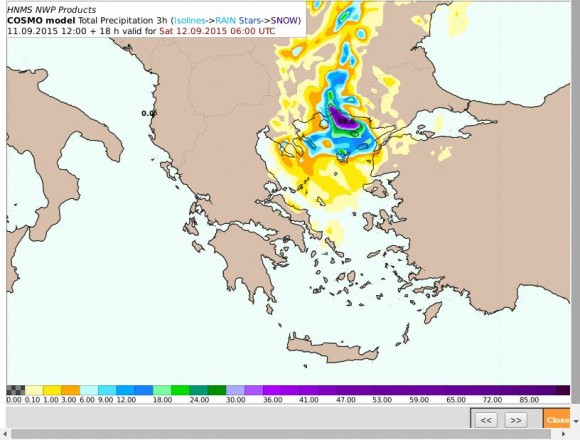 The central and eastern Mediterranean Sea region has seen two significant weather events during this period which has included major dust storms across the eastern fringes of the region affecting countries such as Syria, Jordan Lebanon, Israel and Egypt.
Thunderstorms have also caused disruption across parts of Sicily and Italy before moving north east across Greece which have been unusual for this time of the year. The two events are briefly described.
Dust storms
A dust storm developed across Syria and Jordan on the 7 September before moving west and south. Parts of southern Turkey were also affected by the heavy dust storm. The storm enveloped Lebanon on the 8 September then Israel, Jordan and Cypress. On September 9, the dust storm enveloped parts of northern Egypt.
The MODIS Worldview image of 7 September 2015 is showing an extensive dust storm enveloping Syria and portions of Southern Turkey. The storm also envelops the eastern part of the Mediterranean Sea.
The dust impacted airline flights and triggered widespread health alerts. The end result was a large dust storm that had regional impacts affecting several cities across the Middle East.
Thunderstorms and floods
Following this event and as shown on the MODIS Worldview image of the 9 September 2015 a major rain and thunderstorm complex impacted southern Italy. The same image also shows the dust storm still impacting Israel, the Sinai and north eastern Egypt further east.
The third image is clearly showing the two weather events being two different types of storms and a number of countries being impacted by both events.
The cloud impacting Italy brought thunderstorms, hail and flash flooding to areas of Sicily, Italy and later Greece. According to news reports, up to 50 to 100 mm of rain occurred from this storm system with isolated higher totals of 150 mm around Calabria (Italy) occurring.
The same storm complex impacted Greece before weakening. On the 10/9/15, it appears that as much as 60 mm of rain fell in areas close to the coast of Greece near the town of Xanthi. The storm system is now breaking apart.
CREDITS
MODIS (Worldview) acquired from NASA 7 and 9 September 2015 for the satellite photos.
ACCU Weather media reports 12/9/2015.
Greek Meteorological Service 12/9/2015 (Rainfall data for the 11/9/15).
NASA Earth Observatory (Dust storm sweeps across Middle East) September 7 2015.
Related Terms: