http://www.extremestorms.com.au/maximum-temperatures-top-40c-for-the-first-time-in-england-tuesday-19-july-2022/
The attached image from NASA Worldview (AQUA) and dated Saturday 13 August 2022 shows how parched it has become across South east England. Shown at a scale of 20 km and centred on London, the image shows how serious the situation is across South east England.
The image demonstrates that serious droughts do affect England which can have major consequences for the nation.
Drought declarations have finally been made and it is known that the source of the Thames River has dried up. The drought declarations are mainly across the southern areas covering regions such as London and others including Kent, Devon, Cornwall, Thames and Lincolnshire.
Other rivers and associated reservoirs are seriously low following an extended dry period.
The dry spell has continued through much of 2022. While England is usually a country associated with regular rainfall and its greenery, droughts can and do occur.
The drought of 1975/76 was one of the worst drought of the 20th Century and serious water restrictions were brought in for many towns and cities. In southern England maximum temperatures topped 32C on 14 consecutive days. This drought lasted from May 1975 and ended in September 1976. Heavy rainfall returned during September 1976 which broke the drought. (Source - Natural Disasters Robert Coenraads, 2006 (Page 376-377)).
It is suggested that the rainfall in England for the January to June 2022 is the lowest since 1976 based upon The Met official records.
A similar situation is now playing out again in Southern England and clear skies have been a feature for much of summer. Fires have been common although not at the intensity of what we see here in Australia.
Following the recent hot spell in which the 40.3C temperature at Coningsby (Lincolnshire) has been verified and accepted, another burst of heat is impacting southern England and daytime temperatures are again topping well into the 30s and approaching the mid 30s. As shown taken form the MET Office for 2 pm Saturday 13 August, daytime temperatures are again topping 30c with the highest being 34C at Kenley just to the south of London.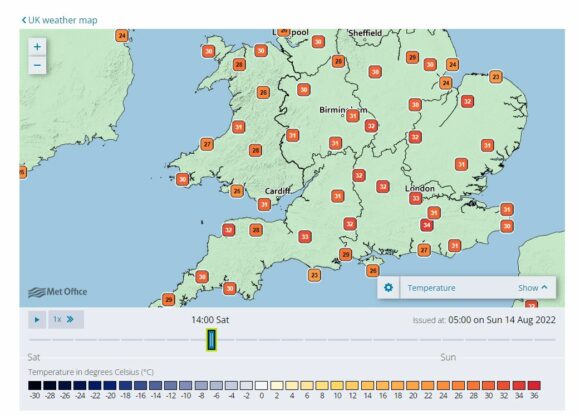 Forecasts of 35C are again being made for parts of England including London. A significant change is expected midweek with rain / showers and thunderstorm activity expected to provide some relief.
Looking further afield across Southern Europe, a similar view is also shown. It has been dry across France, Spain, Portugal with occasional fire flare ups. Much of Southern Europe has swelted through a hot and dry summer and 40C temperatures have been commonplace. Many of the fire outbreaks during August have been occurring in South West France and Portugal but fortunately none have reached the size of what we have seen in Australia in recent years.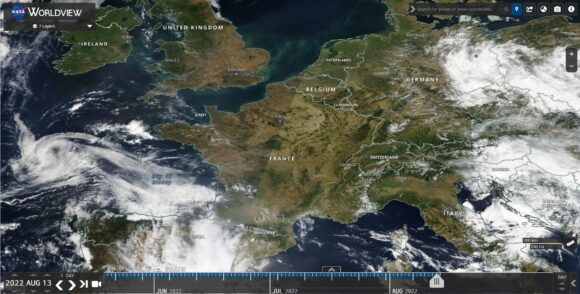 During this unusual summer, a number of high temperature records have been verified by the MET Office (UK) which includes:
First time ever that a 40C temperature has occurred anywhere in England.
38.1C at Santon Downham on July 18 (2022).
37.1C at Hawarden Airport (Flintshire).
34.8C at Charterhall (Scottish Borders).
A new record daily minimum temperature for Wales at 24.5C at Aberporth on the 19 July 2022.
(Source Met Office Press 28 July 2022 (United Kingdom)
Related Terms: