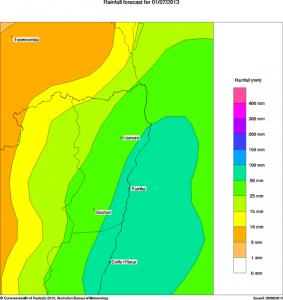 A strong upper trough will move into the region Sunday and help deepen in an existing surface trough along the coast. An East Coast Low is likely to form near the SE QLD coastline. The forecast position and intensity of this low varies between the weather models but the most likely outcome at this stage is for the Gold Coast, Northern Rivers and northern parts of the Mid North Coast to cop the worst of it - especially during Monday. Strong to gale force wind gusts may also develop along the coastal strip. Some locations may see falls of 150-200mm over 48 hours - though this looks much more likely for coastal areas.
Thunderstorms are possible in the mix as instability is present both Sunday and Monday - expect heavy rainfalls if you're under one of those.
Rain areas and showers should persist into Tuesday clearing from the north with Wednesday fining up. Then several days of clear skies are expected.
Attached is the rainfall forecast map from the BoM for Monday.
Related Terms: