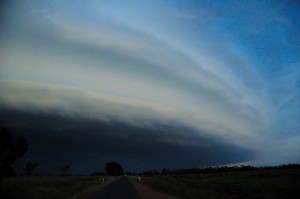 Had a very enjoyable storm chase with James Harris on Thursday 10 January 2013 into the QLD Darling Downs region. We started off near Killarney and watched cumulus bubble along a boundary slowly develop. A cell exploded just east of Warwick with massive billowing tops. Next to no lightning had been observed when a flang hit within 200 metres of us - then three more in quick succession - a nice way to kick off the storm action.
A lull in activity drew us further west into the main target area. Shear was forecast to increase into the late afternoon and sure enough an interesting line of activity developed from north of Goondiwindi.
We enjoyed an amazing sunset lightning show near Millmerran then a spectacular shelf cloud formed and spread across the district.
Related Terms: