During August 2019, a significant cold outbreak occurred over Southern Australia that brought low level snow falls to the Blue Mountains including Katoomba and Leura as well as elevated areas of the Central Tablelands. My wife and I documented this event and for the first time ever, I saw snowfall at Leura, Katoomba, Blackheath and Mt Victoria.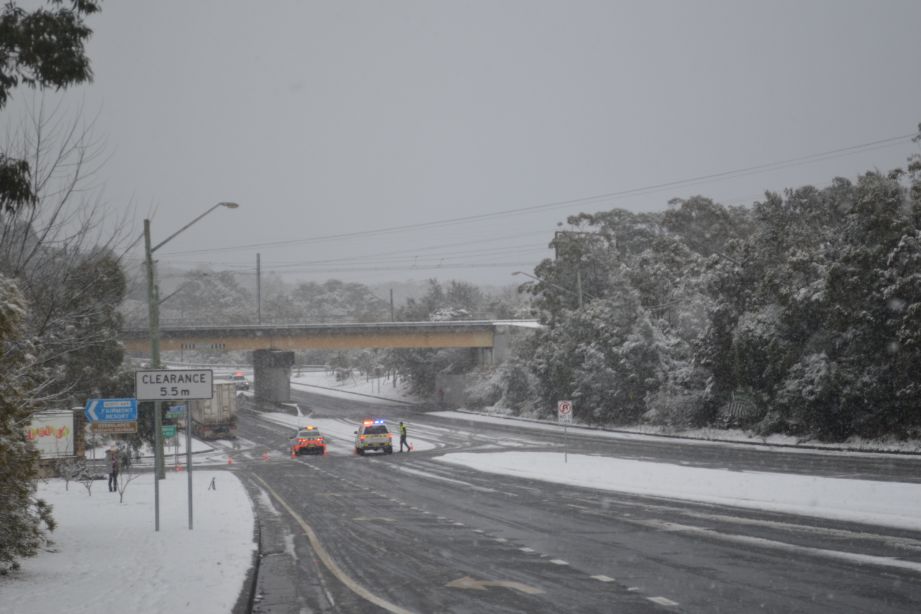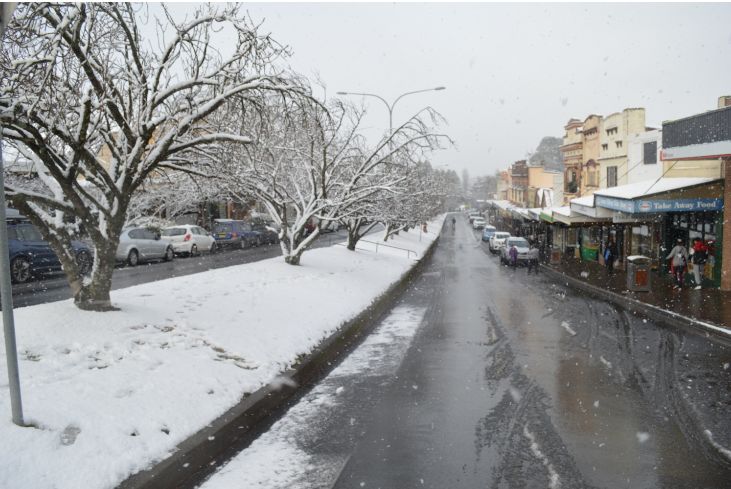 The three photos attached are taken from this event. Roads were closed due to icy conditions and snow fell to low levels relatively close to Sydney.
There was also a similar event during the winter of 2020 and now another similar event has just occurred. During the period 8 to 11 June 2021, low level snow fell again across the Blue Mountains, the Central Tablelands and even elevated areas of the Northern Tablelands. In addition, the Snowy Mountains saw heavy snow falls to coincide with the start of the ski season.
The snow images seen in the above photos were again replicated at Leura, Katoomba, Blackheath and Mt Victoria. Generally, snow fell above 850 metres in elevation, roads were closed and icy conditions prevailed.
However this event was remarkable in that Sydney (Observatory Hill) saw its coldest day in decades in which the maximum temperature reached 10.3C following a minimum of just 6.7C (10/6/2021). However what is more remarkable is that this temperature occurred under northern winds. Frigid air was circulating around an intense low pressure cell so that the northerly winds had in fact originated from the south.
It reached a maximum of just 8.9C at Horsley Park and 9.5C at Parramatta.
It is suggested in the media that this could have been the coldest day in 37 years while other media reports suggests that it has not been this cold since 1899.
Some old weather records for Sydney have been reviewed and it is determined that the recent cold day is not the coldest ever recorded for the city as there have been colder days. However, cold days where the maximum temperature fails to reach 10C are rare. Sydney has grown over the years and there are records for Sydney Observatory Hill going back to 1859 and hence the coldest winter days have been:-
Maximum 7.7C on the 19 July 1868.
Maximum 9.1C on the 9 August 1872.
Maximum 9.7C on the 13 June 1899.
Maximum 9.5C on the 8 September 1869.
There is suggestion of a very rare cold day on the 28 June 1836 as reported in the Sydney Morning Herald and around 6 am, the temperature was around 38F (Roughly 3.3C) and it began to snow in the morning with the snow lasting a few hours. It is claimed that the maximum temperature reached 50F (Roughly 9C later that day). This cold day occurred 23 years before weather records began. This event is controversial as there are questions as to whether it was soft hail or actual snow and what instruments were being used to record the temperatures. Either way, the 28 June 1836 was a cold day but whether it was actual snow or soft hail will probably never be known.
The cold day Sydney just experienced was not the coldest on record, but it is rare to see such low temperatures given Sydney's location and its climate.
There is an account of the 1836 event attached to this post and the fact that snow is suggested in the forecast or weather conditions being experienced for Sydney does make it significant.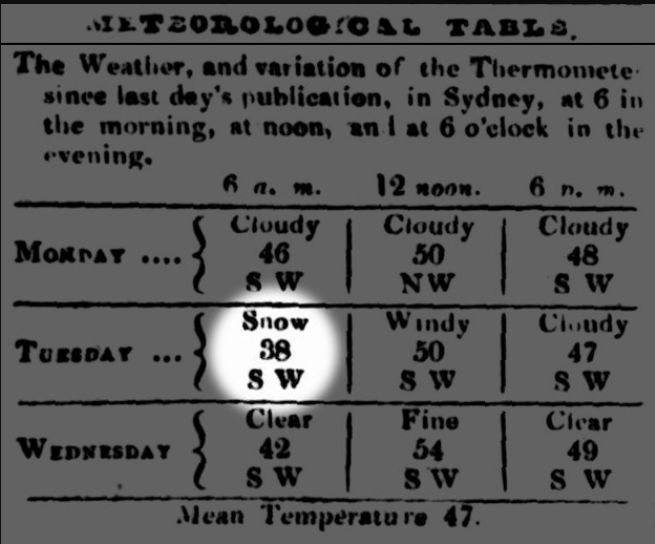 The coldest maximum temperature that can be found for Richmond is 9.5C on the 13/7/2011. It reached 8.3C on Thursday which would make it a new maximum low for this weather station and colder than the 11.5C recorded as the maximum day temperature for the 27 June 2007. Records only go back to 1994 at this weather station.
Other low maximum day temperatures for Thursday include:-
Sydney region
Parramatta 9.5C.
Horsley Park 8.9C.
Penrith 8.3C.
Regional and Rural New South Wales (Including)
Albury Airport - 9.8C.
Armidale 5.6C (At Armidale, it reached 7.6C on the 9/6/21 and 9.7C on the 11/6/21).
Cooma 3.2C with a minimum of 0.0C.
Glenn Innes 5.1C.
Goulburn 6.9C with a minimum of -1.7C.
Orange -0.3C to a maximum of 3C.
Oberon -2C to 5.2C.
Rainfall
The same system also brought some significant rain to certain areas. While Sydney received light to moderate falls some of the rainfall that occurred elsewhere was remarkable given location.
Victoria
An area to the south of the Great Dividing Range but east of Melbourne received some heavy rainfall which resulted in flooding. Flooding was observed around Taralgon as well. Some of the heaviest falls for the 24 hours to the 10 June 2021 include:-
Thompson Yarra Divide - 241 mm.
Licola - 170 mm.
Noojee - 154 mm.
Reeves Knob - 144 mm.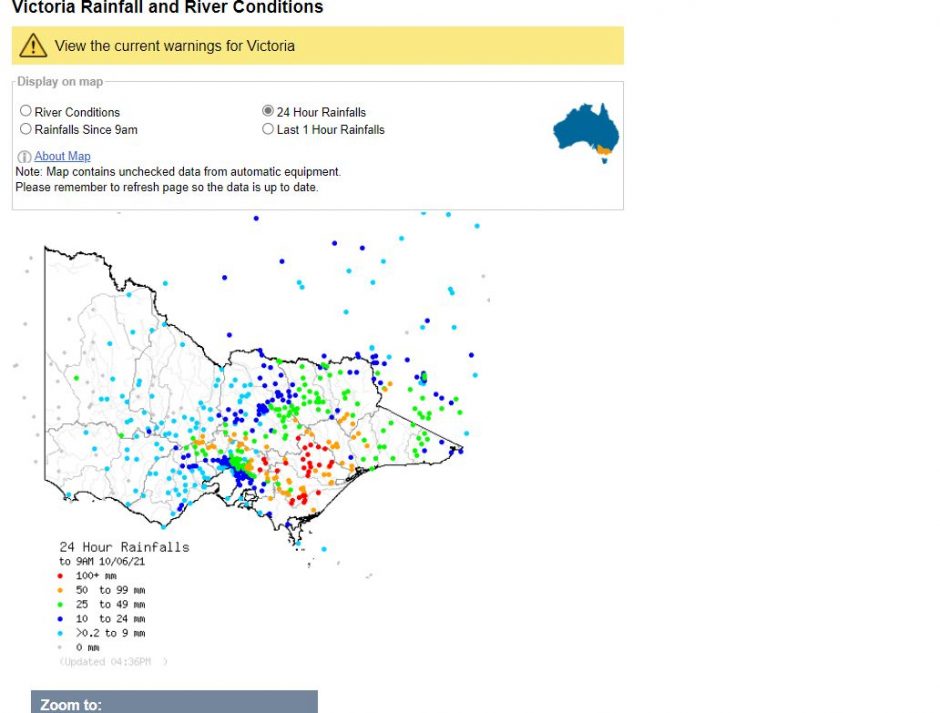 The hilly areas of outer Melbourne's east received between 50 and 100 mm. In addition to the rain, power was lost and trees were brought down due to wind and a clean up is currently underway.
New South Wales
Perisha Valley - 62 mm (Mostly as snow).
Thredbo - 50 mm (Mostly as snow).
A rain event across parts of the Central West of New South Wales saw good totals of up to 42 mm falling including 42 mm at Dubbo, 40 mm at Barina, 38 mm at Neura and 36 mm at Coonabarabran.
There were instances of wind damage and trees being felled especially across snow affected areas and across southern Victoria. However, the strongest wind gusts occurred at Mt William (The Grampians) where a single gust of 115 km/h occurred. Further, the lighthouse at Wilsons Promontory recorded one wind gust of 111 km/h at 2.30 am on the 10/6/2021 and the Puckapunyal West (Defense) weather station recorded a single gust to 111 km/h at 3 am on the same day.
At Mt Buller, peak winds gusts reached between 104 to 107 km/h for the 10/6/2021.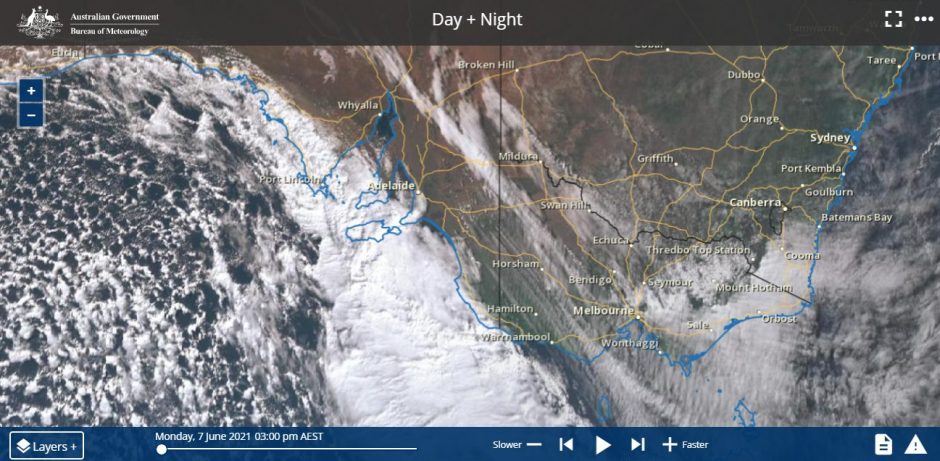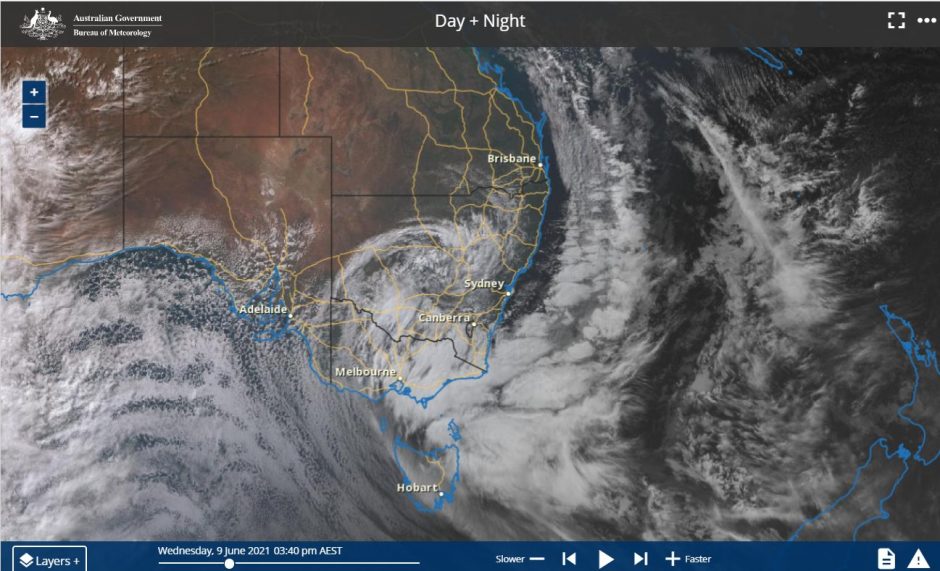 As such, this was a dynamic weather system that has created a wind range of weather that has disrupted large swathes of South East Australia. During Friday, conditions moderated dramatically allowing for a clean up to occur including a gradual warming of daytime temperatures.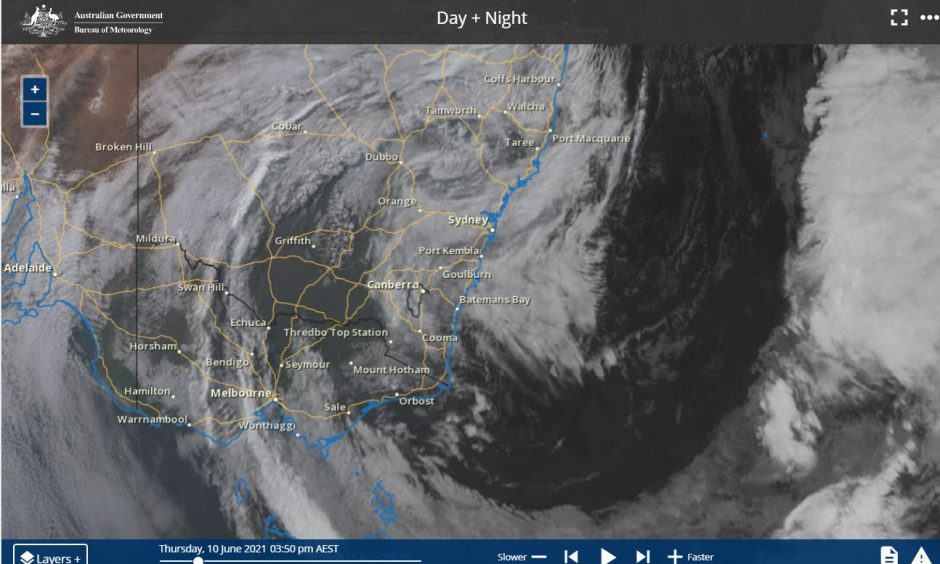 Related Terms: