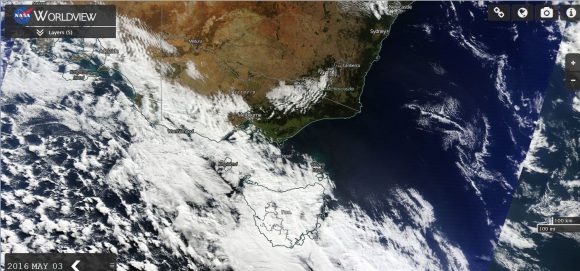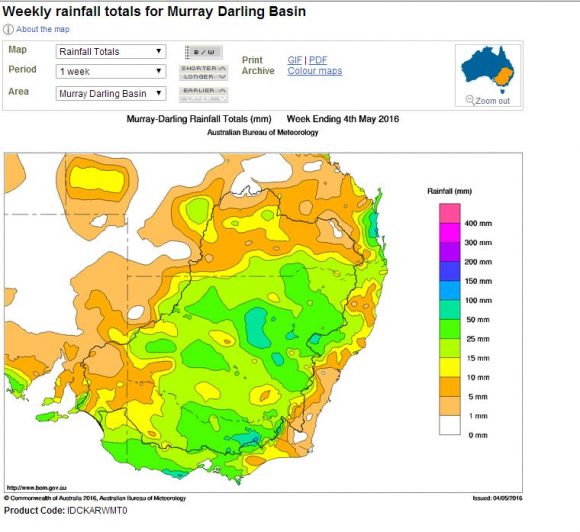 Over the past week, a series of cold fronts have swept southern Australia that has effectively ended the summer's final warmth for 2015 / 2016. These have brought an array of weather including gales, some rainfall and even 2 cm of light snow to the summit of Mt Hotham (Victoria).
During the weekend of 30 April and 1 May, two weather systems brought patchy rain across parts of New South Wales. This was not a typical autumn break event as rainfall was too light and patchy to be considered to be such an event.
Over the past week, light to moderate falls have fallen across much of the sheep / wheat belt of inland New South Wales and Victoria although a small area around Mt Hotham in North East Victoria received much heavier totals. During Sunday morning, falls up to 40 mm occurred over the North East ranges of Victoria.
During Sunday morning, a minor thunderstorm occurred over Baulkham Hills (NW Sydney) at an unusual time of 5.30 am to 6 am although rainfall was not significant.
The island state of Tasmania has seen the best rainfall from the recent frontal systems with much of the western half enjoying falls of 150 to 200 mm.
Another cold front lashed southern Victoria during Tuesday 3 May which brought gale force winds to parts of the state. In particular, a wind gust of 113 km/h was recorded at Mt Buller at 7.39 am and another gust of 106 km/h was recorded there at 12.30 pm.
At Aireys Inlet in southern Victoria, a wind gust to 109 km/h was recorded at 9.37 am and wind gusts to 98 km/h was recorded at 11 am followed by 95 km/h wind gusts at 2.17 to 2.24 pm. Such gusts have brought down trees in the worst affected areas.
It appears that the wind gusts have been more prominent with the cold fronts rather than heavy rainfall but it does show that the transition to winter is approaching.
The satellite photo of Victoria from NASA (Worldview) dated 3 May 2016 shows one of the cold fronts crossing Victoria. Rainfall was light from this system as it passed over.
The state of Victoria is dry and what is needed is a genuine rain event to break the dry spell. Weather models are hinting at a more significant rain event for Sunday and Monday May 8 and 9 as another cold front and low pressure cell passes over. This will be the system to watch in coming days to see if it delivers a stronger rain event than what has occurred with the recent cold fronts.
CREDITS
1 - Bureau of Meteorology (Rainfall plots for week ending 4 May 2016) 4/5/2016.
2 - NASA (Worldview) Satellite photo of Victoria dated 3 May 2016.
Related Terms: