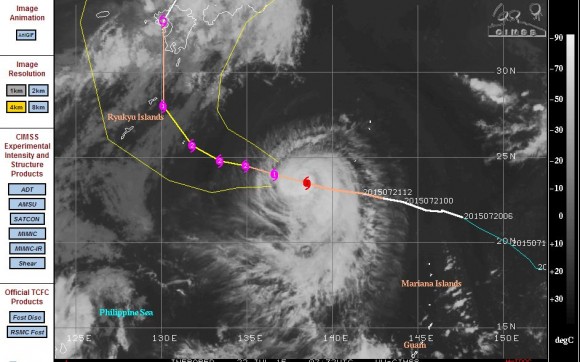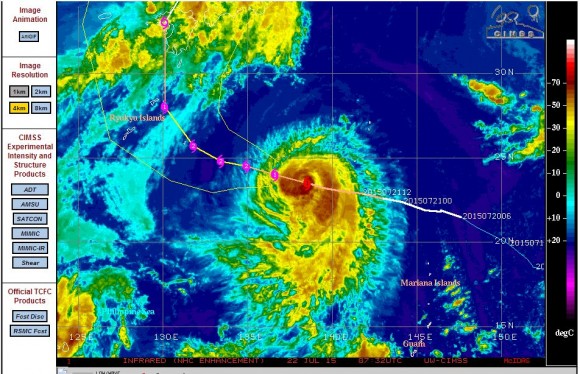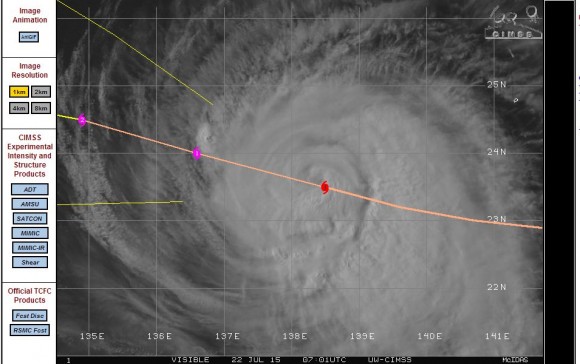 A small typhoon in the Western Pacific Ocean is gaining interest and should now be watched as it approaches Southern Japan. The storm initially formed in open ocean, developed into a typhoon, then weakened back to a tropical storm. Over recent days, the storm sustained some strength and passed into a more favourable environment, then redeveloped a second time into a Category 1 typhoon.
The storm is now being sustained by warm ocean waters in the order of 28 to 29 degrees Celsius and is now making an approach towards southern Japan.
Assuming the storm makes landfall in southern Japan, this would be the second typhoon to strike the country during July (The other being on July 16 with Typhoon Nankga).
According to the CIMSS models acquired 22 July 2015, it is suggested that the storm should approach the Ryukyu Islands south of Japan then turn more northwards as a weakening storm towards Kyushu Island (Japan) and passing close to major cities such as Kagoshima, Nagasaki and Sasebo.
The CIMSS model even suggests some strengthening to a Category 2 storm before weakening. A review of surface waters show that the storm should pass over slightly warmer waters, gain strength then weaken as it passes over colder waters close to Kyushu Island.
The storm is currently located at Latitude 23.5 degrees north and 138.5 degrees east and it is interesting to see some possible strengthening at a time when the storm is north of the Tropic of Cancer.
A close up view of the storm is showing some form of an eye but it is not fully visible in the attached image. The storm currently sustains winds around 75 knots at the centre.
This storm will be watched over coming days to see what occurs but it is clear that its life span will soon end as it approaches southern Japan.
Related Terms: