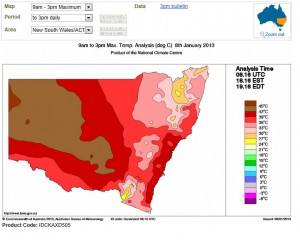 Australia has been sweltering for more than a week with some extremely hot conditions to over 48C in some parts of northern South Australia and up to 48C in western Victoria, western NSW, and SW Queensland. This heat followed some hot conditions in Western Australia.
Today, the conditions are spreading into central and eastern NSW with temperatures of up to 43C anticipated in Sydney and the surrounding suburbs. Added to the threat of hot conditions is the serious situation of catastrophic fire conditions. This is the first time such fire conditions have been announced for the regions of eastern Australia. For some comparison as to previous fires with such ratings are the devastating bushfires of Victoria known as Black Saturday in 2009 that killed 175 people and completely incinerated two towns, the Canberra bush fires of 2003 also was in the catastrophic category and although the death toll was much lower, about 500 homes were lost in the disaster.
As this post is typed, dangerous fires are burning out of control particularly in the catastrophic fire danger zones. Our climate reporter Harley Pearman will provide a detailed analysis of this record breaking heat wave and locations that have broken or come near heat records.