The initial plan this day was to chase the Northern Rivers region, but a quick look early on Saturday 23rd November showed powerful storms active in the North West Plains district. Given the position of the upper trough and its forecast position later, I decided the Northern Tablelands were be a good option early, with a drop back to the Northern Rivers for the late afternoon and evening storms later on.
Jason Paterson and I (Michael Bath) left Lismore at noon and were hoping the NW Slopes activity would be in the Glen Innes to Deepwater area in a couple of hours. This wasn't to eventuate with storms tending to remain a little further south and west. So we progressed further south along the New England Highway, eventually all the way to Guyra. By this time the sky was cluttered, it was cold and rain areas were occurring from the scattered thunderstorm activity. Despite the gloom there was the odd powerful CG punching through the murk. Everything was featureless but using some radar and seeing darker skies to the west we edged back north a bit. We expected to cop some hail and that soon occurred just east of Ben Lomond, along with several pulsing CGs.
We wanted out of the low cloud so moved north again. As we dropped off Ben Lomond Hill down to Glencoe the skies opened up! That change from 1400 metres to 1200 metres elevation allowed for views of the severe storm that was to our southwest. We knew straight away it was severe but that became even more obvious when we found a good vantage point on Grahams Valley Road, just north of the Glencoe village.
The initial intention was to try and capture the lightning but the wall cloud on this storm had dramatic motion and a very obvious clear slot in the RFD. Just after setting up the tripods we spotted a needle funnel cloud. This soon became the first tornado touchdown, but lasted less than a minute. Over the next two minutes a second tornado developed then evolved into a large cone structure., with what appeared to be other small funnels around it. This only lasted a minute, but after just 30 seconds the third large elephant truck tornado developed and it persisted for approximately 90 seconds, with a very brief small rope-out. A tail cloud also formed east of the wall cloud during the period.
In total, tornadoes and funnels were observed over a seven minute period between 4:07 and 4:13 EDT After this time the storm took on a more classic hailstorm appearance and sure enough it was dropping golf ball sized hail just our south. This is depicted in the latter two photos.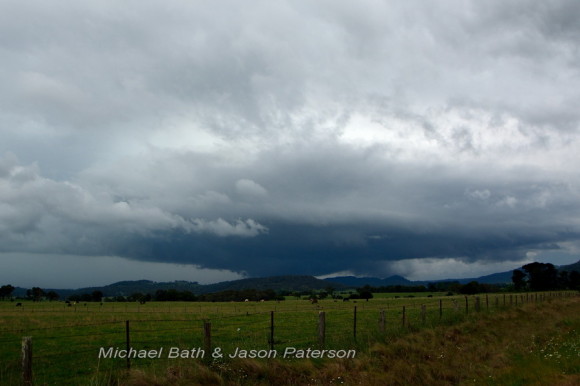 Photo 1 above: Initial view showing clear slot: 4:03:38pm EDT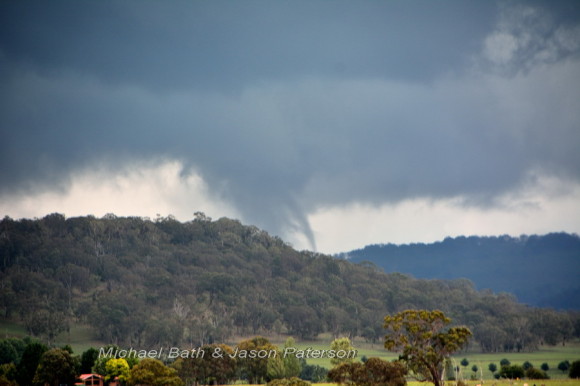 Photo 2 above: First tornado after it evolved from a needle into what you see here: 4:07:53pm EDT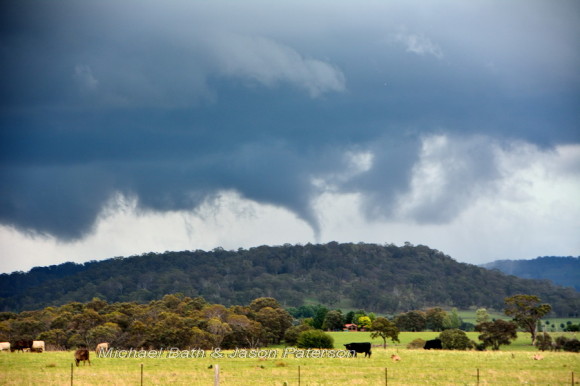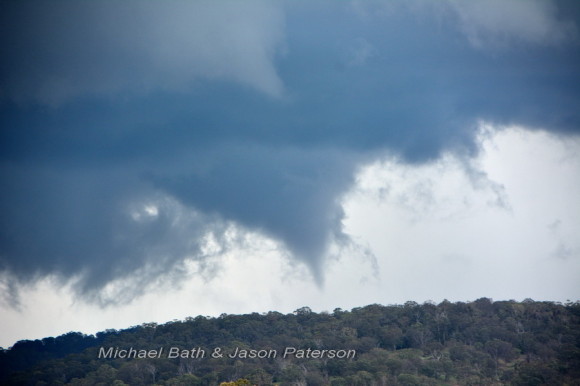 Photos 3 and 4 above: Second tornado which formed a large cone: 4:10:02pm and 4:10:41pm EDT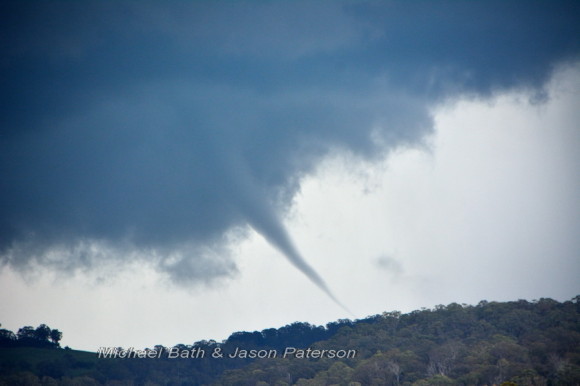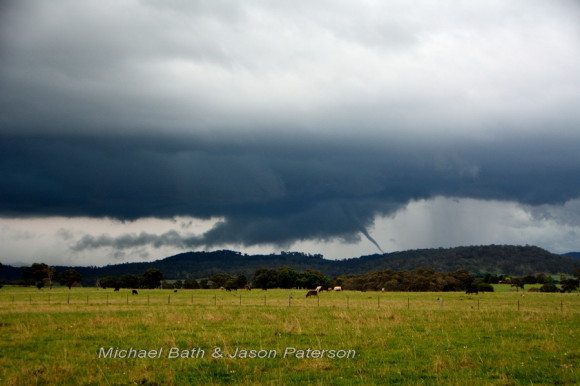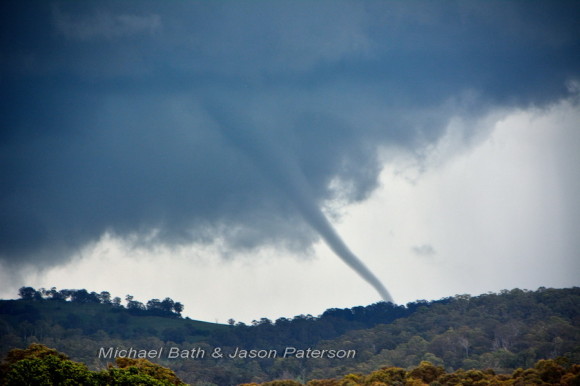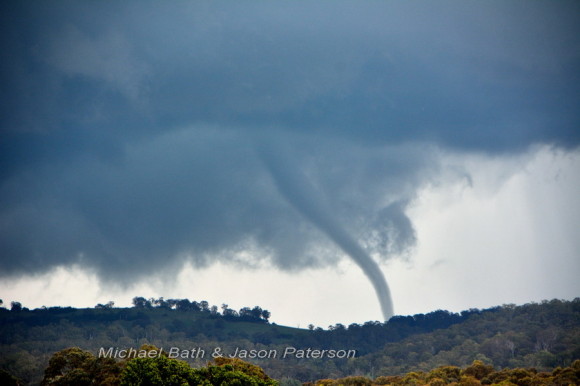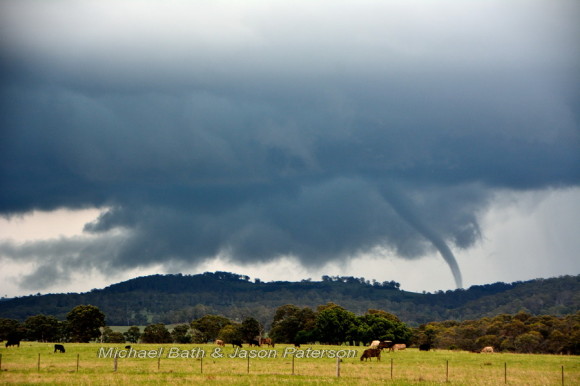 Photos 5 to 9 above: Third tornado which developed into an elephant trunk shape: 4:11:37pm to 4:12:20pm EDT (was on the ground longer than this)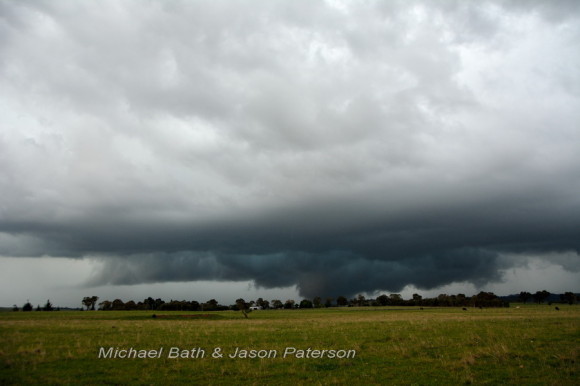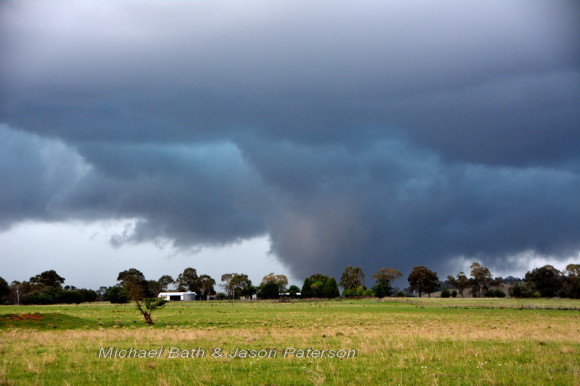 Photos 10 and11 above: Main hailstorm stage with suss looking features: 4:19pm EDT
Michael Bath
Related Terms: