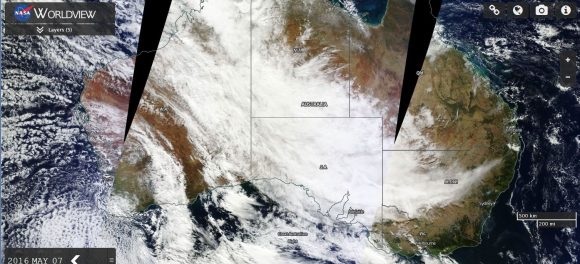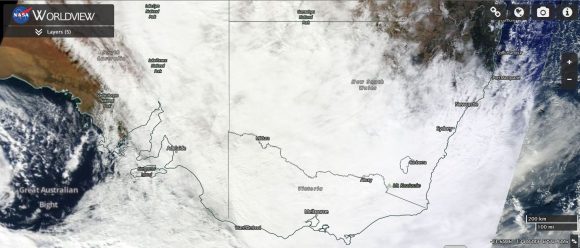 As seen in the two satellite photos of Australia taken by TERRA MODIS 7/5/2016 and 8/5/2016, a substantial cloud mass is covering the continent. It is not often that a cloud mass this size envelops such a large area.
The cloud mass appears to be delivering rains that are best described as "The Autumn Break" for the inland farming regions with more to come.
The cloud has delivered some substantial falls across south west Northern Territory and parts of South Australia and it is now passing over New South Wales and Victoria.
In New South Wales, rainfall has been heaviest across the inland south west, western regions, Riverina and the western parts of the south west slopes.
For the 24 hours to 9 am 8/5/2016, the best falls have been:-
NORTHERN TERRITORY
Vaughan Springs 85 mm.
Hermannsberg 69 mm.
Palm Valley 65 mm.
Curtin Springs 38 mm.
Alice Springs region and town 12 mm to 29 mm.
SOUTH AUSTRALIA
Kalamurina 56 mm.
Blinman 37 mm.
Coober Pedy 26 mm.
The falls are occurring in remote desert regions and vast regions are not covered by weather stations. As such, there is not good coverage where the rains are occurring. This could lead to some greening of Australia's red centre over coming weeks. On May 18, I will have an opportunity to fly over this region and if possible, take photos should I have a window seat to see any transition that may occur.
NEW SOUTH WALES
Kilfera 30 mm.
Fowlers Gap 25 mm.
Broken Hill 24 mm.
Riverina and western South West Slopes including Albury, Wagga, Griffith, Yanco and Hay - 10 to 18 mm.
For the 5 hours to 2 pm, rainfall has settled in over the South West slopes delivering 22 mm to Albury Airport, being the highest figure for that period.
The satellite photos from NASA Worldview acquired 7 and 8 May 2016 are attached which provides an indication to the size of the event.