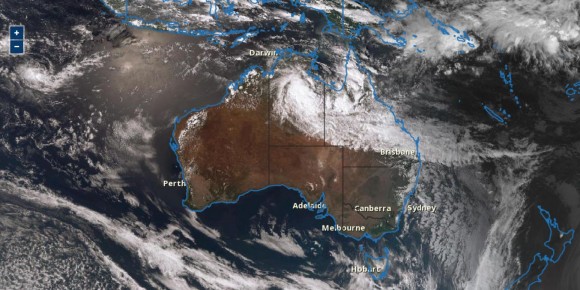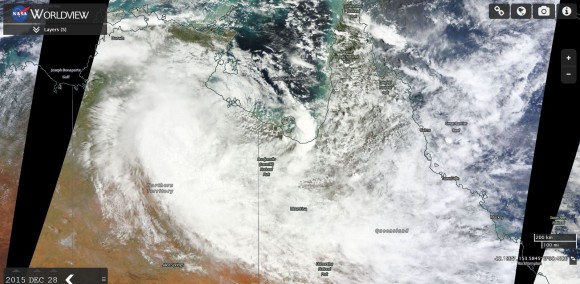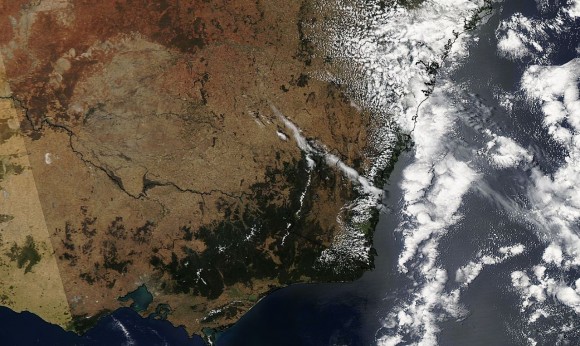 The continent of Australia is being heavily impacted by two significant weather events at the same time and this is becoming evident for the period 28 December 2015 to 3 January 2016. In particular, the events are divided into the following:-
1 - Northern Territory and Queensland - Monsoon low causing heavy rain and floods.
2 - South Australia and Victoria - Heatwave and bush fires.
As seen in the satellite photo of Australia acquired from the Bureau of Meteorology dated 28/12/2015, a vast area of northern Australia is under the influence of a deep monsoon low pressure system and a substantial cloud mass.
At the same time, South Australia, southern New South Wales and Victoria is totally clear of cloud. Hot dry weather is leading to new fears of fresh bush fires and current fires flaring again.
The two weather systems are having a dramatic impact at opposite ends of the spectrum.
NORTHERN TERRITORY AND QUEENSLAND (RAIN AND FLOODS)
The chances of a tropical cyclone forming in the Gulf of Carpentaria appears to have lessened as the monsoonal low has moved too far inland. As described in a separate post, a deep monsoon low has dumped more than 600 mm of rain in some areas of Northern Territory during the Christmas period leading to major flooding especially around Daly River. Some 470 residents of Daly River have had to be evacuated to Darwin and flood waters are creating havoc including crocodiles taking home owners pets. There is at least 1 known fatality from the flood event.
A large area of the top end of Northern Territory has been swamped with rain over the past 3 days and while the rain has eased in some areas, the aftermath is the flooding that will take some time to subside.
As seen in the satellite picture of the Northern Territory (MODIS Worldview from NASA and dated 28/12/2015), the monsoon low has moved inland taking the rain with it. The cloud is also spilling into Queensland and heavy rain has also occurred in some parts.
To date the heaviest flooding is across the Top End but south of Darwin.
SOUTH AUSTRALIA AND VICTORIA (HEAT AND FIRES)
As seen in the satellite photo of Victoria acquired from NASA MODIS and dated 28/12/2015, much of the state of Victoria is tinder dry. Effectively, the whole state has dried out over the past few weeks and vegetation is ready to burn.
Generally, the only area of green anywhere in south east Australia is the coastal strip of New South Wales including Sydney which is visible in the image. This could suggest that the El Nino Phenomena which usually brings reduced rainfall may not be having significant impact along the coastal strip of New South Wales but further away from the coast, another storey emerges.
In Victoria, a number of fires, recent and current continue to burn or have just been contained including:-
Barnarwartha / Wodonga:- It appears that at least 3 homes have been burnt in a blaze that scorched more than 7,000 hectares.
Wye River and Separation Creek:- At least 116 homes destroyed in a blaze that has scorched some 2,286 hectares. That fire is still not out. The cause appears to have been a lightning strike on December 19.
Scottsburn:- This is near Ballarat where a blaze has scorched some 4,570 hectares. While contained, it is not out.
Fire fighters are nervous because the fires and any other fire could readily flare up as another hot spell to heatwave conditions grip the state. The heat will build across South Australia then extend into western New South Wales and Victoria during the next 6 days. However, it appears that little of the heat will reach the east coast of New South Wales at the present time.
Some maximum temperatures being forecast include:-
SOUTH AUSTRALIA
Adelaide - Wed (37C), Thurs (38), Fri (38C), Sat (35C), Sun (36C).
Port Augusta - Tue (37), Wed (40C), Thurs (40), Fri (40C), Sat (38C), Sun (38C).
Tarcoola - Tue (38), Wed (41C), Thurs (41), Fri (40C), Sat (39C), Sun (40C).
Woomera - Wed (39C), Thurs (38), Fri (38C), Sat (39C), Sun (37C).
VICTORIA
Bendigo - Wed (36C), Thurs (38), Fri (38C).
Mildura - Wed (39C), Thurs (40), Fri (39C), Sat (38C).
Nhill - Wed (38C), Thurs (40), Fri (40C).
Shepparton - Wed (36C), Thurs (38), Fri (38C).
In Melbourne, Thursday appears to be the hottest day where 37C is being forecast.
This generally shows that heatwave conditions are expected to prevail again especially for areas away from the coast.
The above shows the extreme contrast of two weather system occurring at the same time at opposite ends of the Australian continent, both of which are leading to secondary issues and emergency situations. This also shows that Australia is a land of drought and flooding rains, as drought is occurring in one region, while flooding rains is occurring in another.
CREDITS
1 - Bureau of Metorology (Satellite image of Australia) dated 28/12/15.
2 - NASA (MODIS Worldview with Overlays of northern and southern Australia) dated 28/12/2015.
Related Terms: