The month of April 2022 was another wet month across much of New South Wales but when compared to March 2022, rainfall totals were much lower.
A number of rain events impacted eastern Australia during the month of April including: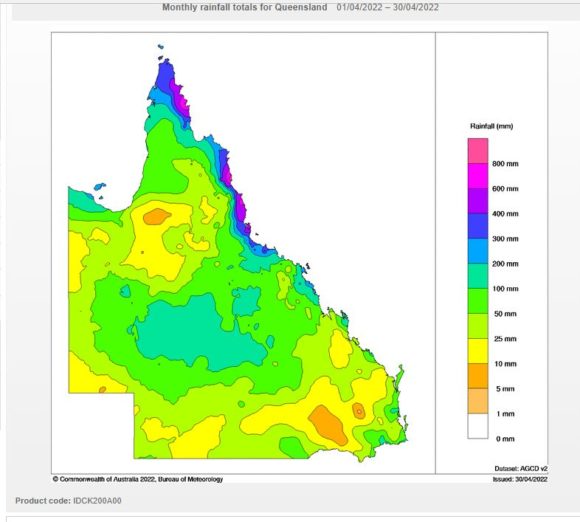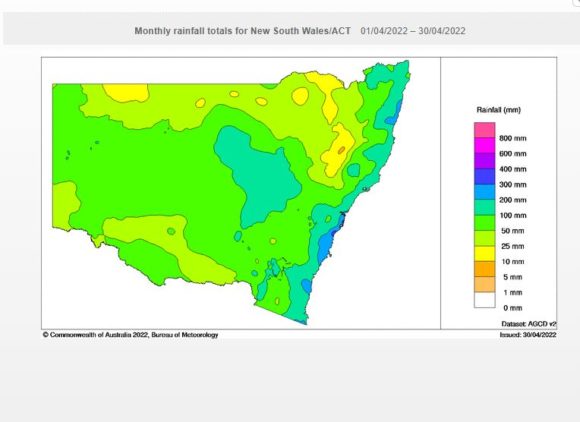 1 - A major rain and flood event impacted coastal areas around Townsville and Cairns (NE Queensland) between the 22 and the 26 April which saw significant falls of 300 to 379 mm falling around Cairns and 160 to 268 mm falling across Townsville City.
2 - The event that impacted Sydney over 2 days during the 7 and 8 of April brought cumulative totals of 152 mm at Sydney (Observatory Hill) which also caused renewed flooding along the Hawkesbury River. The flooding was mainly a result of the heavy falls that fell across southern Sydney during the period.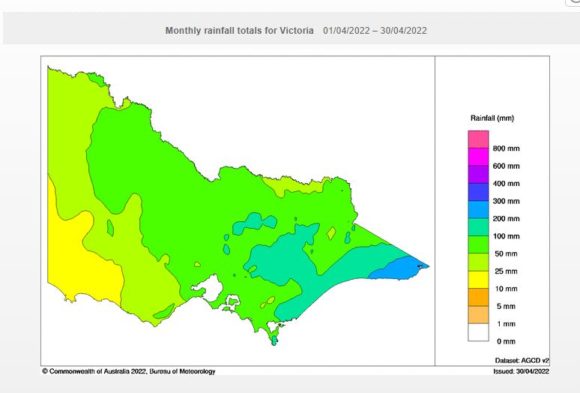 Similar heavy falls fell across the Illawarra region and the Shoalhaven region such as 173 mm at Nowra.
3 - On the 19 April, a significant rain event passed over central and north west Victoria that brought falls of 30 mm to Mildura, 38 mm to Bendigo, 41 mm to Shepparton and 48 mm to Swan Hill.
4 - Heavy rain fell at Broken Hill on two days being the 19 where 25 mm fell and again on the 27 where 43 mm fell which brought the monthly total to 95.2 mm for this outback town in far western New South Wales.
If there is any comparison to this year for Sydney, the year 1950 stands out as being the wettest year to date for many areas.
1950
Sydney (Observatory Hill) - 2,194 mm (In that year 642.7 mm fell during the month of June followed by 336.1 mm during July).
Prospect Reservoir (Western Sydney) - 1,900 mm fell.
As shown in the table below which is updated from the table of March 2022 for the same localities, rainfall across coastal centres is impressive for the first four months of the year. In some cases, it could be argued that rainfall could start to approach the levels seen in 1950 by the end of the year should the level of rainfall continue.
There are still eight months to go but even if rainfall does not reach what fell during 1950, 2022 will still go down as a very wet year, especially the first four months.
The climate driver causing this is the current La Nina phase and there is discussion as to whether La Nina will continue into a third year which would make this La Nina episode an exceptional rare event should this occur. It is also identified that the current IOD (Indonesian Ocean Dipole) is moving toward a negative phase which has the potential to reinforce rainfall across inland southern Australia during the winter period.
Only time will tell if the records set during 1950 will be approached during the later part of 2022.
| | | |
| --- | --- | --- |
| SYDNEY REGION | April 2022 | So far for 2022 |
| Parramatta | 147.6 mm | 1102.6 mm |
| Penrith | 103.4 mm | 1,060.8 mm |
| Richmond | 107 mm | 947.8 mm |
| Sydney (Observatory Hill) | 267.2 mm | 1,334.4 mm |
| Home (Comparison and guide only) | 119.2 mm | 1,000.2 mm |
| NORTH COAST NSW | | |
| Ballina | 99.2 mm | 1,776.8 mm |
| Coffs Harbour | 195.4 mm | 1,637.8 mm |
| Dorrigo | 238.4 mm | 1,832.9 mm |
| Grafton | 118.8 mm | 989.6 mm |
| Port Macquarie | 112.2 mm | 1,312.8 mm |
| WHEAT SHEEP BELT NSW | | |
| Albury Airport | 33.4 mm | 419.2 mm |
| Dubbo | 191.2 mm | 418.6 mm |
| Forbes | 133.4 mm | 326 mm |
| Tamworth | 31.6 mm | 304.4 mm |
| Wagga Wagga | 66.8 mm | 220.8 mm |
River catchments especially across eastern New South Wales are wet and further major rainfall will only exacerbate flooding that has already occurred.
During the second last and last day of April, a rain band crossed southern Australia in which some localities experienced further moderate to heavy rainfall while other areas only received light falls. That event reached Sydney Saturday morning which brought a short period of moderate to heavy rainfall especially between 7.30 am and 8.30 am as shown on the attached radar image.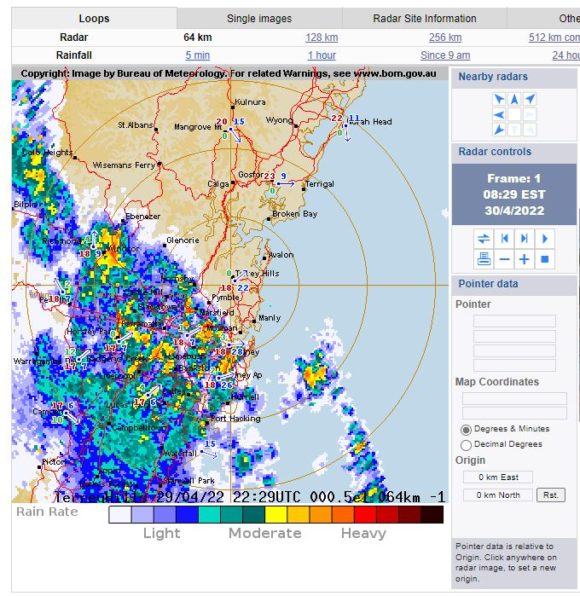 If the forecast models are correct for the winter period, and rain events such as this one continues, then many eastern areas and even inland areas will see a wet winter for 2022.
In addition to the above, I have gone into further detail of the rainfall for 2022 for my local area being Doonside with some interesting results.
1 - Todays rain event has seen at least 1,000 mm of rain fall so far this year.
2 - It has rained on 74 of the first 120 days of the year. This results in rain falling on 61.6% of all the days to date for 2022.
3 - So far, every month has seen more than 100 mm fall (January to April with the wettest being March and the driest being January).
If you did this for more locations across Sydney, a similar outcome would result.
Attached are relevant Water and the Land Plots showing the rainfall for April 2022 with some interesting outcomes. Of particular interest, it was relatively wet for far western New South Wales, north west Victoria and central inland Queensland.
When viewing the four month rainfall deciles for January to April 2022, it is clearly shown that coastal New South Wales has been wet. In particular for Sydney and surrounds, it is suggested that rainfall is the highest on record for the period.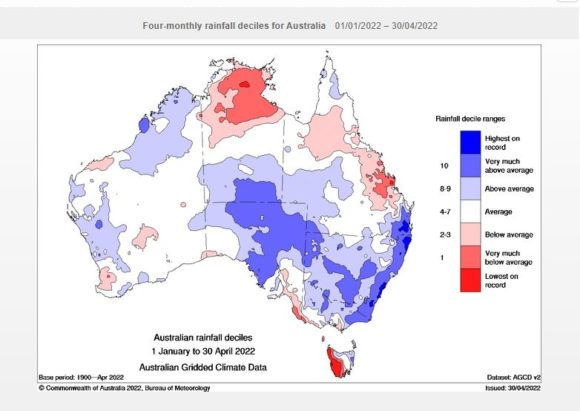 Notes
1 - All rainfall and historical rainfall used is sourced from BOM historic data and data from official weather stations.
2 - While I have a rain gauge set up in the rear yard, it is only being used as a guide but it is noted that it is relatively consistent with official figures occurring at nearby Prospect and Horsley Park where official weather stations are established.
Related Terms: